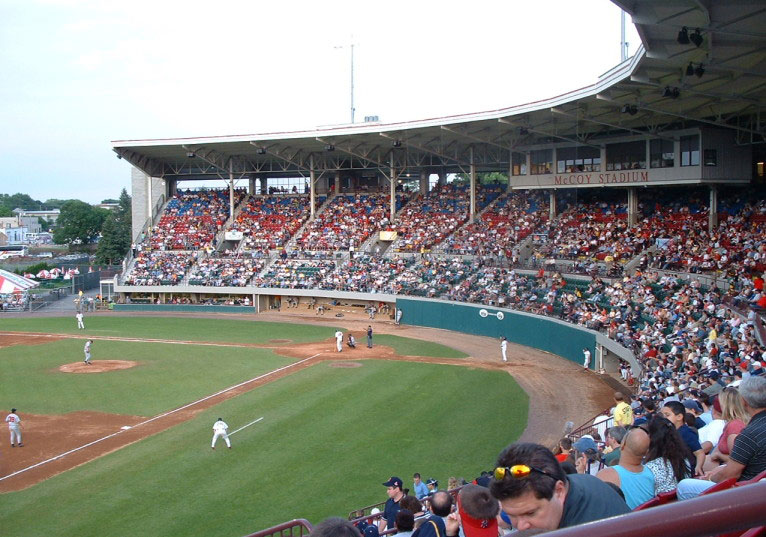 Billionaire real-estate developer Stefan Soloviev has expressed interest in purchasing Pawtucket's McCoy Stadium, former home of the Pawtucket Red Sox (Class AAA; International League), but local officials are for now sticking with a plan to raze the ballpark and replace it with a high school.
Soloviev, son of Manhattan real-estate developer Sheldon H. Solow, has some ties to Pawtucket: he attended the University of Rhode Island, and his son Quintin was a fan of the PawSox before that team's move to Worcester. For a developer whose family track record includes a number of projects on the Upper East Side, including One United Nations Park, designed by Richard Meier, looking at restoring McCoy Stadium for use as a SIngle-A affiliate of the Red Sox or an MLB Partner League home would seem out of place.
But Soloviev toured McCoy Stadium yesterday, despite earlier statements from Pawtucket Mayor Donald Grebien that the property was not available because the site was slated to house a new high-school building, though this week Grebien opened the door to further discussions with Soloviev.
McCoy Stadium is somewhat of a mess, not hosting pro baseball since 2019; even before that the PawSox expressed dissatisfaction with the condition of the 1942 facility and ended up in a legal spat with the city. Yes, it would be a fascinating restoration project to tear away some later additions to the ballpark–particularly centered on a downsizing that remove a lot of outfield clutter–but it would not be cheap. A 2016 report from Pendulum indicated $35 million would need to be spent to upgrade McCoy Stadium, and a 2015 report from Populous saying it would cost much more–$65 million–to upgrade McCoy Stadium in a way that would attract development to the area. Grebian says it would take $100 million to restore the ballpark; Soloviev says he can do it for less.
Soloviev has reportedly offered the city $1 million above the appraised worth of the ballpark. Locals who want to see McCoy Stadium saved have taken to the Internet to launch an online petition, led by Christine McCoy McNeil, grandniece of Pawtucket Mayor Thomas P. McCoy, for whom the ballpark was named.
By the way, a "McCoy's Final Inning" celebration with fireworks is set for Labor Day.
RELATED STORIES: Pawtucket sues PawSox over McCoy Stadium upkeep; Professional Baseball Still in Play for McCoy Stadium; Decision on McCoy Stadium Future Resumes in 2020; Future of McCoy Stadium Uncertain as Evaluation Process Continues; McCoy Stadium Pitches Under Consideration; Tamburro Working on New Pawtucket MiLB Team; Atlantic League, MiLB Among Pitches for McCoy Stadium; Sports-Related Pitches Sought in McCoy Stadium RFP; Raimondo: I'm Working to Lure New McCoy Stadium Tenant; Funds Pitched for McCoy Stadium Repairs, Study; No Decisions on McCoy Stadium's Future; Future of McCoy Stadium Still in Play; Poll: Most RI Voters Support Decision to Not Increase PawSox Ballpark Offer; The Collapse of the Pawtucket Ballpark Deal; Is NY-Penn League a Fit For McCoy Stadium?; It's Official: PawSox to Worcester, Polar Park in 2021; Report: PawSox Set for Worcester Move