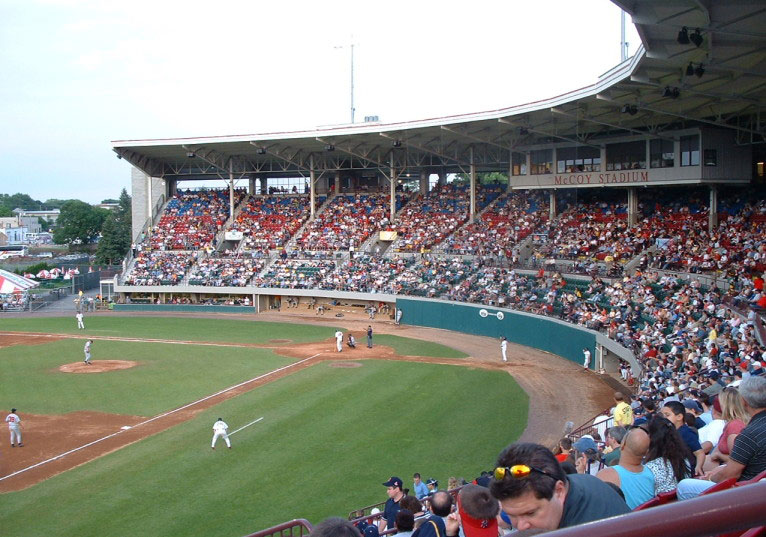 A budget plan from Rhode Island governor Gina Raimondo outlines $800,000 for McCoy Stadium, covering repairs and a study on its post-Pawtucket Red Sox (Class AAA; International League) future. 
The PawSox are months away from beginning their penultimate season at McCoy Stadium. A move to a new ballpark in Worcester, MA is on the horizon for 2021, meaning that their venerable Pawtucket home currently has just two seasons of hosting the team left on its docket.
Since the PawSox's August 2018 announcement of their plans to move to Worcester, Pawtucket and Rhode Island officials have been left to consider what will become of McCoy Stadium after the club departs. Raimondo released a budget plan earlier this month that calls for $200,000 to be allocated toward a study that looks at the future of the ballpark. Another $600,000, meanwhile, would be aimed at repairing water infiltration issues. More from the Providence Journal:
"We are looking at reuse and revitalization of the property," said Commerce spokesman Matt Sheaff.
Even as Rhode Island and Pawtucket officials in recent years pitched the PawSox on building a new stadium, the state has poured a steady stream of money into the old municipally owned ballpark to keep it functional.
There was $115,000 in the 2017-2018 fiscal year and $300,000 last year. The latest budget requests: $600,000 by the end of June and another $200,000 in the year starting July 1.
Similar to last year, the repairs to McCoy are "to address water infiltration issues," said Brenna McCabe, spokeswoman for the Department of Administration.
McCoy Stadium is currently the oldest active ballpark in Triple-A baseball, having opened in 1942 and received its last significant renovation in 1999. As the PawSox inch closer to their upcoming move, the likely question that Rhode Island and Pawtucket officials will work to answer is whether McCoy Stadium can remain operational in some form or if the better long-term decision is to redevelop the site completely.
RELATED STORIES: No Decisions on McCoy Stadium's Future; Future of McCoy Stadium Still in Play; Poll: Most RI Voters Support Decision to Not Increase PawSox Ballpark Offer; The Collapse of the Pawtucket Ballpark Deal; Is NY-Penn League a Fit For McCoy Stadium?; It's Official: PawSox to Worcester, Polar Park in 2021; Report: PawSox Set for Worcester Move