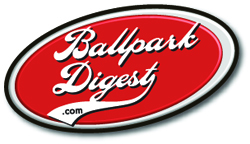 What the most cost-effective way to reach the baseball industry? Through advertising on Ballpark Digest, the Internet's leading resource for those working in the business of baseball. With a large audience spanning every level of baseball — from college and summer-collegiate to MiLB and MLB — Ballpark Digest is the perfect place to market your products and services.
We do more than just push the banner ad on Ballpark Digest: We can put together a comprehensive marketing plan that includes email blasts, sponsored stories, weekly email sponsorships and more, based on your needs and requests. We play for the long term here at Ballpark Digest: We measure advertiser and sponsor relationships in decades, not days or weeks. And it seems the market likes what we do: readership runs between 200,000 visitors and 340,000 visitors a month, as witnessed by site traffic earlier this year:
To request a media kit, complete with site demographics, ad packages and pricing, please send an email to our Ballpark Digest sales team.