Everyone loves old ballparks: the places where precious memories were created. But not every old ballpark has been adequately maintained or preserved, thus becoming an endangered ballpark. This page documents the most endangered ballparks in North America, and the odds that they will be saved.
We will be adding and deleting from this list as circumstances change (for instance, Wichita's Lawrence-Dumont Stadium was removed in late 2018). Nor do we assume that we've listed every endangered ballpark (though we do limit ourselves to former and current pro-baseball facilities), so if you think we're missing one, drop us a line at editors@augustpublications.com.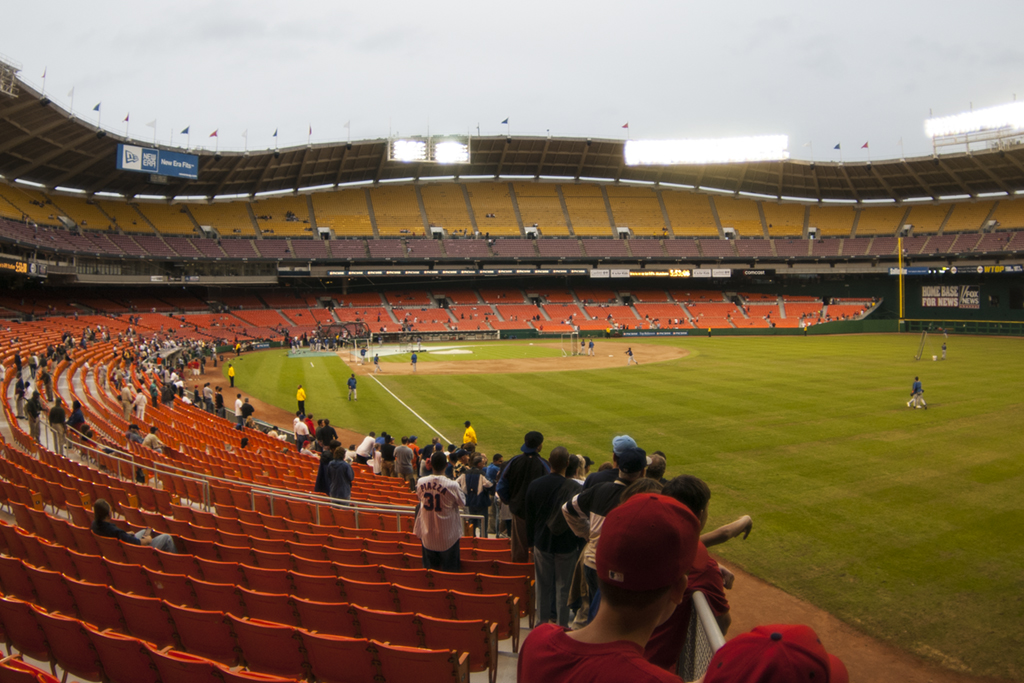 RFK Stadium Opening in 1961 as the first MLB/NFL multiuse facility, RFK Stadium sports a unique architecture with a gently undulating canopy, a highly functional track system that facilitated configuration changes and a layout that actually worked for both baseball and football. RFK Stadium was indeed a cookie-cutter facility—but one that was highly functional. The center of the D.C. sporting scene for decades, RFK Stadium is now a poorly maintained, rundown facility lacking a major tenant after the move of D.C. United to a new stadium. The costs of keeping it standing are proving to be a burden for D.C. officials, who are planning to demolish RFK Stadium by 2021. Odds RFK Stadium will survive: 1,000,000-1
Capital City Stadium—Originally built by Hall of Famer and Pittsburgh Pirates owner Barney Dreyfuss in 1927, Columbia, SC's Capital City Stadium went on to host several teams over its history, including the Capital City Bombers (Low A; Sally League) and Columbia Blowfish (summer collegiate; Coastal Plain League). With Segra Park now hosting MiLB action, Capital City Stadium is obsolete for baseball, and a developer could demolish the ballpark to make way for a new mixed-use development. Developers have asked city officials to hold off on tearing down the ballpark in order to obtain a state tax credit, but it seems that the facility will be demolished sooner rather than later. Odds Capital City Stadium will survive: 1,000,000-1
SDCCU Stadium The former San Diego Stadium / Jack Murphy Stadium / Qualcomm Stadium has lost the MLB San Diego Padres and the NFL's Chargers as tenants, leaving its demolition increasingly inevitable. San Diego State University is working on a project that calls for a new stadium and surrounding development at the site and is hoping to begin construction in 2020. Successful completion of negotiations with the city would make the proposal a reality, effectively paving the way for new development and the eventual demolition of SDCCU stadium. Odds SDCCU Stadium will survive: 10,000-1
Ned Skeldon Stadium Home of the Toledo Mud Hens (Class AAA; International League) from 1965-2001, Ned Skeldon Stadium's condition has deteriorated to the point where the stands have been condemned. Although the playing field is still used by adult leagues, officials in the City of Maumee—where Ned Skeldon Stadium is located—are pushing for the ballpark to be demolished. Lucas County currently owns the ballpark and surrounding complex, but there have been discussions about transferring the site to the city in order to facilitate redevelopment. Odds Ned Skeldon Stadium will survive: 750-1
Aloha Stadium Built in 1975, Aloha Stadium is perhaps best known as a former NFL Pro Bowl home, but it also has a baseball history that includes its run hosting the Hawaii Islanders (Class AAA; Pacific Coast League) from 1976-1987. It is currently used for University of Hawaii at Manoa football and other events. However, maintaining the facility as it ages comes with a high price tag, which has prompted interest among state officials in the possibility of constructing a new stadium. Plans to replace Aloha Stadium are not final but, with the area around the facility being considered for a new stadium and surrounding development, any new facility plans are likely to lead to Aloha Stadium being demolished. Odds Aloha Stadium will survive: 750-1
Fair Grounds Field The 2011 Shreveport-Bossier Captains (independent; American Association) were the last professional team to use the facility, which was home to the Shreveport Captains/Swamp Dragons (Class AA; Texas League) from 1986-2002 before hosting independent baseball. It has gradually deteriorated since the departure of professional baseball and, while there have been some calls for its preservation, the city is proposing to fund its demolition as part of a November bond referendum. If approved by voters, the referendum would allow demolition to move forward, with the plan calling for the ballpark site to be converted into parking. Odds Fair Grounds Field will survive: 250-1
The Diamond The home of the Richmond Flying Squirrels (Class AA; Eastern League) has been a temporary home ever since the Flying Squirrels came to town. With progress coming on a new ballpark to be built next to The Diamond site, it doesn't look like the ode to concrete will be around in five years. Odds The Diamond will survive: 50-1.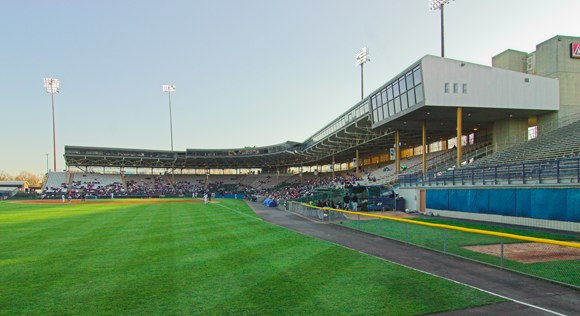 Cooper Stadium Most of the former Columbus Clippers (Class AAA; International League) home has been torn down to make way for a new racetrack-themed development, but the development has stalled and what's left is fairly sad: an old portion of the grandstand surrounded by weeds. Concerns about the property becoming a safety hazard were raised in early 2019, and there's been no progress on the redevelopment effort. Odds Cooper Stadium will survive: 200-1.
Joe Davis Stadium The former home of the Huntsville Stars (Class AA; Southern League), Joe Davis Stadium opened in 1985 but has fallen into a state of decline since hosting its last MiLB games in 2015. With pro ball returning to the Huntsville area in suburban Madison in 2020, there's no MiLB reason to keep the ballpark, but city officials are weighing a renovation that would make Joe Davis Stadium a multi-sport facility for soccer and high school football. Though it is not final, the proposal provides some hope that a ballpark that has seemed increasingly likely to be demolished could avoid the wrecking ball. Odds Joe Davis Stadium will survive: 100-1
City of Palms Park The former spring home of the Boston Red Sox has been some new life as home to the Florida SouthWestern College program. A proposal for Fort Myers redevelopment would replace the ballpark and nearby parking area for a mixed-use lifestyle development. Odds City of Palms Park will survive: 25-1.
Lake Olmstead Stadium Now that the Augusta GreenJackets (Low A; Sally League) have moved to SRP Park in North Augusta, the long-term future of the ballpark is in play. Augusta officials are moving forward with repairs to use the facility for events in the near term, while removing baseball-specific features like protective netting. That leaves the facility operational for now, but at some point, a more thorough conversion could be in order. Odds Lake Olmstead Stadium will survive in its present form: 10-1.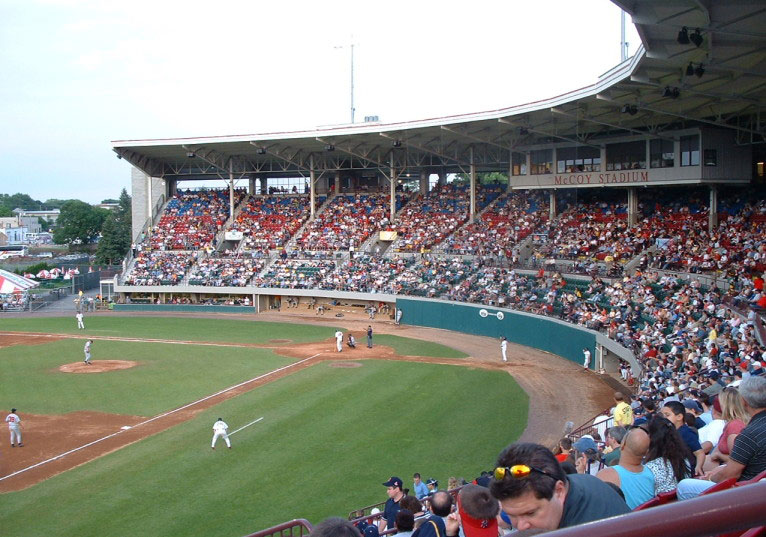 McCoy Stadium With the Pawtucket Red Sox (Class AAA; International League) moving to Worcester, MA in 2021, the future of McCoy Stadium is very uncertain. Pawtucket and Rhode Island officials are expected to explore future uses for the site, which could include leaving the facility standing in some form or tearing it down in favor of redevelopment. We hear there is still a continued effort to bring Short Season A ball to the facility. No final decision has been made, but either way its days as a home to Triple-A baseball are numbered. Odds McCoy Stadium will survive: 50-50
Rivets Stadium This Loves Park (IL) ballpark was built to house an independent Frontier League team and is now leased by the Rockford Rivets (summer collegiate; Northwoods League). In theory, baseball should work in the Rockford market—the largest in the state outside Chicagoland—but nothing ever worked well in this ballpark. Early in 2018 a California investor purchased the ballpark, and the Rivets management expects to play out the existing lease through 2020. The owner of the ballpark has roots in baseball, so we're changing our evaluation. Odds Rivets Stadium will survive: 50-50
Sioux Falls Stadium Home of the Sioux Falls Canaries (independent; American Association), Sioux Falls Stadium could be demolished in the coming years after a study group recommended that the city remove rather than maintain the aging facility. With a new ballpark site and funding plan among the details that have to be ironed out, it could take years for Sioux Falls Stadium to be demolished. Still, it seems increasingly likely that the future of professional baseball in the market is at a new facility built at another site, and not at Sioux Falls Stadium. Odds Sioux Falls Stadium will survive: 50-50
Foothills Stadium The former home of the Calgary Cannons (Class AAA; Pacific Coast League) has ceased to be a pro baseball facility and would be demolished if a redevelopment plan comes to fruition. A group led by former Calgary mayoral candidate Bill Smith has pitched a proposal that calls for a new stadium/fieldhouse development on the site, which is jointly owned by the city and University of Calgary. No final decision has been made, but the city council voted in January to form a committee to study the idea and explore the site's future. Odds Foothills Stadium will survive: 50-50
RingCentral Coliseum A multi-purpose NFL-MLB venue, RingCentral Coliseum (best known as Oakland Coliseum) is set to lose the NFL's Raiders after the 2019 season. That will leave the A's as its lone tenant, and the team is actively working to build a new ballpark at the waterfront Howard Terminal. While the A's ballpark plans are not all final, the Coliseum has become obsolete as a major sports venue and there has been no talk of renovating it for MLB. It therefore seems inevitable that it will be demolished in the future, but the exact timing will be determined by if/when the A's land a new ballpark. Odds RingCentral Coliseum will survive: 50-50
Northwest Federal Field at Pfitzner Stadium With the Potomac Nationals (High A; Carolina League) set to move to Fredericksburg, VA in 2020, Prince William County, VA officials are trying to determine the future of Pfitzner Stadium. Redeveloping the ballpark's site–a county-owned property that also includes three softball fields and a BMX track–could be an option, with Pfitzner Stadium either remaining in some form or being demolished to make way for another use. A decision on the site's future has yet to made, but Pfitzner Stadium's days as a pro baseball facility are likely numbered and county officials could decide that its site would be put to better use for another purpose. Odds Pfitzner Stadium will survive: 50-50
Sam Lynn Ballpark The former home of the Bakersfield Blaze (Class A; California League) opened in 1941 and is certainly showing its age. Now home to indy Pecos League ball, Sam Lynn Ballpark isn't being shown much love from Bakersfield elected officials, so its future is certainly in doubt. But then again, inertia caused the ballpark to basically stay in the same condition for decades, and inertia may protect pro baseball there. Odds Sam Lynn Ballpark will survive: 50-50.
Hamtramck Stadium There are 25 or so ballparks that formerly hosted Negro Leagues baseball, most in surprisingly good shape. The Detroit-area Hamtramck Stadium opened in 1930 and was home to a variety of Negro Leagues teams, including the Detroit Stars and Detroit Wolves. And, perhaps most importantly, it was a community gathering spot. The goal in renovating Hamtramck Stadium: restoring the ballpark as a community gathering spot, which means fixing up the dilapidated grandstand and establishing a usage plan that goes beyond baseball. The plan continues to make progress, as a grant obtained by the city in late December will fund a master plan that outlines the ballpark's future. Odds Hamtramck Stadium will survive: 1-2.
RE/MAX Field The former home of the Edmonton Trappers (Class AAA; Pacific Coast League) is now used by a summer-collegiate team. But we're talking about a very large facility, with a total capacity of 9,200, and it makes no sense to maintain a Triple-A ballpark when it's highly unlikely affiliated ball will ever return. Edmonton is in the middle of a development plan for the West Rossdale neighborhood, and while there's no talk of tearing down the ballpark (yet), it should be seriously altered to fit current needs. We predict the former Telus Field will live on. Odds RE/MAX Field will survive: 1-10.
Hinchliffe Stadium This classic Paterson (NJ) stadium has survived through the sheer effort of passionate supporters: without them, it surely would have been torn down years ago. The historic facility opened in 1932, hosting the New York Black Yankees and New York Cubans along the way, which makes it one of the few Negro Leagues ballparks that remains standing. Hinchliffe Stadium closed in 1997 and has since fallen into a state of decline. For the last decade volunteers have worked on a restoration plan and have procured preservation grants. Odds Hinchliffe Stadium will survive: 1-25.
Astrodome The Eighth Wonder of the World, the Astrodome is an icon to generations of Houstonians, and any talk of tearing it down instantly generates yowls of protest. The big problem: Harris County can't really come up with a solid redevelopment plan (voters turned down a proposal to readjust the interior for football and smaller events), and a renovation approved in 2018 by Harris County Commissioners has stalled amidst concerns over its financials. A state antiquities landmark designation is among the factors that could help the Astrodome avoid demolition, but for now there plenty of questions about the future of this one-of-a-kind classic. Odds Astrodome will survive: 1-50.