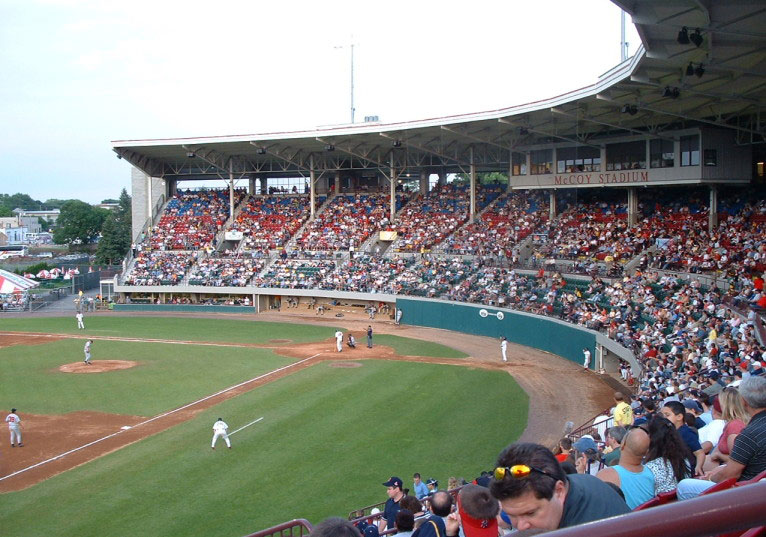 Pawtucket officials say there are numerous options for McCoy Stadium's future, but no decision has been made as the Pawtucket Red Sox (Class AAA; International League) approach their departure. 
The PawSox announced in August that they will relocate in the coming years to Worcester, MA, where plans are moving forward for a new ballpark in 2021. With two years remaining on its lease, the club will remain at McCoy Stadium through the 2020 season, but the future of the ballpark beyond that is uncertain.
Local officials indicate that there are numerous options for McCoy Stadium, including the possibility of converting it into a multi-purpose facility that could accommodate soccer and other sports. While there has reportedly been interest from soccer clubs, the possibility remains that constructing another facility will be the more cost-effective option. That could open the possibility of demolishing McCoy Stadium and redeveloping the site, but it remains to be seen what proposals would surface. More from The Valley Breeze:
"Soccer clubs are eager and there is a great market here for the sport," said Dylan Zelazo, director of administration for Mayor Donald Grebien.
Some baseball teams have also come knocking, said Zelazo. He said there's been talk about baseball, soccer, lacrosse or a mix of uses at McCoy once the PawSox leave, and the stadium could also support local high school soccer, football and other sports.
That said, if rehabbing McCoy proves cost prohibitive, meaning it's far more expensive than just building a new facility from scratch somewhere else, the best option might be to build a facility somewhere else, he cautioned.
"That's a public discussion that has to happen," said Zelazo, telling The Breeze he expects the Rhode Island Commerce Corp. to issue a request for proposals in the near future on what to do with the stadium once the PawSox leave. Commerce is being helpful in the process, he said, but there have yet to be substantive conversations.
With or without baseball, it seems that it will take time to determine McCoy Stadium's future. While there has been some discussion about whether it could eventually become home to a short-season MiLB team, the ballpark's aging condition will likely require a sizable investment to make a viable permanent home. Given that factor, it is questionable whether an MiLB operator seeking to place a team in Rhode Island would pursue upgrades to McCoy Stadium, or explore sites in Pawtucket or nearby Providence for a new ballpark. Pawtucket officials, for their part, seem to be confident that a plan for the site will emerge, but whether it involves retaining the ballpark in some form or exploring another use remains to be seen.
RELATED STORIES: Future of McCoy Stadium Still in Play; Poll: Most RI Voters Support Decision to Not Increase PawSox Ballpark Offer; Worcester Moves Forward on New Ballpark Deal; Janet Marie Smith Brings Experience to Worcester; The Collapse of the Pawtucket Ballpark Deal; Is NY-Penn League a Fit For McCoy Stadium?; Ballpark Borrowing Not Expected to Hurt Worcester's Bond Rating; Worcester Ballpark Plan Clears Committee; Businesses Anticipate Proposed Worcester Ballpark; Worcester City Council to Review Ballpark Deal; With PawSox Eyeing Move, McCoy Stadium Faces Uncertain Future; Worcester Looks to Assemble "Ballpark Delivery Team"; It's Official: PawSox to Worcester, Polar Park in 2021; Report: PawSox Set for Worcester Move; Could Fitton Field Temporarily Host PawSox?; Would Spinners be Affected by PawSox Move to Worcester?; PawSox Still Ironing Out Pawtucket Ballpark Plans With City; RI Govenor Signs PawSox Ballpark Bill; Team Still Noncommittal; RI General Treasurer Releases Revised PawSox Ballpark Cost; Could Worcester Land PawSox?