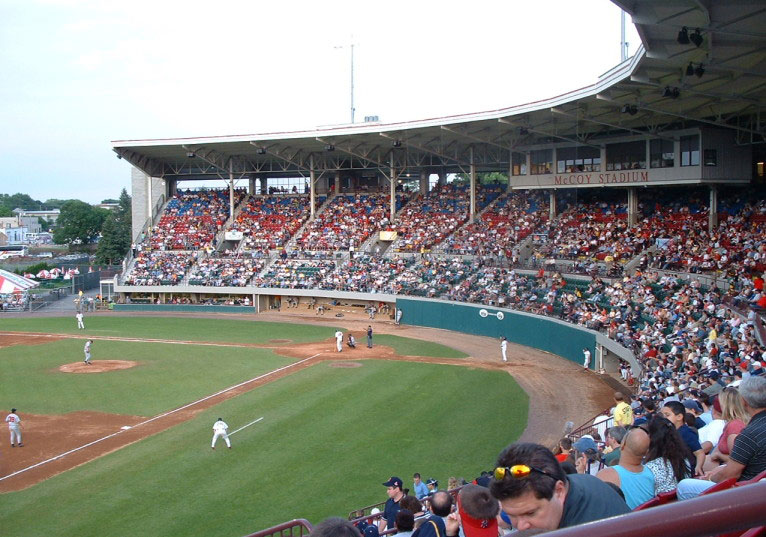 Rhode Island Gov. Gina Raimondo signed legislation providing for financing of a new Pawtucket Red Sox (Class AAA; International League) ballpark — but the team still has not committed to staying in Rhode Island, with a Worcester, MA offer also on the table.
In a statement announcing the signing, Raimondo issued the following press statement: "As I've said all along, the PawSox belong in Pawtucket. No one wants to see them end up in Worcester. This legislation gives Mayor Grebien an opportunity to work with the team over the coming months to keep them here, and it gives Pawtucket a shot at meaningful economic revitalization."
The legislation is merely a starting point when it comes to the city negotiating a final plan with the PawSox, and with numbers still in flux, things need to settle down and firm up as talks are expected to begin. This past week saw Rhode Island general treasurer Seth Magaziner issue a revised public cost for a new PawSox ballpark to be $92 million over 30 years. According to the analysis from Magaziner's office, the public cost–combined between the City of Pawtucket and the state–will be about $3.2 annually and $92 million over 30 years. That projection is about $900,000 higher per year than the annual estimated cost of the bill passed by the Senate in January.
And there are still other parts of the equation to be determined, including the specific scope of a TIF district envisioned as fulfilling the city's portion of the funding plan, as well as potential interest rate on bonds issued to back the project. The final plan withdrew state backing of the bonds (the 38 Studios/Curt Schilling effect) and instead put it on the back of bondholders, who surely will want to extract a premium interest rate for taking on the additional risk. There are still plenty of ways this can fail, and negotiations could run well into the fall.
But there certainly is a sense of urgency with Worcester waiting in the wings. The conventional wisdom is that Worcester has already presented PawSox ownership with a vastly superior new-ballpark financing plan, knowing that the PawSox needed to give Rhode Island every chance to retain the team. But if talks break down or the PawSox are presented with a fiscally irresponsible funding plan, the team could walk. The terms of this deal seemingly get worse by the week.
Under the Rhode Island legislation, the PawSox would make a $45 million contribution, with the state paying $26 million and the city allocating $18 million. In addition, the team would pay $12 million after approval of the plan. Should it move forward, the new ballpark would be constructed at the site of an Apex department store in downtown Pawtucket, serving as a replacement for McCoy Stadium.
RELATED STORIES: RI General Treasurer Releases Revised PawSox Ballpark Cost; Could Worcester Land PawSox?; PawSox Ballpark Bill Moves to House Vote; PawSox Ballpark Financing Plan Passes RI Senate; Next Stop, Governor; Mattiello: PawSox "Interested" in Ballpark Legislation Passing; Grebien Urges Legislature to Pass Modified PawSox Ballpark Plan; PawSox, Worcester Continuing Discussions; Uncertainty Still Surrounds PawSox Ballpark Pitch; Tweaks Expected for PawSox Ballpark Proposal; New PawSox Ballpark Vote Could Come This Month; Mattiello Backs Revised PawSox Ballpark Bill; Another Run at New Pawtucket Red Sox Ballpark Funding Plan; PawSox Making Progress on Revised Ballpark Plan; Worcester Discussing PawSox Pursuit With Business, Civic Leaders; Pawtucket Launches Development Plan for New Ballpark Area; Mattiello, PawSox Meet to Discuss Ballpark Plan; PawSox Pitched Union Point Ballpark; Mattiello: PawSox Need to Pay More for New Ballpark