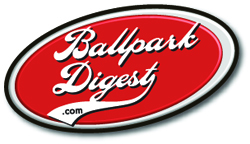 It's an even split in the Final Four round for MiLB 2018 Best of the Ballparks vote, Rookie leagues with the Appalachian League and the Pioneer League equally represented. So you know what to do: Vote!
The Final Four is equally split between the Appalachian League and the Pioneer League, and the way the brackets have worked out, we're ensured of having an Appalachian League / Pioneer League final. Some voters were as close as you can get, with Dehler Park (Billings Mustangs) edging Melaleuca Field (Idaho Falls Chukars) by a single vote, and Suplizio Field (Grand Junction Rockies) winning by two votes over Lindquist Field (Ogden Raptors. So we'll warn you yet again: your vote will count. So vote!
Here's our schedule for Best of the Ballparks 2018 vote:
MLB: Completed
Class A and Class AA: Completed
Class AAA: Now-July 6
Short Season A/Rookie: Now-July 6
Independent: Now-July 9
Summer Collegiate: July 2-22
We are running the contest with seeded brackets, so there will be plenty of action in coming days. Here's a breakdown of the voting schedule:
First Round: Completed
Second Round: Completed
Third Round: Completed
Fourth Round: Now-July 5,  2 p.m. Central
Finals: July 5, 2 p.m. Central-July 9, 4 p.m. Central
We know from our marketing/user research a third of our readers work in the baseball industry, so we're tapping into that collective expertise. And we know from our research that a third of our readers sell to the baseball industry, so that expertise will be valuable as well. The remaining third — fans, media, government — will certainly have a different view on things as well. So far over 326,000 fans have weighed in during all rounds of voting.
Some things to note. First, you are allowed to vote multiple times, but you can only vote once per day. Second, you don't need to fill out a full slate: partially filled votes will count. A running tally of the vote will be presented, and you can view the results to date in the brackets graphic at the bottom of this page.
Leading this year's seedings: last year's winner, TVA Credit Union Ballpark, home of the Johnson City Cardinals. There has never been a repeat winner in the MiLB votes; previous winners are Melaleuca Field(2015), Dehler Park (2016) and TVA Credit Union Ballpark. Based on last year's results, here is the ranking used at the beginning of the vote:
1. TVA Credit Union Ballpark (Johnson City Cardinals; AppL)
2. Dehler Park (Billings Mustangs; PL)
3. Suplizio Field (Grand Junction Rockies; PL)
4. Calfee Park (Pulaski Yankees; AppL)
5. Pioneer Park (Greeneville Reds; AppL)
6. Lindquist Field (Ogden Raptors; PL)
7. Melaleuca Field (Idaho Falls Chukars; PL)
8. Burlington Athletic Stadium (Burlington Royals; AppL)
9. Ogren Park at Allegiance Field (Missoula Osprey; PL)
10. Centene Stadium (Great Falls Voyagers; PL)
11. Hunnicutt Field (Princeton Rays; AppL)
12. Hunter Wright Stadium (Kingsport Mets; AppL)
13. Bowen Field (Bluefield Blue Jays; AppL)
14. Legion Field (Danville Braves; AppL)
15. Kindrick Legion Field (Helena Brewers; PL)
16. Boyce Cox Field (Bristol Pirates; AppL)
17. Home of the Owlz (Orem Owlz; PL)
18. Joe O'Brien Field (Elizabethton Twins; AppL)
AppL = Appalachian League
PL = Pioneer League