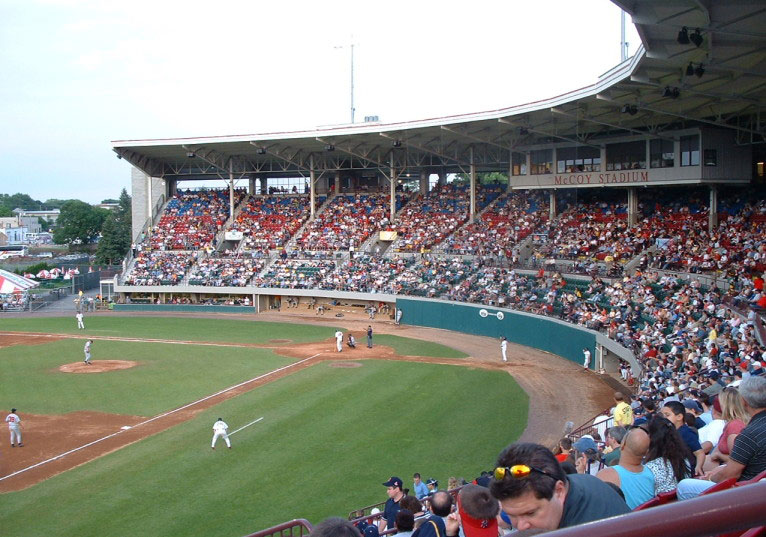 With the Pawtucket Red Sox (Class AAA; International League) relocating to Worcester, MA, in 2021, there's been a continuing debate over the future of McCoy Stadium and pro baseball in Rhode Island. Any solution, it appears, will not be cheap.
One stated reason for the PawSox departing for Massachusetts is the deteriorating condition of McCoy Stadium. Two studies pegged the cost of repairs, as well as upgrades to meet current MiLB facility standards, at $60 million. Now, that cost could be considerably lower — say $20 million — if the repairs were basic and the facility used for sh0rt-season or independent ball.
It's no secret that there's been talk of placing a Short Season A NY-Penn League team in Pawtucket to replace the PawSox; the current PawSox ownership group reportedly has floated the possibility. New Hampshire Fisher Cats (Class AA; Eastern League) owner Art Solomon has been quoted as contacting Pawtucket Mayor Don Grebien about placing a team at McCoy Stadium.  And with two struggling NY-Penn League teams with short-term leases on the market, such a move would make economic sense, but may not be a slam duck: the presence of the Lowell Spinners some 65 miles away would be a complicating factor. (Forget a full-season team: too far outside the footprints of either the Carolina League or Sally League.)
But the longer-term issue: why put $20 million or more into renovating McCoy Stadium? Its location means there will be very limited return on that investment — and, let's face it, we're in an era where any investment in sports facilities needs to be accompanied by some level of private investment and development. Meanwhile, that $20 million may be better applied to some bigger thinking, like the proposed ballparks in the past in downtown Pawtucket or Providence. And a new ballpark in either downtown location would surely lead to considerably more economic activity than a McCoy Stadium renovation.
So we're a long way from any decision, obviously, and if there are multiple owners seeking to move a team to Pawtucket if it becomes an open territory, then MiLB makes the final call. The unsettled future of McCoy Stadium will leave things open through next year — if not into 2020.
RELATED STORIES: Poll: Most RI Voters Support Decision to Not Increase PawSox Ballpark Offer; Worcester Moves Forward on New Ballpark Deal; Janet Marie Smith Brings Experience to Worcester; The Collapse of the Pawtucket Ballpark Deal; Is NY-Penn League a Fit For McCoy Stadium?; Ballpark Borrowing Not Expected to Hurt Worcester's Bond Rating; Worcester Ballpark Plan Clears Committee; Businesses Anticipate Proposed Worcester Ballpark; Worcester City Council to Review Ballpark Deal; With PawSox Eyeing Move, McCoy Stadium Faces Uncertain Future; Worcester Looks to Assemble "Ballpark Delivery Team"; It's Official: PawSox to Worcester, Polar Park in 2021; Report: PawSox Set for Worcester Move; Could Fitton Field Temporarily Host PawSox?; Would Spinners be Affected by PawSox Move to Worcester?; PawSox Still Ironing Out Pawtucket Ballpark Plans With City; RI Govenor Signs PawSox Ballpark Bill; Team Still Noncommittal; RI General Treasurer Releases Revised PawSox Ballpark Cost; Could Worcester Land PawSox?