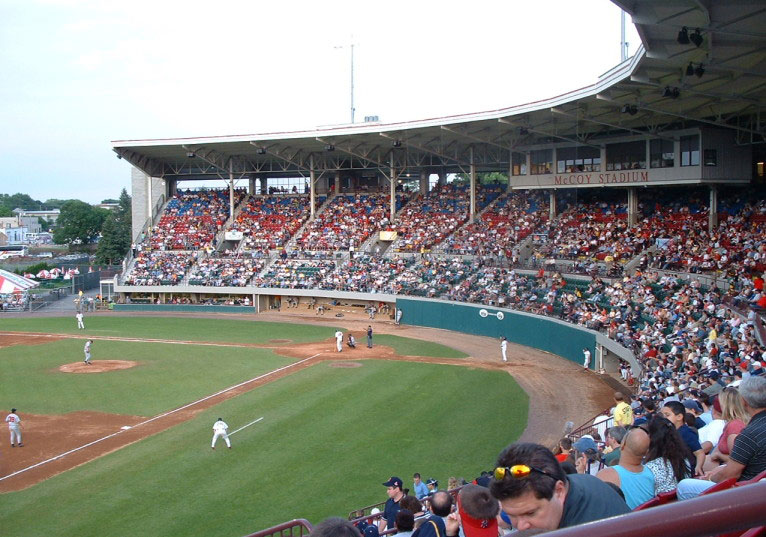 Deliberation from Pawtucket and Rhode Island officials on McCoy Stadium's future is on hold and will resume early next year, as the city's decision to back a new downtown soccer stadium does not address the future of the property.
Following the 2020 season, the Pawtucket Red Sox (Class AAA; International League) will depart McCoy Stadium and move to a new ballpark in Worcester, MA. With the team's move approaching, Pawtucket and Rhode Island officials have been mapping out the ballpark's future, issuing an RFP earlier this year that drew six responses. A plan that had surfaced as part of that RFP is moving forward, as city and state officials unveiled on Monday a $400-million proposal led by Brett Johnson of Fortuitous Partners that call for a new downtown soccer stadium along the Seekonk River for a USL Championship club and development on other downtown sites–including the Apex property that was targeted for a new PawSox ballpark before the team announced its move to Worcester.
Left unaddressed for now is the future of the McCoy Stadium site, which is not included in the newly unveiled soccer stadium project. When announcing the plans for downtown development, officials stated that consideration of McCoy Stadium's future is taking place on a separate track, and that a decision could come early in the new year. More from the Providence Journal:
As for what will happen to McCoy Stadium when the PawSox leave, now slated for 2021, Grebien said the state and city are working on a separate track to the downtown development and plan to begin reviewing the proposals early next year.
The options include minor-league baseball or tearing the ballpark down and putting something else there.
Two of responses to the RFP called for leaving McCoy Stadium open for professional baseball, with current PawSox minority owner/vice chairman Mike Tamburro part of a group seeking to keep affiliated Minor League Baseball at McCoy Stadium. Meanwhile, a bid led by Frank Boulton calls for placing an independent Atlantic League team at the facility. Whether one of those proposals moves forward remains to be seen, but for now it seems that city and state officials still have some work to do as they try to determine the ballpark's future. McCoy Stadium originally opened in 1942–making it the oldest active ballpark in Triple-A baseball–and underwent its last major renovation in 1999, and its aging condition contributed to the PawSox's search for a new ballpark and eventual decision to move to Worcester. And with the city committing $90 million in public assistance via TIF financing to the downtown soccer project, it remains to be seen if the city has the ability to address the many issues posed by the condition of McCoy Stadium.
Updated to clarify the city's timeline on making a decision about McCoy Stadium's future.
RELATED STORIES: Future of McCoy Stadium Uncertain as Evaluation Process Continues; McCoy Stadium Pitches Under Consideration; Tamburro Working on New Pawtucket MiLB Team; Atlantic League, MiLB Among Pitches for McCoy Stadium; Sports-Related Pitches Sought in McCoy Stadium RFP; Raimondo: I'm Working to Lure New McCoy Stadium Tenant; Funds Pitched for McCoy Stadium Repairs, Study; No Decisions on McCoy Stadium's Future; Future of McCoy Stadium Still in Play; Poll: Most RI Voters Support Decision to Not Increase PawSox Ballpark Offer; The Collapse of the Pawtucket Ballpark Deal; Is NY-Penn League a Fit For McCoy Stadium?; It's Official: PawSox to Worcester, Polar Park in 2021; Report: PawSox Set for Worcester Move