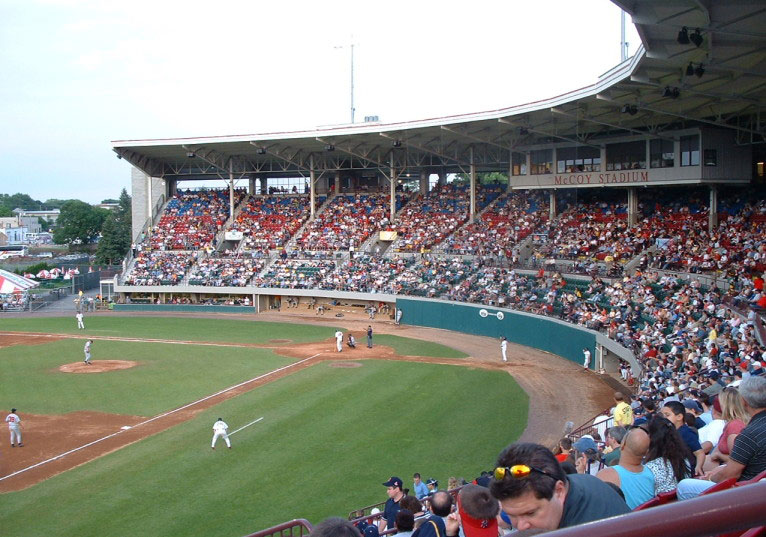 With the Pawtucket Red Sox (Class AAA; International League) set to depart after the 2020 season, Rhode Island governor Gina Raimondo says she is working to land a future tenant for McCoy Stadium. 
After failing to come to terms with local and state lawmakers on a proposed downtown Pawtucket ballpark, the PawSox announced last summer that they will move to Worcester, MA after the 2020 season. They will remain at McCoy Stadium for the 2019 and 2020 seasons, but the future of the ballpark beyond that remains in question.
This week, Raimondo said that she is working to hoping to land another tenant for the aging ballpark–perhaps including an affiliated minor league team, or a soccer club. Nothing is finalized at this point, but it signals that the possibility of leaving open McCoy Stadium for another use will be on the radar of local and state officials as they discuss the ballpark's future. More from WPRI:
"I'm hard at work trying to get some other use for the stadium — soccer team, AA [baseball] team," Raimondo told an audience at Harvard's Kennedy School on Wednesday night. "I'm not letting the lights go out on McCoy."
Asked to elaborate, Commerce RI spokesperson Brian Hodge told WPRI 12, "We have received inquiries from multiple potential applicants regarding the reuse of McCoy Stadium – including inquiries about tenancies involving baseball, soccer, and other possibilities."
Commerce is currently working with Pawtucket Mayor Don Grebien's office on a forthcoming request for proposals on the future use of McCoy. Grebien's spokesperson, Wilder Arboleda, said the mayor remains focused on a plan for the stadium and thanked the governor for her "hard work" on it.
"We look forward to seeing the many responses and finding the one that will continue making Pawtucket a great destination," Arboleda said.
Officials will have plenty to consider as they evaluate long-term plans for McCoy Stadium, including the feasibility of leaving it operational and continuing to maintain it versus tearing it down to make way for redevelopment of the site. If putting another minor-league team at McCoy Stadium is an option officials want to explore, then it will require consideration of how to maintain the facility for whatever level it attracts, along with an operator willing to commit to the facility. Double-A baseball may be a stretch for various reasons, but we continue to hear about efforts to bring a Short Season A team to the venerable facility. That would make for an interesting facilities challenge, as McCoy Stadium is far too large for Short Season A ball, but you could downsize the facility and do something utterly charming and retro with it. McCoy Stadium originally opened in 1942–making it the oldest active ballpark in Triple-A baseball–and received its last significant renovation in 1999.
RELATED STORIES: Funds Pitched for McCoy Stadium Repairs, Study; No Decisions on McCoy Stadium's Future; Future of McCoy Stadium Still in Play; Poll: Most RI Voters Support Decision to Not Increase PawSox Ballpark Offer; The Collapse of the Pawtucket Ballpark Deal; Is NY-Penn League a Fit For McCoy Stadium?; It's Official: PawSox to Worcester, Polar Park in 2021; Report: PawSox Set for Worcester Move