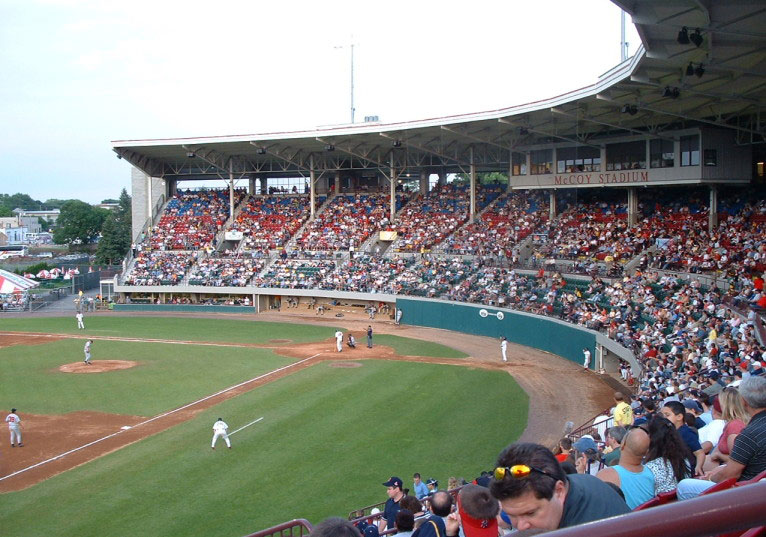 No final decision has been made about the future of McCoy Stadium, but Pawtucket and Rhode Island officials are reportedly analyzing a downtown development proposal in their ongoing evaluation process. 
Following the 2020 season, the Pawtucket Red Sox (Class AAA; International League) will depart McCoy Stadium and move to a new ballpark in Worcester, MA. With the team's move approaching, Pawtucket and Rhode Island officials have been mapping out the ballpark's future, issuing an RFP earlier this year that drew six responses. Two of those responses called for leaving McCoy Stadium open for professional baseball, with current PawSox minority owner/vice chairman Mike Tamburro part of a group seeking to keep affiliated Minor League Baseball at McCoy Stadium. Meanwhile, a bid led by Frank Boulton calls for placing an independent Atlantic League team at the facility.
There are other plans in play as well, including two that call for new professional soccer stadiums in downtown Pawtucket and redevelopment of the McCoy Stadium site. Pawtucket and Rhode Island officials have not finalized their plans for McCoy Stadium, but the Valley Breeze is reporting that final analysis is taking place on a proposal that includes downtown development, with a decision on the future of McCoy "in a bit of a holding pattern." It has been noted that there is separate study on McCoy Stadium unfolding, and that plans involving baseball are still on the table. More from the Valley Breeze:
The Breeze has learned that while baseball at McCoy is still on the table in a post-Pawtucket Red Sox era after next season, the final analysis being done is for a major development in the downtown area and that a final resolution on McCoy itself is in a bit of a holding pattern.
State and local officials wouldn't confirm that anything has been ruled out or decided upon, but Commerce Secretary Stefan Pryor did confirm to WPRI last week that officials expect a sports component to emerge from final talks.
City Director of Administration Dylan Zelazo said only that "we're on a separate track" with a study on McCoy and establishing its true needs. Baseball options are still on the table there, he said. He said city officials are very hopeful that the "final game-changing product" being discussed now "will bring a great deal of positive development in the downtown."…
Matt Sheaff, director of communications and stakeholder outreach for Commerce R.I., said state and local officials are "weeks away from having some decisions" on "one or more than one" of the proposals.
Per an April press release from the Commerce Corporation, AJAX Advisors, LLC is proposing to build a new downtown Pawtucket stadium for an independent soccer team while repurposing the McCoy Stadium site for light industrial use. A separate bid from Brett Johnson of Fortuitous Partners calls for a new downtown stadium for a United Soccer League club, with McCoy Stadium redeveloped into a recreational park that includes multipurpose athletic fields.
In theory, there could be a scenario in which both downtown development and a separate continued used of McCoy Stadium ultimately move forward, though there are some questions about the future of professional baseball at the ballpark. Given baseball's territorial rules, there's only one ownership group with rights to Pawtucket, and that's the current PawSox group. The likeliest scenario has the PawSox owners involved at some level with another team at McCoy Stadium–say, one of the two Short Season A New York-Penn League teams for sale with a short-term lease–after the PawSox move to Worcester. Management of the Lowell Spinners (Short Season A; NY-Penn League), a Boston Red Sox affiliate, has been adamant about not seeking a move to Pawtucket and has emphasized its commitment to Lowell. Meanwhile, with the proposal by MLB to eliminate most of the NY-Penn League, awarding a lease to a group seeking to keep Minor League Baseball in Pawtucket is problematic, at best.
Regardless of whether affiliated MiLB or Atlantic League action fills the void at McCoy Stadium, there would likely be discussions about how to best modify the aging ballpark for long-term use. McCoy Stadium originally opened in 1942–making it the oldest active ballpark in Triple-A baseball–and underwent its last major renovation in 1999, and its aging condition contributed to the PawSox's search for a new ballpark and eventual decision to move to Worcester.
RELATED STORIES: McCoy Stadium Pitches Under Consideration; Tamburro Working on New Pawtucket MiLB Team; Atlantic League, MiLB Among Pitches for McCoy Stadium; Sports-Related Pitches Sought in McCoy Stadium RFP; Raimondo: I'm Working to Lure New McCoy Stadium Tenant; Funds Pitched for McCoy Stadium Repairs, Study; No Decisions on McCoy Stadium's Future; Future of McCoy Stadium Still in Play; Poll: Most RI Voters Support Decision to Not Increase PawSox Ballpark Offer; The Collapse of the Pawtucket Ballpark Deal; Is NY-Penn League a Fit For McCoy Stadium?; It's Official: PawSox to Worcester, Polar Park in 2021; Report: PawSox Set for Worcester Move