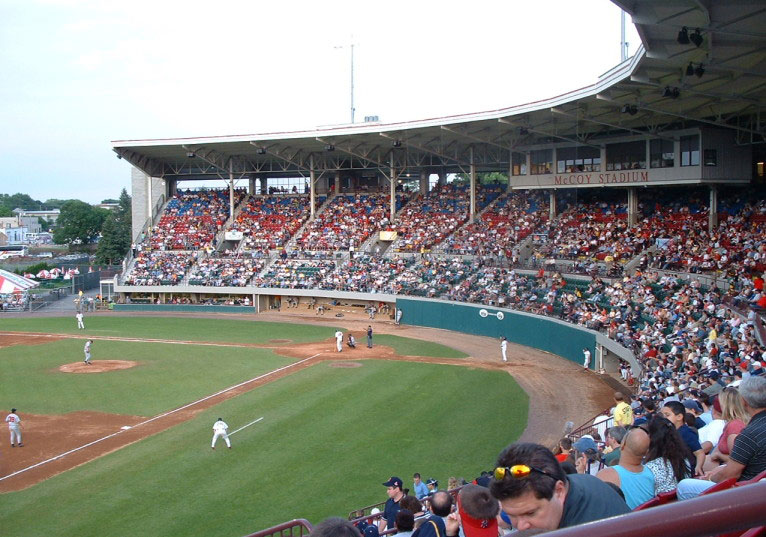 With the Pawtucket Red Sox (Class AAA; International League) set to move in the coming years, Rhode Island and local officials continue to evaluate proposals for the future of McCoy Stadium. 
Following the 2020 season, the PawSox will relocate to Worcester, MA, where ground was broken last week on Polar Park, an upcoming ballpark is slated to open in 2021. The PawSox have one more season left at McCoy Stadium, but the future of the facility and its site beyond the team's departure has yet to be determined.
A request for proposals (RFP) on the site's future issued earlier this year drew six responses, including two that call for leaving the ballpark open for professional baseball. Current PawSox minority owner/vice chairman Mike Tamburro is part of a group seeking to keep affiliated Minor League Baseball at McCoy Stadium, while a bid led by Frank Boulton calls for placing an independent Atlantic League team at the facility.
Specifics about the proposals are being kept under wraps for now, as the evaluation process is still unfolding. There should be more certainty on the situation in the coming months, however, as the state's timeline calls for an announcement by the end of September. More from the Valley Breeze:
Pawtucket Mayor Donald Grebien said this week that he expects clarity on the future of McCoy by fall.
"By the state's schedule, we will have an announcement by the end of September," he said.
The city and state have been working together on a request for proposals (RFP) that includes the reuse of McCoy Stadium and revitalization of Pawtucket's downtown.
"We are excited to be reviewing and evaluating the six responses that we received," said Grebien. "Pawtucket is a desirable location for development and there is a lot of interest from investors, especially in our five federally designated opportunity zones."
As far as the prospects of an affiliated MiLB team playing at McCoy Stadium after 2020 are concerned, there are a number of factors to keep in mind. Given baseball's territorial rules, there's only one ownership group with rights to Pawtucket, and that's the current PawSox group. The likeliest scenario has the PawSox owners involved at some level with another team at McCoy Stadium–say, one of the two Short Season A NY-Penn League teams for sale with a short-term lease–after the PawSox move to Worcester. Management of the Lowell Spinners (Short Season A; NY-Penn League), a Boston Red Sox affiliate, has been adamant about not seeking a move to Pawtucket and has emphasized its commitment to Lowell.
Should professional baseball in any form continue at McCoy Stadium, there will likely be discussions about how to best modify the facility. That would likely include discussions as to how best address repairs at the aging facility–which originally opened in 1942, and underwent its last major renovation in 1999–and what can be done to alter it for a lower level of play.
RELATED STORIES: Tamburro Working on New Pawtucket MiLB Team; Atlantic League, MiLB Among Pitches for McCoy Stadium; Sports-Related Pitches Sought in McCoy Stadium RFP; Raimondo: I'm Working to Lure New McCoy Stadium Tenant; Funds Pitched for McCoy Stadium Repairs, Study; No Decisions on McCoy Stadium's Future; Future of McCoy Stadium Still in Play; Poll: Most RI Voters Support Decision to Not Increase PawSox Ballpark Offer; The Collapse of the Pawtucket Ballpark Deal; Is NY-Penn League a Fit For McCoy Stadium?; It's Official: PawSox to Worcester, Polar Park in 2021; Report: PawSox Set for Worcester Move