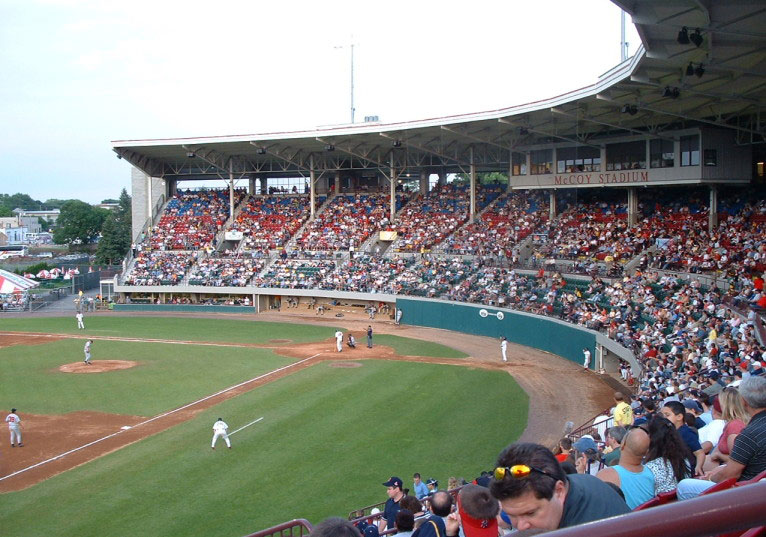 Pawtucket's McCoy Stadium would continue hosting professional baseball under two new proposals, with separate bids in place for an independent Atlantic League team and an affiliated Minor League Baseball club.  
With the Pawtucket Red Sox (Class AAA; International League) slated to relocate to Worcester, MA after the 2020 season, Pawtucket and Rhode Island officials are considering the next step for venerable McCoy Stadium. A request for proposals (RFP) was recently issued and drew six responses, which were detailed in an announcement issued by the city and the Rhode Island Commerce Corporation on Friday.
While the proposals vary in their exact idea for the site–some call for demolishing the ballpark to make way for redevelopment–there are two that plans that would result in professional baseball returning to McCoy Stadium. One led by Frank Boulton would lead to an Atlantic League team using the ballpark, with a separate bid from a group of local business and community leaders under the name Minor League Baseball for Pawtucket calling for an affiliated MiLB club. Per a press release from the Commerce Corporation, the group's desire is to "to explore with the City of Pawtucket and the State of Rhode Island the possibility of continuing the rich tradition of affiliated, Minor League Baseball in Pawtucket."
Given baseball's territorial rules, there's only one ownership group with rights to Pawtucket, and that's the current PawSox group. The Boston Red Sox would need to sign off on any team moving to Pawtucket as well, so the likeliest scenario has the PawSox owners fielding another team at McCoy Stadium–say, one of the two Short Season A NY-Penn League teams for sale with a short-term lease–after the PawSox move to Worcester. Management of the Lowell Spinners (Short Season A; NY-Penn League), a Boston Red Sox affiliate, have been adamant about not seeking a move to Pawtucket.
Now that the submissions are in place, officials will begin a review of the bids. More from the Providence Journal:
All of the proposals will be reviewed by the Commerce Corporation and city.
"We are very pleased with the number and apparent quality of the proposals we've received," said Rhode Island Commerce Secretary Stefan Pryor. "We look forward to working with Mayor Grebien and his team to review these proposals, narrow them down, and pursue next steps."
Pawtucket Mayor Donald R. Grebien said, "The City appreciates the initiative and leadership role Commerce RI has taken with the Request for Proposal process. The number of responses continue to show that Pawtucket is a desirable location for development and that there is a clear interest for investors to come to the city. We look forward to working with Commerce to review and evaluate the six proposals."
There are many questions about McCoy Stadium's future that remain unanswered at this point. Although the possibility remains that the ballpark could be torn down in order to redevelop the site, Pawtucket is drawing some interest for a prospective professional baseball team. In the case of either the Atlantic League or an MiLB team, any operator would have to consider the challenge of how to best maintain and run the aging McCoy Stadium.
McCoy Stadium originally opened in 1942–making it the oldest active ballpark in Triple-A baseball–and received its last significant renovation in 1999. The deteriorating condition of the ballpark–two studies pegged the cost of repairs, as well as upgrades to meet current MiLB facility standards, at $60 million–is what prompted the PawSox to seek a replacement, including separate overtures to remain in Rhode Island by way of a new ballpark in Providence or Pawtucket, and their ultimately successful negotiations to build a facility in Worcester. In theory, however, the cost for those repairs could be lowered for independent or a lower level of affiliated baseball, particularly if McCoy Stadium were downsized in some form.
RELATED STORIES: Sports-Related Pitches Sought in McCoy Stadium RFP; Raimondo: I'm Working to Lure New McCoy Stadium Tenant; Funds Pitched for McCoy Stadium Repairs, Study; No Decisions on McCoy Stadium's Future; Future of McCoy Stadium Still in Play; Poll: Most RI Voters Support Decision to Not Increase PawSox Ballpark Offer; The Collapse of the Pawtucket Ballpark Deal; Is NY-Penn League a Fit For McCoy Stadium?; It's Official: PawSox to Worcester, Polar Park in 2021; Report: PawSox Set for Worcester Move