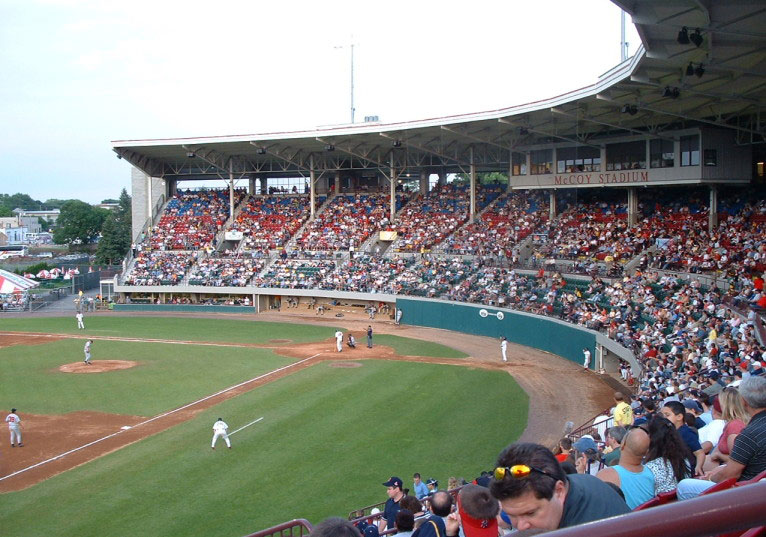 Professional baseball is still in play as a future use for Pawtucket's McCoy Stadium, but it will take time for city and state leaders to determine long-term plans for the ballpark.
The Pawtucket Red Sox (Class AAA; International League) are set to depart for a new ballpark in Worcester, MA following the 2020 season, and for now there remains uncertainty about what will become of McCoy Stadium. Pawtucket and Rhode Island issued an RFP earlier this year, and a plan that surfaced as part of that process is moving forward, as city and state leaders last week unveiled a proposed $400-million downtown development project that would include a new professional soccer stadium. With the focus for now on those discussions, it remains to be seen when city and state leaders will make a decision on McCoy Stadium, though it appears that professional baseball remains a remote option.
Two professional baseball proposals have been linked to McCoy Stadium, including one seeking to keep affiliated Minor League Baseball at the ballpark and a separate bid led by Frank Boulton that calls for placing an independent Atlantic League team at the facility. Boulton confirms his continued interest in McCoy, believing that it could be a viable home for an Atlantic League team with some modifications. The status of the MiLB bid, however, is a bit murkier, as it is reportedly on hold. Notably, this revelation comes amidst ongoing concerns about the proposed contraction of MiLB teams by Major League Baseball. More from WPRI:
Rhode Island officials contacted Boulton to tell him the state reached a preliminary agreement with Fortuitous, but left the door open for future negotiations. Boulton said he's still interested in McCoy if it makes sense for the city, state and business community moving forward.
"If I can be part of helping professional baseball continue in Pawtucket, that's my main goal. I own baseball teams, so I don't necessarily need to own another one," he said. "I know they had a deal they couldn't turn down."…
A group called Minor League Baseball for Pawtucket, meanwhile, has also made a pitch to bring a minor-league baseball team to the city. The group is described as local Rhode Island business leaders and community members, who want to explore the possibility of "continuing a rich tradition of affiliated, Minor League Baseball in Pawtucket."
PawSox minority owner and vice chairman Mike Tamburro has taken part in the group, according to The Providence Journal. But in a response to a request for comment, a PawSox spokesperson said, "Any plans to bring a Single-A baseball team to McCoy are on hold."
Certain complications are in play when it comes to the prospects of MiLB at the ballpark. Given baseball's territorial rules, there's only one ownership group with rights to Pawtucket, and that's the current PawSox group. The likeliest scenario has the PawSox owners involved at some level with another team at McCoy Stadium–say, one of the two Short Season A New York-Penn League teams for sale with a short-term lease–after the PawSox move to Worcester. Management of the Lowell Spinners (Short Season A; NY-Penn League), a Boston Red Sox affiliate, has been adamant about not seeking a move to Pawtucket and has emphasized its commitment to Lowell. Meanwhile, the proposal by MLB to eliminate most of the NY-Penn League does make the prospects of a future MiLB team at McCoy Stadium uncertain.
With a need for green space in Pawtucket, as well as the financial commitment to a new downtown soccer stadium, the city may just seek to raze the ballpark and use the land for sorely needed recreation and soccer fields.
RELATED STORIES: Decision on McCoy Stadium Future Resumes in 2020; Future of McCoy Stadium Uncertain as Evaluation Process Continues; McCoy Stadium Pitches Under Consideration; Tamburro Working on New Pawtucket MiLB Team; Atlantic League, MiLB Among Pitches for McCoy Stadium; Sports-Related Pitches Sought in McCoy Stadium RFP; Raimondo: I'm Working to Lure New McCoy Stadium Tenant; Funds Pitched for McCoy Stadium Repairs, Study; No Decisions on McCoy Stadium's Future; Future of McCoy Stadium Still in Play; Poll: Most RI Voters Support Decision to Not Increase PawSox Ballpark Offer; The Collapse of the Pawtucket Ballpark Deal; Is NY-Penn League a Fit For McCoy Stadium?; It's Official: PawSox to Worcester, Polar Park in 2021; Report: PawSox Set for Worcester Move