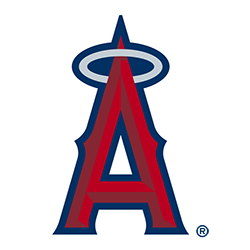 The Los Angeles Angels are not willing to restore the Anaheim Angels name in ballpark discussions with the city, and Anaheim's mayor is not opposed to that stance.
In 2005, the Angels made a controversial move under owner Arte Moreno to change their name from the Anaheim Angels to the Los Angeles Angels of Anaheim. Anaheim would then sue the Angels over the name change, seeking $373 million in damages it believed it would lose in tourism revenue and media exposure, but was ultimately unsuccessful in that challenge.
Currently there are some unresolved questions surrounding the Angels' future, as they effectively sought to open long-term facility talks by opting out of their lease to Anaheim's Angel Stadium last fall. The Angels and Anaheim are expected to discuss a long-term ballpark plan that could involve either a renovated Angel Stadium, or a new ballpark built on the surrounding site.
Some have questioned whether those discussions should include a provision requiring the Angels to restore Anaheim to their name, but the team is not entertaining that possibility. Angels officials say that they not are putting a switch back to Anaheim Angels on the table as part of negotiations, and Anaheim mayor Harry Sidhu does not want to make it an issue in discussions. Sidhu believes that conversation about the name would distract from the effort to retain the Angels with a new or renovated ballpark surrounded by ancillary development. More from the Los Angeles Times:
"The name was already addressed several years ago," Angels spokeswoman Marie Garvey said Thursday. "It is not up for discussion."
Anaheim Mayor Harry Sidhu called the name issue "a distraction."
"We are not going into negotiations with that as the make-or-break issue that determines whether baseball stays in Anaheim," he said in a statement. The Angels can opt out of their lease by Dec. 31, or continue to play under their current lease through 2029.
Sidhu added: "We know the name issue still resonates in our community. But it is a distraction from what is really important: preserving baseball in Anaheim with a deal that is good for our city and that brings lasting benefits for residents for years to come."
In more recent years, the "of Anaheim" portion of the Angels name has effectively disappeared, with the shortened Los Angeles Angels branding appearing in team press materials and social media channels. The organization is also now commonly referred to by news outlets as the Los Angeles Angels.
RELATED STORIES: Anaheim Seeks Angels Lease Proposal by October; Los Angeles Angels Bolster Development Team; Anaheim Unfazed by Possible Long Beach Overtures for Angels; Angels Long Beach Ballpark Project Could Top $1 Billion; Long Beach Pitches New Angels Ballpark; Firm to Appraise Angel Stadium Site; Thinking Big in Anaheim; Angel Stadium Lease Extension Approved; Angels Look to Extend Angel Stadium Lease Extend Through 2020; Anaheim to Get Appraisal on Angel Stadium Site; Angels Opt Out of Angel Stadium Lease; Moreno: We're Committed to Angel Stadium; Angels Mulling Ballpark Options; Angels Continue to Voice Objections to Development; Angels Dissaprove of Proposed Development Around Ballpark; Angels New Ballpark Plan: Renovate Angel Stadium; Could development drive Angels from Anaheim?; Angels end Anaheim talks; Tustin taking up ballpark talk; Critic: Angel Stadium economic impact based on faulty data; City-commissioned appraisal of of Angel Stadium to be released; No public money for new Angels ballpark: Tustin mayor; Moreno: Angels committed to Anaheim, but checking out alternatives; Angels lease negotiations hinge on value of land surrounding ballpark; Angels casually threaten move during lease negotiations