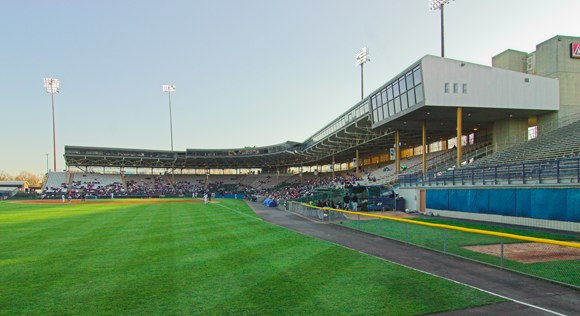 A redevelopment plan for Cooper Stadium, former home of the Columbus Clippers (Class AAA; International League) and Negro Leagues baseball, received initial approval by the Columbus City Council.
The SPARC Holding LLC development firm, an affiliate of the Arshot Investment Corporation, submitted a new plan calling for apartments and retail at the 47.2-acre site once owned by Franklin County. All in all, the new site plan calls for up to 550 apartment units, 13,000 square feet of retail and 51,000 square feet of office space. The portion of the old grandstand still standing could be incorporated as seating for a new outdoor amphitheater, with the old playing field reconfigured as paved event space (which would seem to preclude baseball being played again at the site). Other smaller, existing structures on the ballpark site could be reused. An interesting part of the design: stacked shipping containers would be used to define the edge of the development. As noted, the proposal received approval on the first reading; the council will revisit the issue next week.
The ballpark site has been unused since Huntington Park opened in 2008, with much of the grandstand ultimately demolished. Originally SPARC Holding proposed using the site as an auto testing area and racetrack, but those plans were dropped after objections from neighbors.
Redeveloping old ballparks is a challenge. There have been some successful redevelopments, such as the conversion of Indianapolis's Bush Stadium to housing. This Cooper Stadium redevelopment plan dates back to 2019.
The original Cooper Stadium opened in 1932 and was updated several times since. Besides serving as home to the Clippers and predecessors, the ballpark was also home to the Columbus Blue Birds of the Negro National League in the first half of 1933. The team did not do well on the field or at the gate (despite the presence of Ted "Double Duty" Radcliffe on the roster) and eventually ended up in Cleveland. 
RELATED STORIES: New Plan for Cooper Stadium: Office Space; Cooper Stadium Becoming a Safety Concern; Video: The State of Cooper Stadium; Cooper Stadium Redevelopment Delayed; Will 2017 finally see Cooper Stadium makeover?; One last look at Cooper Stadium; Goodbye to Cooper Stadium; Cooper Stadium sale expected next week; Racing OK'd for former Clippers home; Racing proposal at Cooper Stadium draws opposition; Cooper Stadium renovation moves forward; Columbus grapples with future of Cooper Stadium