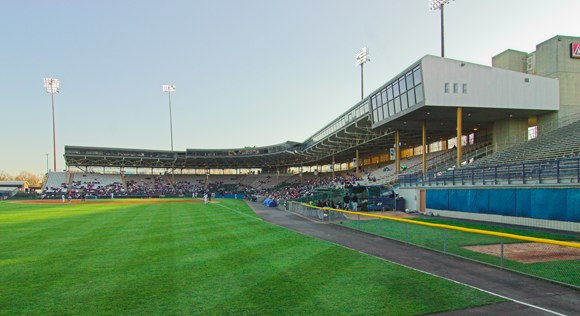 What is left of Cooper Stadium continues to deteriorate, leaving concerns about safety hazards at the former home of the Columbus Clippers (Class AAA; International League). 
Cooper Stadium was home to Columbus's professional baseball teams from 1932 through September 2008, when the Clippers played their last game at the ballpark. The Clippers moved into Huntington Park in 2009, leaving Cooper Stadium to sit empty until most of it was torn down in 2014 as part of redevelopment project led by Arshot Investment Corp.
Arshot's redevelopment plan called for converting the site into a racetrack that would utilize a preserved portion of the grandstand, part of a project that would include development such as an automotive research center and ancillary amenities like restaurants and a hotel. That project has stalled, however, and the faltering condition of the remaining grandstand sections and surrounding buildings on the site resulted in Arshot recently being cited for code violations. More from The Columbus Dispatch:
Orange signs that say "Public Nuisance" and "Hazardous Building" dot the exterior walls of the stadium, the old ticket office and another building on the site at 1155 W. Mound St. Code enforcement officers recently cited the owner, Arshot Investment Corp. of Columbus, for the violations.
The city's code enforcement office said the owner has secured the structure with fencing to try and prevent trespassers from getting into the site, and some progress has been made to cut the grass and weeds and clean the trash.
The city asked Arshot for a compliance plan by Feb. 15.
Joe Sugar, a lawyer for Arshot, wrote in an email that trespassers had cut through the fence and broken into the stadium. He said the site has since been secured and the city told Arshot that the company is now in compliance on that issue.
Cooper Stadium is currently included on our Endangered Ballparks list, as the stalled redevelopment plans and deteriorating state of the ballpark's remains leave plenty of questions about its future.
Photo by Jim Robins.
RELATED STORIES: Video: The State of Cooper Stadium; Cooper Stadium Redevelopment Delayed; Will 2017 finally see Cooper Stadium makeover?; One last look at Cooper Stadium; Goodbye to Cooper Stadium; Cooper Stadium sale expected next week; Racing OK'd for former Clippers home; Racing proposal at Cooper Stadium draws opposition; Cooper Stadium renovation moves forward; Columbus grapples with future of Cooper Stadium