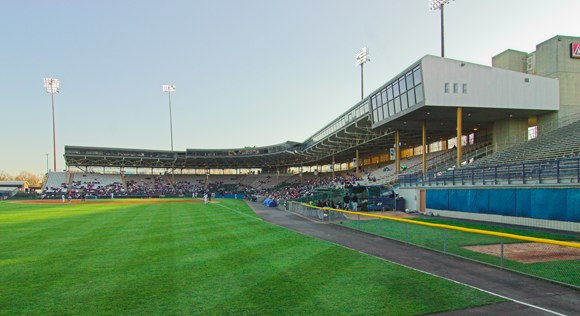 New drone footage captures the damaged state of a remaining portion of Cooper Stadium, former home of the Columbus Clippers (Class AAA; International League). 
Cooper Stadium was home to Columbus's professional baseball teams from 1932 through September 2008, when the Clippers played their last game at the ballpark. The Clippers moved into Huntington Park in 2009, and Cooper Stadium would sit empty after the team's departure until most of it was torn down in 2014 to make way for redevelopment.
With one stretch of Cooper Stadium's grandstand left intact, Arshot Investment Corp planned to move forward with an ambitious ballpark renovation, Cooper Park. Along with a racetrack that would utilize the preserved grandstand, the development was slated to include a research center and ancillary development like restaurants and a hotel, as well as a Richard Petty driving school.
However, the planned development has never taken off. New drone footage captured by The Columbus Dispatch shows the remaining portion of Cooper Stadium in its current state, with the site having fallen on hard times.

At one point, it was believed that the redevelopment of the site could be ready by 2017. In April of this year, however, The Dispatch reported that the project had stalled.
Photo by Jim Robins.
RELATED STORIES: Cooper Stadium Redevelopment Delayed; Will 2017 finally see Cooper Stadium makeover?; One last look at Cooper Stadium; Goodbye to Cooper Stadium; Cooper Stadium sale expected next week; Racing OK'd for former Clippers home; Racing proposal at Cooper Stadium draws opposition; Cooper Stadium renovation moves forward; Columbus grapples with future of Cooper Stadium