The heralded redevelopment of Cooper Stadium, former Columbus Clippers (Class AAA; International League) home, has stalled due to some engineering and code issues, but work is expected to commence this spring.
Since the Clippers moved to downtown's Huntington Park, the ballpark has remained empty, and much of it, including half of the grandstand, was torn down in 2014. Arshot Investment Corp. has pitched an ambitious agenda for a ballpark renovation, Cooper Park: besides the racetrack utilizing the ballpark grandstand, the development would also include a research center and ancillary development like restaurants and a hotel, as well as a Richard Petty driving school.
That plan is still on track, and a 2017 opening — discussed last year — is still very possible. But there's clearly been a stall in the development, and local officials are asking why there's been no movement in recent months. Turns out there's been a variety of issues, mostly related to engineering and meeting city codes, with some financing issues thrown in as well. From the Columbus Dispatch:
"It's not a dead project. It's stalled," said Trent Smith, executive director of the Franklinton Board of Trade, which touts business development in the area.
Franklin County Commissioner John O'Grady, who recently met with the project's developers, said: "They had some hurdles they had to get through with engineering and with city code. And now they're moving along.
"You'll see a lot more activity in 2016."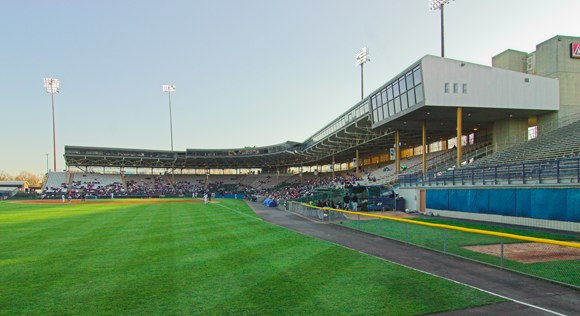 Ballpark redevelopments are hard. In this case, you had a grandstand that initially opened in 1932 and had been updated over the years. Any reconfiguration was bound to present some sort of engineering challenge — and it sounds like that was the case.
Photo by Jim Robins.
RELATED STORIES: Will 2017 finally see Cooper Stadium makeover?; One last look at Cooper Stadium; Goodbye to Cooper Stadium; Cooper Stadium sale expected next week; Racing OK'd for former Clippers home; Racing proposal at Cooper Stadium draws opposition; Cooper Stadium renovation moves forward; Columbus grapples with future of Cooper Stadium