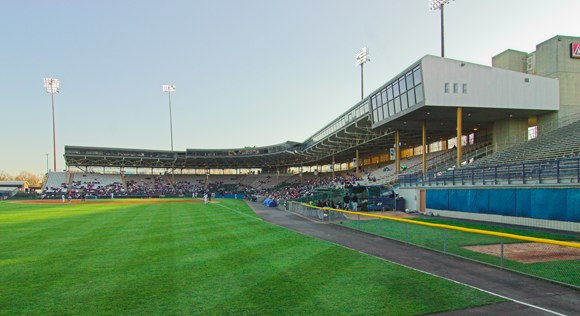 A new plan for the redevelopment of Cooper Stadium, former home of the Columbus Clippers (Class AAA; International League), scraps any tie to auto racing and instead calls for the redevelopment of the grandstand as office space.
Cooper Stadium was home to Columbus's professional baseball teams from 1932 through September 2008, when the Clippers played their last game at the ballpark. The Clippers moved into Huntington Park in 2009, leaving Cooper Stadium to sit empty until most of it was torn down in 2014 as part of redevelopment project led by Arshot Investment Corp.
Arshot's original redevelopment plan called for converting the site into a racetrack that would utilize a preserved portion of the grandstand, part of a project that would include development such as an automotive research center and ancillary amenities like restaurants and a hotel. But those plans have been scaled back, with Arshot proposing 500 apartments at the southern edge of the former ballpark site and the development of what's left of the grandstand as office space.
A full Cooper Stadium redevelopment plan has not been released to the public, however, though the city has been briefed, and there's plenty up in the air, according to the Columbus Dispatch:
[Stefanie Coe of the Southwest Area Commission] said she was told that the apartments would not be low-income housing and that there could be free-standing offices, bars, restaurants, a dog park, and community space while developing a "creative sort of modern vibe."
She said Arshot's Bill Schottenstein told her that he doesn't expect financing to be an issue….
On Tuesday, Heather Truesdell, the city's code enforcement administrator, wrote in an email that although progress has been made in securing and cleaning up the site, issues remain. Those include cleaning up trash and debris in the southeast section of the parking lot, boarding and securing all metal doors and windows under the grandstand, and removing graffiti.
Redeveloping old ballparks is a challenge. There have been some successful redevelopments, such as the conversion of Indianapolis's Bush Stadium to housing, but other attempts, such as Ernie Harwell's crusade to preserve the original Tiger Stadium grandstand, came up short.
Cooper Stadium is currently included on our Endangered Ballparks list, as the stalled redevelopment plans and deteriorating state of the ballpark's remains leave plenty of questions about its future.
Photo by Jim Robins.
RELATED STORIES: Cooper Stadium Becoming a Safety Concern; Video: The State of Cooper Stadium; Cooper Stadium Redevelopment Delayed; Will 2017 finally see Cooper Stadium makeover?; One last look at Cooper Stadium; Goodbye to Cooper Stadium; Cooper Stadium sale expected next week; Racing OK'd for former Clippers home; Racing proposal at Cooper Stadium draws opposition; Cooper Stadium renovation moves forward; Columbus grapples with future of Cooper Stadium