The Oakland A's have adjusted the renderings for a proposed Howard Terminal ballpark, unveiling a revised concept that favors a more circular design. 
The Port of Oakland's Howard Terminal is being pursued by the A's as the site for a new ballpark, which could open as early as 2023 and replace the Oakland-Alameda County Coliseum as the team's home. Initial renderings for the proposed waterfront facility and surrounding mixed-use development were unveiled in late November, but the A's are tweaking those designs as part of their ongoing planning process. Ultimately the new renderings preserve some key amenities from the earlier concept, but incorporate a more circular look and feel into the ballpark's design.
A continuous rooftop park is still included in the planning for the ballpark, along with surrounding development. Changes in the design come after feedback from fans, officials, and community members, according to the A's, who released the new renderings on Monday. Through a series of tweets, the club explained that the circular design will allow the ballpark to have better views of the waterfront and surrounding parts of Oakland. The A's also feel that the modified design will make for easier access.
Since the initial positive response to our preliminary concepts for the new Howard Terminal ballpark at Jack London Square, we've continued to meet with public officials, fans, and community members to gather more input and refine our designs. The result is a new circular shape. pic.twitter.com/RZBscg3yIR

— Oakland Athletics 🌳🐘⚾️ (@Athletics) February 25, 2019
This update helps capture fan energy, still have a continuous rooftop park for use by fans and the community, provides better views of the water and Oakland from inside the ballpark and easier access from the surrounding neighborhood. See more at https://t.co/CG5eMwr6hv. pic.twitter.com/lQih5eKBUX

— Oakland Athletics 🌳🐘⚾️ (@Athletics) February 25, 2019
The A's still have plenty of work to do to make the proposed Howard Terminal ballpark a reality, including an environmental review of the site–which has an extensive history of heavy industrial uses in its past. In addition, the club will have to work to address some concerns that have surfaced about the proposed ballpark, including how it could affect traffic and existing industrial issues in the area.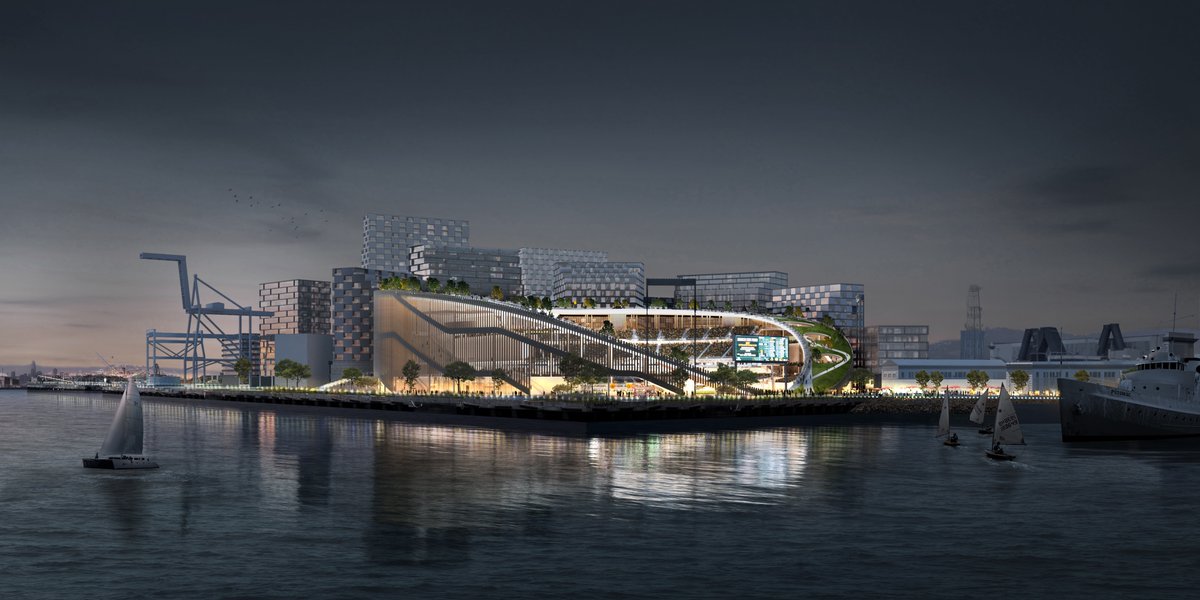 As part of the overall proposal, the A's would privately finance the new Howard Terminal ballpark while carrying out an extensive redevelopment of the Oakland Coliseum property. The Coliseum itself would be converted into a small sports park/amphitheater, with surrounding land redeveloped to include housing, a tech hub, a youth sports complex, retail, and light manufacturing. In addition, the A's propose leaving the adjacent Oracle Arena–which is hosting its last season for the NBA's Golden State Warriors as they prepare for this fall's debut of San Francisco's Chase Center–open for concerts, sporting events, and other gatherings.
Renderings courtesy Oakland A's.
RELATED STORIES: A's Partner With Environmental Justice Group as Howard Terminal Talks Continue; Manfred Expresses Optimism About A's Howard Terminal Pitch; Groups Opposing A's Howard Terminal Plan; Howard Terminal's History Could Complicate A's Ballpark Pitch; Study: Oakland Gondola Would Provide Economic Benefits; A's Propose Howard Terminal Ballpark, Coliseum Redevelopment; A's: We're Track to Announce Ballpark Plan by Year's End; Potential New A's Ballpark Backed in Poll; Bill Related to New Oakland A's Ballpark Signed Into Law; Legislature Approves Bills Related to New Oakland A's Ballpark; Bjarke Ingels Group to Design New Oakland A's Ballpark; Oakland A's Enter Coliseum Negotiations; A's Howard Terminal Vote Set for Thursday; Alameda County, Oakland to Negotiate Coliseum Site Ownership; Oakland Coliseum Site Now a Hot Property; Oakland Mayor Backs Negotiation Window with A's; Oakland A's Make Offer for Coliseum Site; A's Still Considering Coliseum Site for New Ballpark; Oakland Seeks Full Ownership of Oakland Coliseum Complex; A's Continue to Pursue New Ballpark in Oakland; New Oakland Athletics Ballpark Plan B Is In The Works; Oakland A's Returning to Three Ballpark Sites; Best of 2017, #5: Oakland A's Ballpark Search; What's Next for a New A's Ballpark? Four Potential Resolutions; Peralta Community College District to End A's Ballpark Talks; Poll Shows Support for New Oakland A's Ballpark; Business Leaders Show Support for A's Ballpark Proposal; A's Preferred Ballpark Site Draws Some Concerns; Athletics Pick Laney College Site for New Privately Financed Ballpark; Concerns Raised Over Potential A's Ballpark at Peralta Site; Is Howard Terminal Out as A's Ballpark Site?; Chancellor Intrigued by A's Ballpark at Laney College; Beane: New Ballpark Could Help A's Keep Players; Report: A's Interested in Site Near Laney College; Oakland A's Considering Ballpark Sites; A's Hope to Reveal Ballpark Site By Year's End; Best of 2016, #7: Oakland A's Ballpark Quest