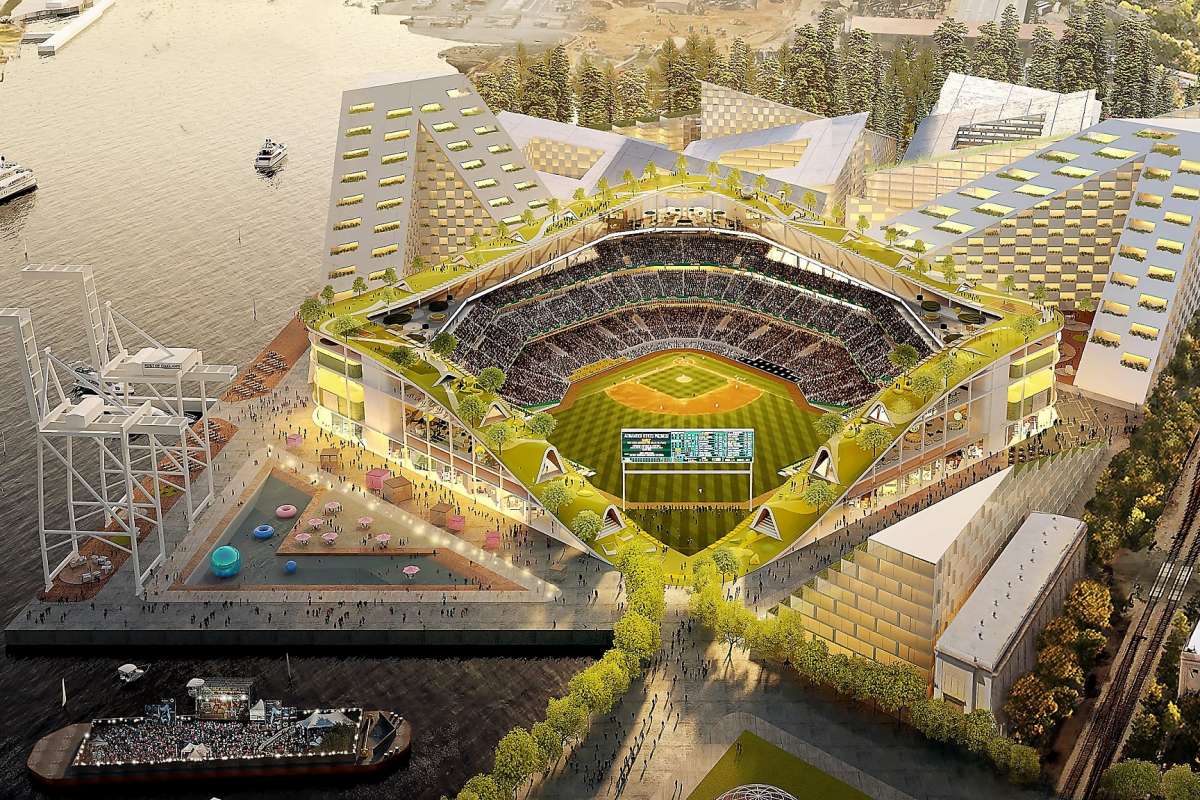 As they continue to explore a proposed Howard Terminal ballpark, the Oakland A's are partnering with the West Oakland Environmental Indicators Project (WOEIP). 
The Port of Oakland's Howard Terminal is the A's preferred site for a proposed ballpark and surrounding development, with the facility possibility opening as early as 2023 and replacing the Oakland-Alameda County Coliseum as the team's home. In their ongoing effort to move that concept forward, the A's are partnering with WOEIP to help address environmental and economic concerns stemming from the proposal.
Through this partnership, the A's and WOEIP will develop a community benefits agreement for the ballpark site and surrounding area. Additionally, the two sides will work to address concerns over the environmental impact of bringing the ballpark and adjacent development to an industrial waterfront area. The partnership was announced on Friday. More from Bay City News:
"This is not about demands, this is not about a rally. This is about problem solving," [WOEIP co-founder Margaret] Gordon said in a phone interview Friday. "How can we overcome those impacts?"
Gordon said the first step is reaching out to other community groups for input.
"We want everyone to be able to make a decision for our plan," she said.
The A's and the WOEIP will come up with a community benefits agreement for the proposed ballpark and surrounding area, A's spokeswoman Catherine Aker said.
Some questions have surrounded the viability of the Howard Terminal proposal, including possible implications from the site's history of heavy industrial uses and concerns about how the ballpark and adjacent development could affect traffic and existing industrial issues in the area. In their announcement about the partnership with WOEIP, the A's billed the arrangement as a step toward creating a project that would result in favorable outcomes from environmental and economic perspectives.
"One of our top priorities is to ensure that this ballpark project creates broader economic, environmental, and community benefits for the people of Oakland," A's President Dave Kaval said in a press statement. "After continued conversations with community leaders, we increasingly see that our ballpark project can be an essential catalyst to addressing longstanding environmental problems that have plagued West Oakland for far too long. This partnership represents an important step toward a broader environmental justice initiative that will extend well beyond the scope of the ballpark."
Rendering courtesy Bjarke Ingels Group / Oakland A's.
RELATED STORIES: Manfred Expresses Optimism About A's Howard Terminal Pitch; Groups Opposing A's Howard Terminal Plan; Howard Terminal's History Could Complicate A's Ballpark Pitch; Study: Oakland Gondola Would Provide Economic Benefits; A's Propose Howard Terminal Ballpark, Coliseum Redevelopment; A's: We're Track to Announce Ballpark Plan by Year's End; Potential New A's Ballpark Backed in Poll; Bill Related to New Oakland A's Ballpark Signed Into Law; Legislature Approves Bills Related to New Oakland A's Ballpark; Bjarke Ingels Group to Design New Oakland A's Ballpark; Oakland A's Enter Coliseum Negotiations; A's Howard Terminal Vote Set for Thursday; Alameda County, Oakland to Negotiate Coliseum Site Ownership; Oakland Coliseum Site Now a Hot Property; Oakland Mayor Backs Negotiation Window with A's; Oakland A's Make Offer for Coliseum Site; A's Still Considering Coliseum Site for New Ballpark; Oakland Seeks Full Ownership of Oakland Coliseum Complex; A's Continue to Pursue New Ballpark in Oakland; New Oakland Athletics Ballpark Plan B Is In The Works; Oakland A's Returning to Three Ballpark Sites; Best of 2017, #5: Oakland A's Ballpark Search; What's Next for a New A's Ballpark? Four Potential Resolutions; Peralta Community College District to End A's Ballpark Talks; Poll Shows Support for New Oakland A's Ballpark; Business Leaders Show Support for A's Ballpark Proposal; A's Preferred Ballpark Site Draws Some Concerns; Athletics Pick Laney College Site for New Privately Financed Ballpark; Concerns Raised Over Potential A's Ballpark at Peralta Site; Is Howard Terminal Out as A's Ballpark Site?; Chancellor Intrigued by A's Ballpark at Laney College; Beane: New Ballpark Could Help A's Keep Players; Report: A's Interested in Site Near Laney College; Oakland A's Considering Ballpark Sites; A's Hope to Reveal Ballpark Site By Year's End; Best of 2016, #7: Oakland A's Ballpark Quest