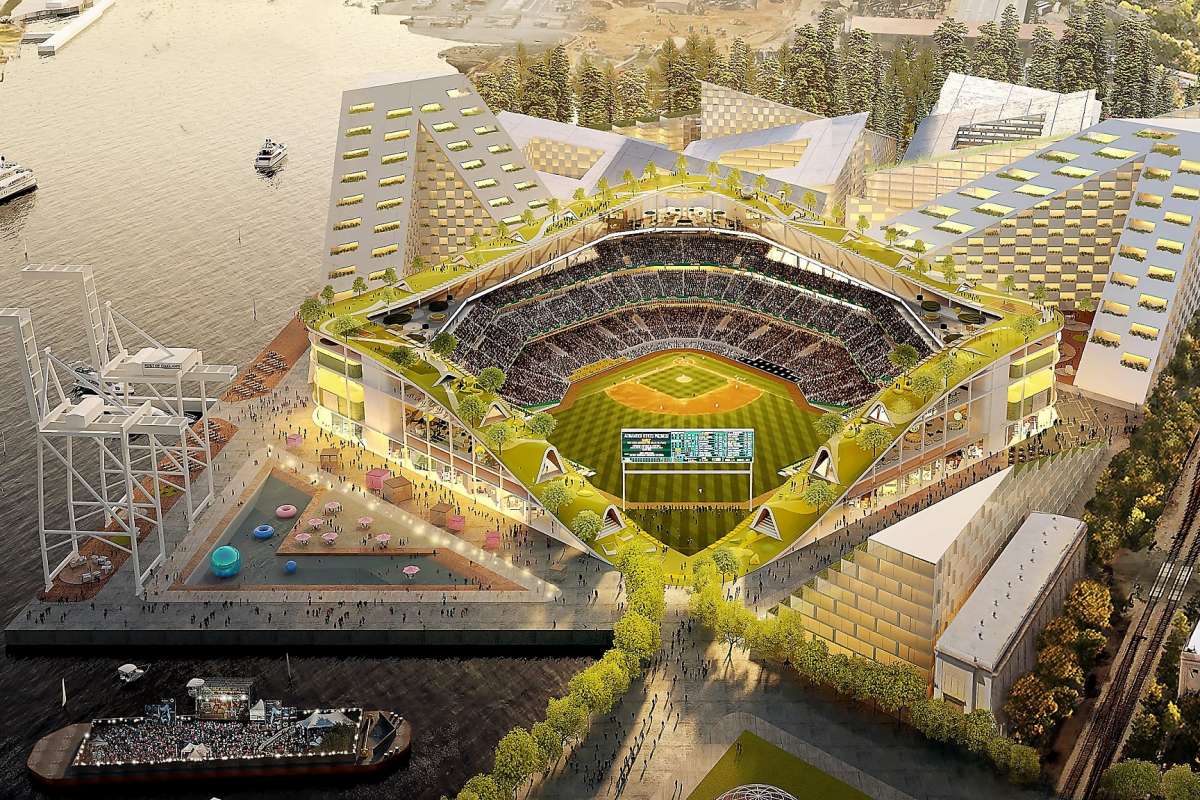 Although plenty of uncertainty remains, Major League Baseball commissioner Rob Manfred is expressing optimism about the Oakland A's pursuit of a new Howard Terminal ballpark. 
The A's ongoing effort to replace the Oakland-Alameda County Coliseum led them to the Port of Oakland's Howard Terminal, a waterfront site eyed by the team for a new ballpark and surrounding development. Though the organization unveiled these plans in November, it has plenty of work remaining to make them a reality, including an environmental review of the site.
The A's Howard Terminal pitch came up on Tuesday, when Manfred participated in a news conference in Arizona. Despite some questions that have surfaced about the concept's viability, including possible implications from Howard Terminal's history of heavy industrial uses, Manfred expressed optimism over the proposal and the A's ability to address any issues. More from the San Francisco Chronicle:
Commissioner Rob Manfred remains solidly behind the A's efforts to build a stadium, even in the wake of a recent Chronicle report about hazardous chemicals and the need for costly cleanup at the team's preferred Howard Terminal site.
"I am aware of some of the issues that have been raised with respect to the site," Manfred said in response to a question from The Chronicle during a news conference at Glendale Civic Center on Tuesday. "I'm optimistic that we're going to find a way that the A's and government officials in Oakland will find a way to work through those issues to everyone's satisfaction.
"I give (owner) John Fisher and (president) Dave Kaval really high marks for the level of effort, creativity and commitment they have put into the project in terms of trying to find a site in Oakland that's workable. They deserve a ton of credit."
It is going to take time for the A's to sort out the intricacies of this proposal, which calls for the ballpark to open as early as 2023 and includes an extensive redevelopment plan for the Coliseum property. Potential environmental concerns, as well as concerns raised about how the ballpark and adjacent development could affect traffic and existing industrial issues in the area, are among the issues that could have to be resolved if the Howard Terminal proposal is to move forward. While that process still has to play itself out, Manfred seems optimistic that the A's can come up a solution.
Rendering courtesy Bjarke Ingels Group / Oakland A's.
RELATED STORIES: Groups Opposing A's Howard Terminal Plan; Howard Terminal's History Could Complicate A's Ballpark Pitch; Study: Oakland Gondola Would Provide Economic Benefits; A's Propose Howard Terminal Ballpark, Coliseum Redevelopment; A's: We're Track to Announce Ballpark Plan by Year's End; Potential New A's Ballpark Backed in Poll; Bill Related to New Oakland A's Ballpark Signed Into Law; Legislature Approves Bills Related to New Oakland A's Ballpark; Bjarke Ingels Group to Design New Oakland A's Ballpark; Oakland A's Enter Coliseum Negotiations; A's Howard Terminal Vote Set for Thursday; Alameda County, Oakland to Negotiate Coliseum Site Ownership; Oakland Coliseum Site Now a Hot Property; Oakland Mayor Backs Negotiation Window with A's; Oakland A's Make Offer for Coliseum Site; A's Still Considering Coliseum Site for New Ballpark; Oakland Seeks Full Ownership of Oakland Coliseum Complex; A's Continue to Pursue New Ballpark in Oakland; New Oakland Athletics Ballpark Plan B Is In The Works; Oakland A's Returning to Three Ballpark Sites; Best of 2017, #5: Oakland A's Ballpark Search; What's Next for a New A's Ballpark? Four Potential Resolutions; Peralta Community College District to End A's Ballpark Talks; Poll Shows Support for New Oakland A's Ballpark; Business Leaders Show Support for A's Ballpark Proposal; A's Preferred Ballpark Site Draws Some Concerns; Athletics Pick Laney College Site for New Privately Financed Ballpark; Concerns Raised Over Potential A's Ballpark at Peralta Site; Is Howard Terminal Out as A's Ballpark Site?; Chancellor Intrigued by A's Ballpark at Laney College; Beane: New Ballpark Could Help A's Keep Players; Report: A's Interested in Site Near Laney College; Oakland A's Considering Ballpark Sites; A's Hope to Reveal Ballpark Site By Year's End; Best of 2016, #7: Oakland A's Ballpark Quest