A new Oakland gondola to serve a proposed Oakland Athletics ballpark at Howard Terminal would provide additional visitors and sales tax to the city, according to a study released by the Bay Area Council Economic Institute.
The A's have proposed a gondola system to ferry fans to the Howard Terminal site, where the A's are pushing a new ballpark despite some challenges, including a lack of access. So instead of working on one large solution — say, multilane access to parking ramps — the A's are pitching some smaller initiatives, such as a gondola system from downtown Oakland.
The A's are not the only MLB team to envision a gondola system at the ballpark. A proposed Portland (OR) ballpark features a gondola system bringing fans to and from a waterfront site, and a gondola system has been proposed to relieve congestion at Dodger Stadium. (Tunnels and gondola are an interesting trend now in alternative ballpark transportation.) A Portland Aerial Tram already serves some 2.1 million users a year, and Disney is building a gondola system at Florida's Disney World to link parks with farflung resorts.
The study from the Bay Area Council Economic Institute says a gondola system would be a reliable transit method not only for the ballpark but for neighboring Jack London Square and downtown Oakland, but it would also generate $403 million in economic impact over 10 years. A gondola system would also provide relief to commuters, including the increased number of workers and residents in the Howard Terminal development and increase BART usage. Add in the impact of $265 million spent to construct the gondola, and the Bay Area Council Economic Institute estimates a gondola system would be a plus for the Oakland economy.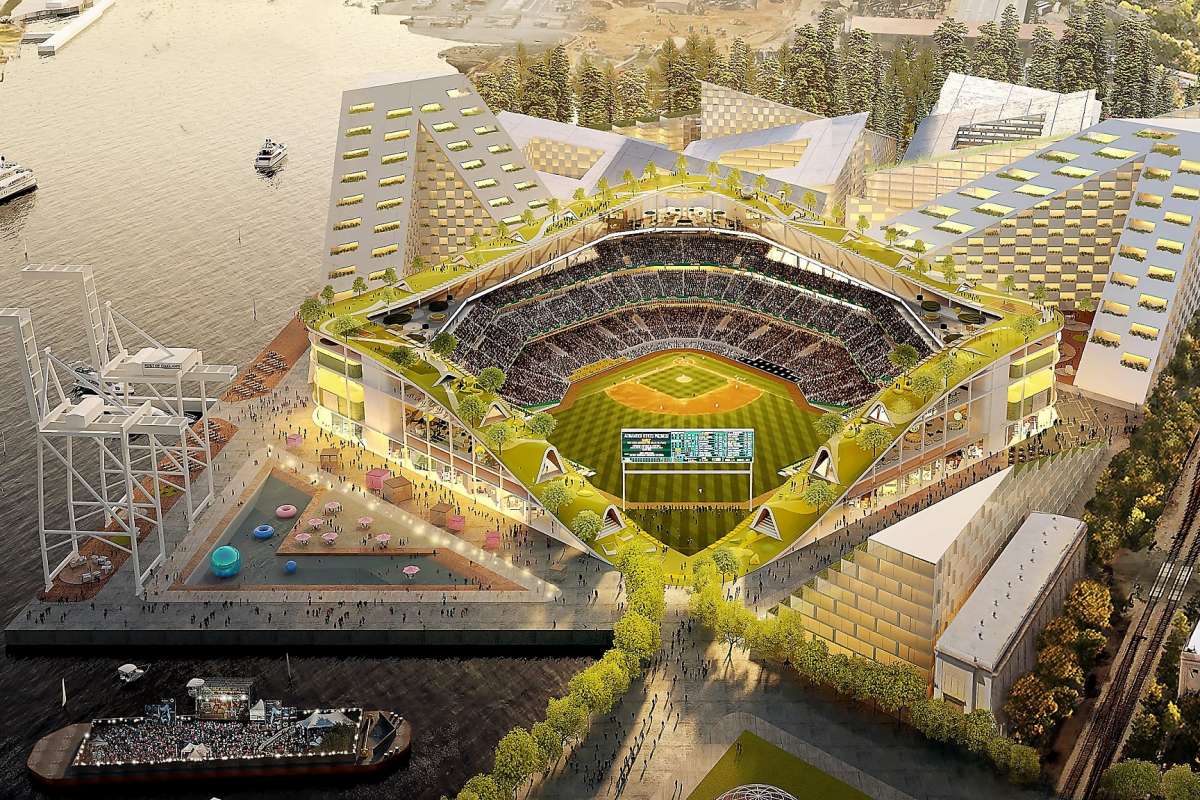 The proposed gondola would run from Washington Street and 10th Street in Old Oakland to Washington Street and Water Street in Jack London Square.
"The biggest benefit that the gondola will bring to the City of Oakland is more people," say the report's authors. "Not only will the initial novelty of the gondola supplement attendance at A's games with those that may have otherwise not attended, the gondola has the long-term potential to push people from around the region to visit Oakland more often and drive tourists from around the world to add Oakland to their travel itineraries. The economic benefit of these added visitors stems from their spending within the city."
We are currently in the planning stages for the proposed ballpark, with an environmental study expected by the end of the year. The ballpark would be built after a series of events that would include A's ownership buying the Coliseum site for redevelopment.
Top image courtesy Bay Area Council Economic Institute; ballpark rendering courtesy Oakland Athletics.
RELATED STORIES: Gondolas and Tunnels: New Methods of Ballpark Transportation; Gondola Lift Pitched for Dodger Stadium; Portland Diamond Project Unveil Ballpark Site, Renderings; A's Propose Howard Terminal Ballpark, Coliseum Redevelopment; Elon Musk Pitches Dodger Stadium High-Speed Dugout Loop