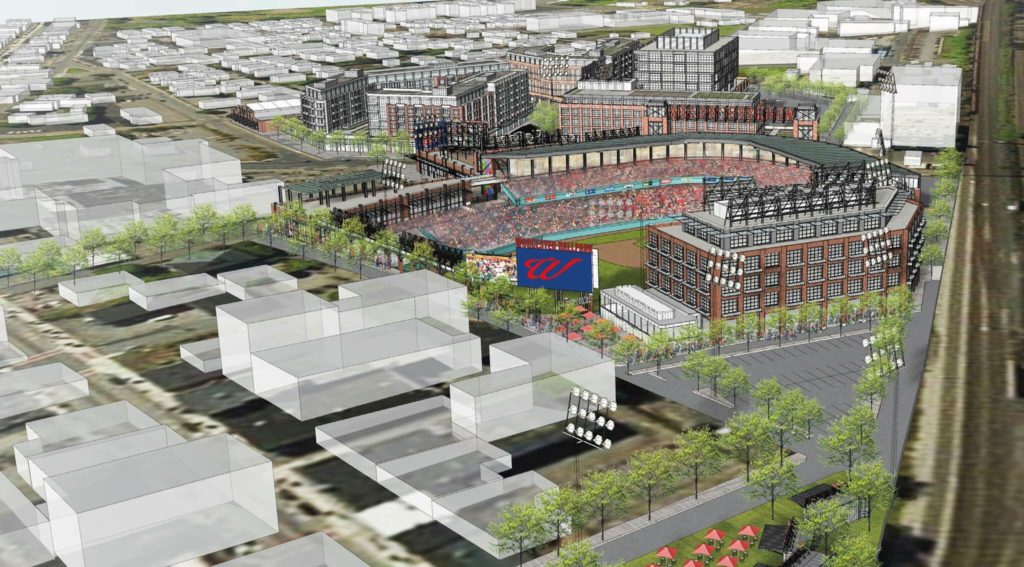 The Worcester Redevelopment Authority is pitching the expansion of an urban revitalization area, which could help trigger development surrounding a new home for the relocating Pawtucket Red Sox (Class AAA; International League). 
Worcester, MA officials are in the process of planning a new downtown ballpark, dubbed Polar Park, that is set to open for the PawSox in 2021. Private investment in the surrounding area is a key part of the overall vision, as the ballpark is intended as the anchor of a larger redevelopment initiative in the city's Kelley Square/Canal District area. As part of the funding formula for the $86 million-to-$90 million ballpark, the city of Worcester will borrow $100.8 million ($70.6 million in general obligations bonds, $30.2 in bonds backed by team rent payments) to cover construction costs, with PawSox owners paying $6 million toward construction. Rent payments are pegged at a little over a million dollars annually, for a total of $30.2 million over 30 years, with Worcester officials believing that increased tax payments generated from the project–including additional development–will cover the remaining costs beyond those covered by team's rent.
A downtown urban revitalization district is already in place, but the WRA's proposal–detailed in a filing earlier this month with the Massachusetts Executive Office of Energy and Environmental Affairs–would result in about 21 acres being added to the area. That would include several properties targeted for redevelopment as part of the overall ballpark project. Any boundary changes will have to be approved by the Worcester City Council and the Massachusetts Department of Housing and Community Development. More from the Worcester Telegram & Gazette:
The "Notice of Project Change and Phase I Waiver Request for the Downtown Worcester Urban Revitalization Plan, Amendment 1" was filed on behalf of the WRA and Madison Downtown Holdings LLC, which is doing the private development portion of the project.
The filing, dated Nov. 15, said the amendment and expansion of the revitalization district is "entirely consistent" with the goals and vision statement of the original plan.
It added that expansion of the district is being sought in response to increased developer interest and economic activity there.
"The concept plan for the downtown has not changed," the filing stated. "Amendment 1 is necessary to maximize the development potential within the (Urban Renewal Area) and better accomplish the goals of the (Urban Revitalization Plan). The city' s most significant progress towards successful revitalization of the area south of the railroad right-of-way (Conrail tracks) is associated with these (ballpark and private development) projects."
Under the current plans, construction on the ballpark is expected to begin next summer and conclude in time for the beginning of the 2021 season. The PawSox are set to play at their current home, Pawtucket's McCoy Stadium, for the next two seasons.
RELATED STORIES: DAIQ Tabbed for Worcester Ballpark Design; Worcester Explores Construction Manager at Risk Method for Ballpark; PawSox Seek Ideas on New Worcester Name; DAIQ Ranked First for Worcester Ballpark Design; Worcester Ballpark Financing Plan Approved; Worcester Ballpark Bonds Pitched; Worcester Considers Ballpark Design Firms; Skanska to Serve as Project Manager for Worcester Ballpark; Seven Firms Bid for Worcester Ballpark Design Contract; Worcester Approves Ballpark Financing; Poll: Most RI Voters Support Decision to Not Increase PawSox Ballpark Offer; Worcester Moves Forward on New Ballpark Deal; Janet Marie Smith Brings Experience to Worcester; The Collapse of the Pawtucket Ballpark Deal; Is NY-Penn League a Fit For McCoy Stadium?; Ballpark Borrowing Not Expected to Hurt Worcester's Bond Rating; Worcester Ballpark Plan Clears Committee; Businesses Anticipate Proposed Worcester Ballpark; Worcester City Council to Review Ballpark Deal; With PawSox Eyeing Move, McCoy Stadium Faces Uncertain Future; Worcester Looks to Assemble "Ballpark Delivery Team"; It's Official: PawSox to Worcester, Polar Park in 2021; Report: PawSox Set for Worcester Move; Could Fitton Field Temporarily Host PawSox?; Would Spinners be Affected by PawSox Move to Worcester?; PawSox Still Ironing Out Pawtucket Ballpark Plans With City; RI Govenor Signs PawSox Ballpark Bill; Team Still Noncommittal; RI General Treasurer Releases Revised PawSox Ballpark Cost; Could Worcester Land PawSox?