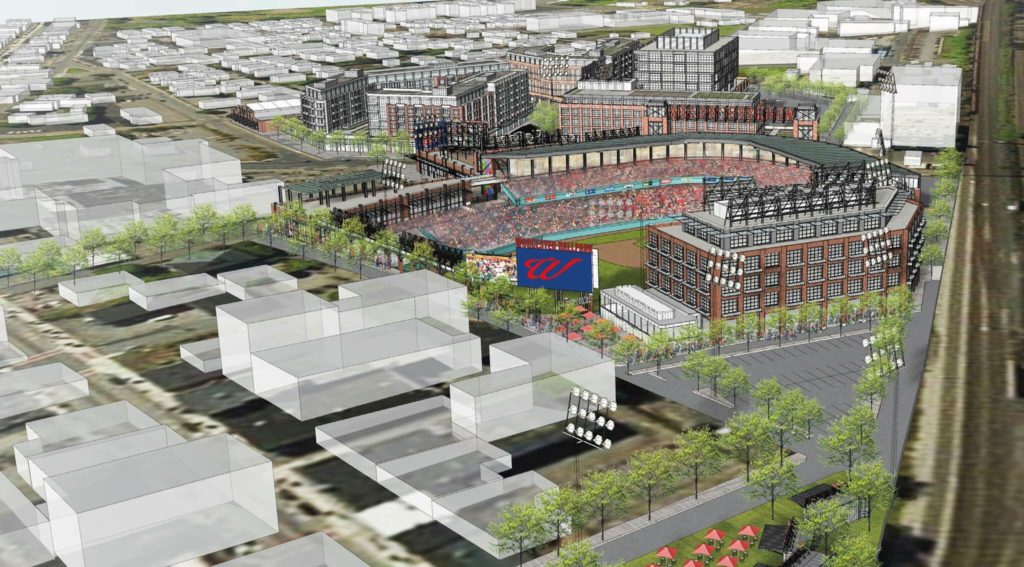 Skanska USA Building Inc. has been picked as the project manager for a new Worcester, MA ballpark, which will be built for the relocating Pawtucket Red Sox (Class AAA; International League). 
The six-acre ballpark, tentatively named Polar Park, is slated open for the 2021 season and serve as the centerpiece of an 18-acre, 650,000-square-foot mixed-use development. Planning for the facility is underway, and Skanska has been chosen as the owner's project manager.
Officials settled on Skanska after a series of interviews, and are planning to move forward with selecting the firm for a project manager contract. It is ultimately up to the Worcester Redevelopment Authority (WRA) to grant authorization of the award, and its board is expected to conduct a vote at its Friday morning meeting. More from the Telegram & Gazette:
Paul J. Moosey, commissioner of public works and parks, and K. Russell Adams, Department of Public Works & Parks assistant commissioner, who heads the Engineering and Architectural Services Division, made the selection with input from Pawtucket Red Sox team officials, according to Mike Vigneux, the city's media relations specialist.
Applicants for the job were interviewed Sept. 28, Mr. Vigneux said. He said a meeting with the selected firm was held Friday.
The Worcester Redevelopment Authority, which is overseeing the ballpark project, is being asked to authorize the award of the project manager contract to Skanska USA Building and authorize the initial phase of services in the amount of $545,650.
The WRA board is scheduled to meet Friday morning, when it will take up both requests.
This selection would be part of assembling the team behind the ballpark's development, as officials are also considering seven firms for the design contract (more on that process here). Approval of the project manager and design firm will be followed by the selection of a construction manager. Construction on the new ballpark is scheduled to begin next July, and conclude in March 2021.
The funding plan calls for the ballpark's cost to be between $86 million and $90 million, with the city of Worcester borrowing $100.8 million ($70.6 million in general obligations bonds, $30.2 in bonds backed by team rent payments) to cover construction costs and the PawSox owners paying $6 million toward construction. Rent payments are pegged at a little over a million dollars annually, for a total of $30.2 million over 30 years. Worcester officials say increased tax payments generated from the project, including additional development, will cover the difference. Naming rights for Polar Park will come from Worcester's Polar Beverages.
RELATED STORIES: Seven Firms Bid for Worcester Ballpark Design Contract; Worcester Approves Ballpark Financing; Poll: Most RI Voters Support Decision to Not Increase PawSox Ballpark Offer; Worcester Moves Forward on New Ballpark Deal; Janet Marie Smith Brings Experience to Worcester; The Collapse of the Pawtucket Ballpark Deal; Is NY-Penn League a Fit For McCoy Stadium?; Ballpark Borrowing Not Expected to Hurt Worcester's Bond Rating; Worcester Ballpark Plan Clears Committee; Businesses Anticipate Proposed Worcester Ballpark; Worcester City Council to Review Ballpark Deal; With PawSox Eyeing Move, McCoy Stadium Faces Uncertain Future; Worcester Looks to Assemble "Ballpark Delivery Team"; It's Official: PawSox to Worcester, Polar Park in 2021; Report: PawSox Set for Worcester Move; Could Fitton Field Temporarily Host PawSox?; Would Spinners be Affected by PawSox Move to Worcester?; PawSox Still Ironing Out Pawtucket Ballpark Plans With City; RI Govenor Signs PawSox Ballpark Bill; Team Still Noncommittal; RI General Treasurer Releases Revised PawSox Ballpark Cost; Could Worcester Land PawSox?