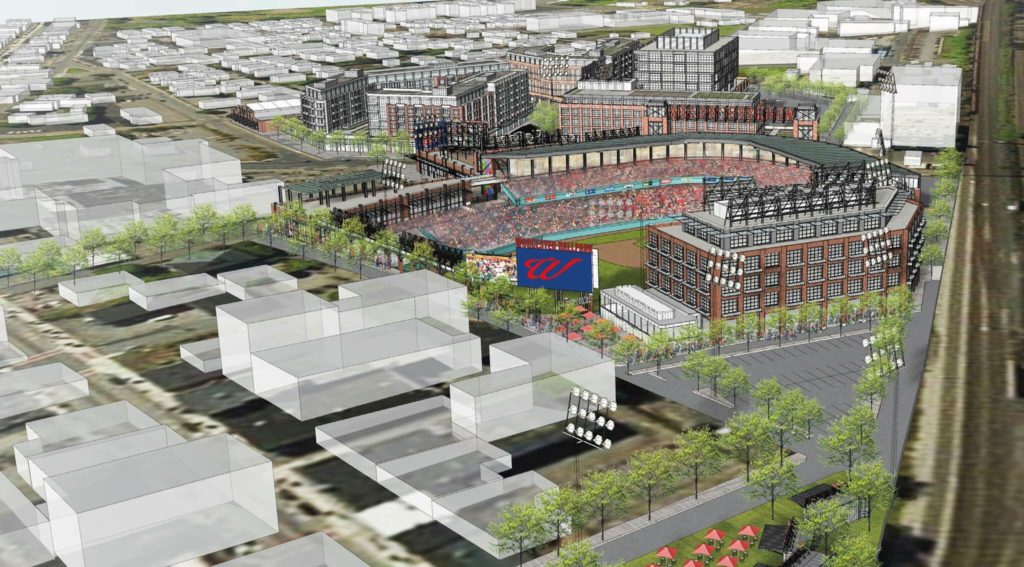 D'Agostino Izzo Quirk Architects was chosen by Worcester, MA officials on Friday to design a new ballpark for the relocating Pawtucket Red Sox (Class AAA; International League). 
Last week, it was revealed that DAIQ was ranked first by the city's Designer Selection Board among the seven prospective firms seeking the design contract for Worcester's upcoming ballpark . That put it in a position to potentially land the design contract, and the process took a step forward Friday, when the Worcester Redevelopment Authority (WRA) board voted 3-0 to hire DAIQ.
As part of the plan approved by the WRA board, DAIQ will be paid $889,000 for an initial schematic design that is due by March 4, 2019. This move is expected to be a more cost-effective option as the planning process moves forward. More from the Worcester Telegram & Gazette:
By doing a schematic design first, he said, the budget for design fees can be better defined and fixed once all major design decisions have been made.
[City's chief development officer Michael E.] Traynor said that will result in a more cost-effective process for the city, the ball club and members of the design team.
"It is felt the way to get the best pricing for the design is to do a schematic design first," he said.
Mr. Traynor added that the WRA board will be presented an amendment to the design services agreement to fund the balance of that contract at a later date for design development, the preparation of construction documents and contract administration through the construction period.
DAIQ comes to the project with plenty of experience, including involvement in the renovations to Fenway Park and Dodger Stadium. In the case of Fenway, the firm worked with current PawSox chairman Larry Luchino, while Janet Marie Smith–who will be involved in the Worcester ballpark's design process–had a hand in both Los Angeles and Boston's renovations.
The ballpark is envisioned as the anchor of a larger redevelopment initiative in the city's Kelley Square/Canal District area. The funding formula calls for a $86 million-to-$90 million ballpark, with the city of Worcester borrowing $100.8 million ($70.6 million in general obligations bonds, $30.2 in bonds backed by team rent payments) to cover construction costs and PawSox owners paying $6 million toward construction. Rent payments are pegged at a little over a million dollars annually, for a total of $30.2 million over 30 years.
Construction on the new Worcester ballpark, dubbed Polar Park, will begin next July and is schedule to be completed in March 2021. The PawSox will spend the 2019 and 2020 seasons at Pawtucket's McCoy Stadium before relocating to Worcester.
RELATED STORIES: Worcester Explores Construction Manager at Risk Method for Ballpark; PawSox Seek Ideas on New Worcester Name; DAIQ Ranked First for Worcester Ballpark Design; Worcester Ballpark Financing Plan Approved; Worcester Ballpark Bonds Pitched; Worcester Considers Ballpark Design Firms; Skanska to Serve as Project Manager for Worcester Ballpark; Seven Firms Bid for Worcester Ballpark Design Contract; Worcester Approves Ballpark Financing; Poll: Most RI Voters Support Decision to Not Increase PawSox Ballpark Offer; Worcester Moves Forward on New Ballpark Deal; Janet Marie Smith Brings Experience to Worcester; The Collapse of the Pawtucket Ballpark Deal; Is NY-Penn League a Fit For McCoy Stadium?; Ballpark Borrowing Not Expected to Hurt Worcester's Bond Rating; Worcester Ballpark Plan Clears Committee; Businesses Anticipate Proposed Worcester Ballpark; Worcester City Council to Review Ballpark Deal; With PawSox Eyeing Move, McCoy Stadium Faces Uncertain Future; Worcester Looks to Assemble "Ballpark Delivery Team"; It's Official: PawSox to Worcester, Polar Park in 2021; Report: PawSox Set for Worcester Move; Could Fitton Field Temporarily Host PawSox?; Would Spinners be Affected by PawSox Move to Worcester?; PawSox Still Ironing Out Pawtucket Ballpark Plans With City; RI Govenor Signs PawSox Ballpark Bill; Team Still Noncommittal; RI General Treasurer Releases Revised PawSox Ballpark Cost; Could Worcester Land PawSox?