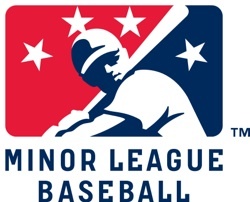 Life in Minor League Baseball is all about development. Success is measured in producing major leaguers, and this is the case for players and coaches – and also for umpires and broadcasters.
With this in mind, congratulations to umpires Tripp Gibson, Will Little, and Mark Ripperger, and to broadcasters Jeff Levering, Wayne Randazzo, and Jared Sandler, each of whom learned this offseason that they would be spending 2015 in the Show.
Umpires have a bit of a different road to the majors than other vocations. There are two different umpiring academies – Gibson and Ripperger both emerged from the Harry Wendelstedt School while Little graduated from the Jim Evans Academy. The trio worked at a minimum of six different MiLB levels on their way up the ladder, advancing patiently and consistently forward from Rookie-level to Short-A to Single-A to A-Advanced to Double-A to Triple-A before getting their Major League taste.
More than a taste, actually: with MLB's full-time umpires receiving regular breaks during the season, MiLB's top umps are regularly brought up for a series or more. Ripperger enjoyed his first Big League experience with a four-game series in 2010, followed by 41 games in 2011, 24 total between 2012 and 2013, and a staggering 142 games in the Majors last year. Little, comparatively, umpired in a mere 141 games last year, with Tripp Gibson leading all umpires in baseball (including full-time MLBers) with 149 contests.
In a sense, all three of them were already regular MLB umps – this merely confirmed their status, making them officially full-time in Major League Baseball. Gibson particularly stands out, working his way through the independent Frontier League on his way to affiliated baseball and receiving the responsibility of being crew chief in the Arizona Fall League during instant replay experimentation in 2013, which thus led to MLB implementation last year.
AL and NL broadcasters do take breaks during the season, but it's rare that an MiLB voice is called up to pinch-call the game. For a MiLB broadcaster to get a big league role, it's a bit more likely the opportunity echoes those earned by Levering, Randazzo, and Sandler. Jeff Levering worked his way from Rancho Cucamonga to Springfield to Pawtucket, the fabled on-deck circle for hopeful Major League broadcasters. His position with the Milwaukee Brewers focuses around new media, building Brewers outreach and interaction via social media and online forums, and filling in on the air for Bob Uecker when needed.
Wayne Randazzo and Jared Sandler vaulted from the Low-A Midwest League, where they called games for the Kane County Cougars and Great Lakes Loons respectively, into pre-game/post-game hosting roles — and regular play-by-play duties — with the New York Mets and Texas Rangers. (It is worth noting that these were not clean position changes, from Minor League team to Major League team. Randazzo was a regular fixture on 670 The Score Chicago, while Sandler served as a regular presence on ESPN 103.3 in Texas.)
For all six minted major leaguers, the benefit of the minor-league system is shown, giving talent the time and place to develop and gain experience before joining the upper ranks. As much as we love the idea of a Cinderella story capturing headlines and earning a roster spot from spring training alone, it is the season in which the true growth occurs and skills are honed — and that goes far beyond the players.