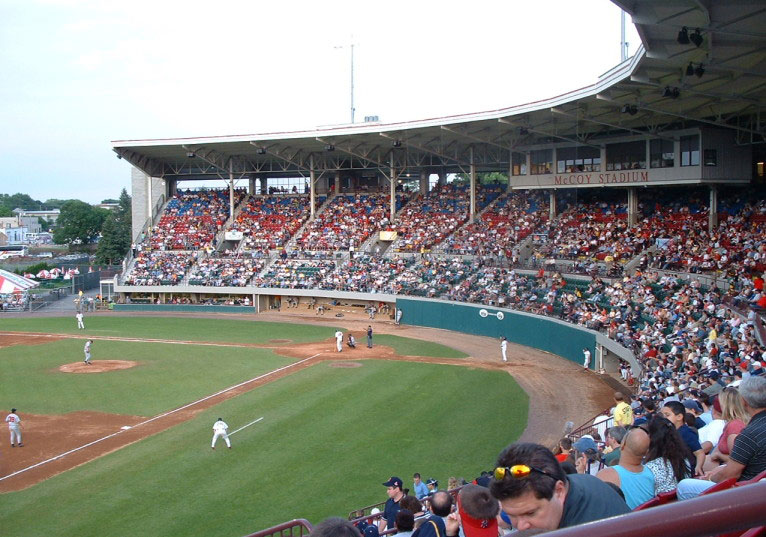 With new Pawtucket Red Sox (Class AAA; International League) owners working on a plan for a new Providence ballpark, the future of McCoy Stadium is bleak.
As we noted Monday, the PawSox sale to a group of Rhode Island investors and Boston Red Sox owners will surely mean the end of affiliated baseball at McCoy Stadium: the new owners have already talked with Providence officials about a new ballpark, and there's talk a new Massachusetts home is being discussed should that move fall through.
That's a shame on many levels. On the one hand, McCoy Stadium isn't the greatest of facilities, but it sure is charming: it's a mishmash of styles, with a 1998 addition not quite meshing with the quaint 1946 grandstand. There aren't the suites and club spaces teams now rely upon for revenue (though the PawSox did pioneer the use of dugout suites, now used in a handful of ballparks), and attendance has declined in recent years. In 2014 the team drew 515,665 fans for a 7,367 average, a decline of 6 percent over 2013. That was good for ninth in International League attendance: respectable, but perhaps underperforming and certainly average when compared to the days when the PawSox paced the International League in attendance.
And identifying underperforming franchises is how those in the baseball industry make money.
But the PawSox have always been one of the most loved franchises in the baseball industry, mainly because of the late Ben Mondor, the man who brought baseball back to McCoy Stadium. He was a symbol of Minor League Baseball: he was devoted to the game when the industry was at its financial nadir, stuck out the bad times and helped revive MiLB to the point where it is today.
So it's a huge shame that the PawSox will be leaving McCoy Stadium in the future. There's little chance pro ball will return to McCoy: Providence is only five miles or so from Pawtucket, so don't expect the new owners to relinquish any territorial rights to the market. Ironically, if a Providence ballpark were to fall through and the team ended up somewhere in Massachusetts, it could clear the way for pro ball to return to McCoy Stadium and an open Pawtucket territory. So, counterintuitively, McCoy Stadium fans should be cheering for a Providence ballpark failure.
RELATED STORIES: PawSox sale closed; move to Providence next; Pawtucket: We want to keep PawSox; Pawtucket Red Sox sold: Reports