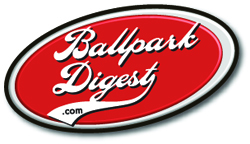 With affiliated-baseball 2019 regular seasons now finished with the weekend finales in the Pioneer League, it's time to look at how individual teams and leagues fared. We continue today's attendance reviews with a listing of Minor League Baseball attendance by totals.
In the course of the day we'll review MiLB attendance by average.
Here are the complete attendance figures of affiliated baseball teams, as listed by total, with a comparison of 2018 attendance figures. All stats come directly from league websites and last year's Ballpark Digest attendance rankings.
Team
Lge
Total
Gms
Av.
2018T
+/-
1
Las Vegas Aviators^
PCL
650,934
70
9,299
332,224
0.96
2
Round Rock Express
PCL
597,928
70
8,542
616,636
-0.03
3
Columbus Clippers
IL
590,504
68
8,684
587,067
0.01
4
Indianapolis Indians
IL
586,860
68
8,630
619,122
-0.05
5
Lehigh Valley IronPigs
IL
585,110
68
8,605
561,745
0.04
6
Charlotte Knights
IL
581,006
68
8,544
619,639
-0.06
7
Nashville Sounds
PCL
578,291
67
8,631
603,135
-0.04
8
Sacramento River Cats
PCL
549,440
70
7,849
538,785
0.02
9
Dayton Dragons
ML
545,108
69
7,900
550,725
-0.01
10
Albuquerque Isotopes
PCL
542,832
68
7,983
556,330
-0.02
11
Durham Bulls
IL
529,105
69
7,668
536,304
-0.01
12
El Paso Chihuahuas
PCL
522,894
69
7,578
539,520
-0.03
13
Buffalo Bisons
IL
518,741
65
7,981
527,988
-0.02
14
Iowa Cubs
PCL
489,173
65
7,526
463,399
0.06
15
Louisville Bats
IL
485,356
70
6,934
466,026
0.04
16
Toledo Mud Hens
IL
481,496
67
7,187
507,965
-0.05
17
Frisco RoughRiders
TL
455,765
67
6,802
468,259
-0.03
18
Rochester Red Wings
IL
451,853
66
6,846
437,974
0.03
19
Oklahoma City Dodgers
PCL
444,131
67
6,629
463,195
-0.04
20
Salt Lake Bees
PCL
433,596
65
6,671
477,528
-0.09
21
Amarillo Sod Poodles#
TL
427,791
68
6,291
327,276
0.31
22
Hartford Yard Goats
EL
414,946
67
6,193
408,942
0.01
23
SWB RailRiders
IL
414,456
65
6,376
386,819
0.07
24
Richmond Flying Squirrels
EL
400,321
64
6,255
396,686
0.01
25
Reading Fightin Phils
EL
398,314
67
5,945
388,510
0.03
26
Fresno Grizzlies
PCL
380,090
66
5,759
405,403
-0.06
27
Birmingham Barons
SL
379,707
70
5,424
391,061
-0.03
28
Tulsa Drillers
TL
374,501
68
5,507
350,396
0.07
29
Fort Wayne TinCaps
ML
371,259
67
5,541
376,422
-0.01
30
West Michigan Whitecaps
ML
360,295
67
5,378
386,609
-0.07
31
Portland Sea Dogs
EL
357,647
63
5,677
346,341
0.03
32
Kane County Cougars
ML
350,305
67
5,228
350,028
0.00
33
Norfolk Tides
IL
350,086
66
5,304
341,369
0.03
34
Tacoma Rainiers
PCL
347,378
68
5,109
372,780
-0.07
35
Trenton Thunder
EL
340,705
65
5,242
351,297
-0.03
36
Akron RubberDucks
EL
340,187
67
5,077
344,754
-0.01
37
San Antonio Missions**
PCL
337,484
69
4,891
262,657
0.28
38
Reno Aces
PCL
336,215
70
4,803
351,298
-0.04
39
Pawtucket Red Sox
IL
331,010
63
5,254
394,811
-0.16
40
Greenville Drive
SAL
329,733
68
4,849
313,507
0.05
41
Omaha Storm Chasers
PCL
328,307
66
4,974
345,830
-0.05
42
Springfield Cardinals
TL
328,217
69
4,757
326,362
0.01
43
Memphis Redbirds
PCL
327,753
66
4,966
340,476
-0.04
44
Syracuse Chiefs
IL
327,478
66
4,962
277,332
0.18
45
Jacksonville Jumbo Shrimp
SL
327,388
66
4,960
317,335
0.03
46
Corpus Christi Hooks
TL
323,688
70
4,624
340,607
-0.05
47
South Bend Cubs
ML
319,616
67
4,770
343,763
-0.07
48
Lansing Lugnuts
ML
311,028
70
4,443
313,592
-0.01
49
Arkansas Travelers
TL
311,021
68
4,574
296,847
0.05
50
Altoona Curve
EL
308,464
67
4,604
297,118
0.04
51
Lakewood BlueClaws
SAL
308,318
66
4,671
293,413
0.05
52
NH Fisher Cats
EL
306,511
65
4,716
319,099
-0.04
53
Greensboro Grasshoppers
SAL
306,136
65
4,710
322,156
-0.05
54
Charleston RiverDogs
SAL
301,320
69
4,367
305,040
-0.01
55
Pensacola Blue Wahoos
SL
296,095
68
4,354
300,002
-0.01
56
Midland Rockhounds
TL
285,368
68
4,197
263,024
0.08
57
NW Arkansas Naturals
TL
284,829
66
4,316
304,526
-0.06
58
Tennessee Smokies
SL
280,708
65
4,319
308,069
-0.09
59
Lexington Legends
SAL
270,221
66
4,094
281,134
-0.04
60
Augusta GreenJackets
SAL
266,569
68
3,920
255,155
0.04
61
Winston-Salem Dash
CL
264,879
62
4,272
292,774
-0.10
62
Frederick Keys
CL
263,528
60
4,392
275,001
-0.04
63
Harrisburg Senators
EL
258,909
67
3,864
259,243
0.00
64
Fayetteville Woodpeckers*
CL
246,961
68
3,632
24,068
9.26
65
Columbia Fireflies
SAL
245,522
66
3,720
251,586
-0.02
66
Vancouver Canadians
NWL
235,980
38
6,210
239,086
-0.01
67
Wilmington Blue Rocks
CL
231,325
62
3,731
249,746
-0.07
68
Chattanooga Lookouts
SL
228,662
65
3,518
214,811
0.06
69
Myrtle Beach Pelicans
CL
226,247
67
3,377
219,589
0.03
70
Bowie Baysox
EL
224,686
69
3,256
230,347
-0.02
71
Delmarva Shorebirds
SAL
218,704
67
3,264
201,329
0.09
72
WI Timber Rattlers
ML
218,037
65
3,354
225,897
-0.03
73
Montgomery Biscuits
SL
216,839
68
3,189
238,538
-0.09
74
Erie SeaWolves
EL
215,444
65
3,315
205,055
0.05
75
Gwinnett Stripers
IL
212,342
67
3,169
195,955
0.08
76
Lake County Captains
ML
200,756
65
3,089
202,124
-0.01
77
Spokane Indians
NWL
200,273
38
5,270
198,423
0.01
78
Peoria Chiefs
ML
198,545
68
2,920
208,275
-0.05
79
Great Lakes Loons
ML
195,904
69
2,839
187,220
0.05
80
Carolina Mudcats
CL
193,568
68
2,847
181,122
0.07
81
Potomac Nationals
CL
192,474
59
3,262
237,244
-0.19
82
Bowling Green Hot Rods
ML
190,877
65
2,937
178,329
0.07
83
New Orleans Baby Cakes
PCL
188,092
64
2,939
252,614
-0.26
84
Asheville Tourists
SAL
187,718
68
2,761
170,389
0.10
85
Binghamton Rumble Ponies
EL
182,990
61
3,000
220,279
-0.17
86
Inland Empire 66ers
CalL
181,253
69
2,627
193,992
-0.07
87
Clearwater Threshers
FSL
180,192
67
2,689
181,686
-0.01
88
Stockton Ports
CalL
179,465
69
2,601
187,966
-0.05
89
Brooklyn Cyclones
NYP
174,522
36
4,848
202,495
-0.14
90
Lake Elsinore Storm
CalL
172,280
68
2,534
214,955
-0.20
91
Salem Red Sox
CL
171,866
67
2,565
192,621
-0.11
92
Mississippi Braves
SL
163,841
66
2,482
151,352
0.08
93
Rancho Cucamonga Quakes
CalL
162,085
68
2,384
171,767
-0.06
94
Lancaster JetHawks
CalL
161,595
69
2,342
155,573
0.04
95
San Jose Giants
CalL
155,253
67
2,317
147,668
0.05
96
Rome Braves
SAL
152,874
69
2,216
146,276
0.05
97
Quad Cities River Bandits
ML
150,905
61
2,474
215,061
-0.30
98
Cedar Rapids Kernels
ML
150,278
67
2,243
160,165
-0.06
99
Hudson Valley Renegades
NYP
148,158
36
4,116
148,156
0.00
100
Biloxi Shuckers
SL
146,845
63
2,331
160,364
-0.08
101
Ogden Raptors
PL
146,201
37
3,951
129,285
0.13
102
Modesto Nuts
CalL
139,762
69
2,026
145,028
-0.04
103
Daytona Tortugas
FSL
137,570
65
2,116
120,728
0.14
104
Hickory Crawdads
SAL
137,546
66
2,084
125,394
0.10
105
Rocky Mountain Vibes%
PL
137,294
35
3,923
31,086
3.42
106
Hillsboro Hops
NWL
133,605
38
3,516
130,286
0.03
107
Tri-City ValleyCats
NYP
131,529
34
3,869
140,036
-0.06
108
Eugene Emeralds
NWL
131,467
38
3,460
125,967
0.04
109
Boise Hawks
NWL
129,805
38
3,416
126,192
0.03
110
Visalia Rawhide
CalL
129,118
68
1,899
124,208
0.04
111
Clinton LumberKings
ML
121,325
66
1,838
121,678
0.00
112
State College Spikes
NYP
119,047
37
3,217
119,986
-0.01
113
West Virginia Power
SAL
118,444
68
1,742
112,273
0.05
114
Aberdeen IronBirds
NYP
118,357
37
3,199
121,907
-0.03
115
Lynchburg Hillcats
CL
117,029
63
1,858
112,228
0.04
116
Everett AquaSox
NWL
116,630
38
3,069
111,599
0.05
117
Down East Wood Ducks
CL
110,619
67
1,651
116,835
-0.05
118
Fort Myers Miracle
FSL
108,800
57
1,909
123,862
-0.12
119
Jackson Generals
SL
107,131
61
1,756
110,798
-0.03
120
Idaho Falls Chukars
PL
102,859
37
2,780
101,448
0.01
121
Lowell Spinners
NYP
100,687
33
3,051
118,319
-0.15
122
Mahoning Valley Scrappers
NYP
98,833
36
2,745
97,204
0.02
123
Billings Mustangs
PL
96,594
37
2,611
93,466
0.03
124
Pulaski Yankees
AppL
95,897
34
2,821
91,226
0.05
125
Mobile BayBears
SL
95,087
60
1,585
69,504
0.37
126
Charlotte Stone Crabs
FSL
91,349
67
1,363
104,193
-0.12
127
Grand Junction Rockies
PL
88,476
37
2,391
84,416
0.05
128
Tri-City Dust Devils
NWL
87,021
38
2,290
86,283
0.01
129
St. Lucie Mets
FSL
83,525
64
1,305
98,823
-0.15
130
Vermont Lake Monsters
NYP
83,122
37
2,247
83,956
-0.01
131
Salem-Keizer Volcanoes
NWL
80,833
38
2,127
72,094
0.12
132
Johnson City Cardinals
AppL
80,612
32
2,519
68,861
0.17
133
Kannapolis Intimidators
SAL
75,931
67
1,133
64,688
0.17
134
Beloit Snappers
ML
73,200
62
1,181
64,574
0.13
135
Bradenton Marauders
FSL
71,284
63
1,131
79,874
-0.11
136
Burlington Bees
ML
67,369
64
1,053
53,259
0.26
137
Connecticut Tigers
NYP
66,532
35
1,901
75,810
-0.12
138
Staten Island Yankees
NYP
66,520
36
1,848
72,894
-0.09
139
Williamsport Crosscutters
NYP
64,148
33
1,944
68,475
-0.06
140
West Virginia Black Bears
NYP
62,846
37
1,699
69,430
-0.09
141
Jupiter Hammerheads
FSL
62,684
60
1,045
69,095
-0.09
142
Tampa Tarpons
FSL
61,290
63
973
71,835
-0.15
143
Hagerstown Suns
SAL
59,682
65
918
64,957
-0.08
144
Palm Beach Cardinals
FSL
57,418
59
973
64,008
-0.10
145
Missoula Osprey
PL
57,076
34
1,679
65,919
-0.13
146
Lakeland Flying Tigers
FSL
50,770
62
819
49,551
0.02
147
Orem Owlz
PL
45,561
37
1,231
51,092
-0.11
148
Great Falls Voyagers
PL
43,920
34
1,292
47,625
-0.08
149
Greeneville Reds
AppL
43,617
33
1,322
48,021
-0.09
150
Batavia MuckDogs
NYP
43,118
37
1,165
29,005
0.49
151
Burlington Royals
AppL
40,142
33
1,216
36,541
0.10
152
Auburn Doubledays
NYP
39,381
34
1,158
43,343
-0.09
153
Danville Braves
AppL
30,007
33
909
34,766
-0.14
154
Kingsport Mets
AppL
29,553
33
896
28,928
0.02
155
Elizabethton Twins
AppL
27,569
34
811
15,329
0.80
156
Princeton Rays
AppL
24,133
33
731
23,549
0.02
157
Bluefield Blue Jays
AppL
20,909
31
674
20,018
0.04
158
Florida Fire Frogs
FSL
19,615
60
327
33,017
-0.41
159
Bristol Pirates
AppL
18,750
32
586
21,941
-0.15
160
Dunedin Blue Jays
FSL
11,757
58
203
30,569
-0.62
*played last season as Buies Creek Astros
^played last season as Las Vegas 51s
**played last season as Colorado Springs Sky Sox
#played last season as San Antonio Missions
%played last season as Helena Brewers
AppL = Appalachian League (Rookie)
CalL = California League (High A)
CL = Carolina League (High A)
EL = Eastern League (Class AA)
FSL = Florida State League (High A)
IL = International League (Class AAA)
ML = Midwest League (Low A)
NWL = Northwest League (Short Season A)
NYP = New York-Penn League (Short Season A)
PCL = Pacific Coast League (Class AAA)
PL = Pioneer League (Rookie)
SAL = South Atlantic League (Low A)
SL = Southern League (Class AA)
TL = Texas League (Class AA)
RELATED STORIES: 2019 Affiliated Attendance by Classification; 2019 Affiliated Attendance by League; 2019 Summer Collegiate Attendance by Average; 2019 Summer Collegiate Attendance by Total; 2019 Summer Collegiate Attendance by League