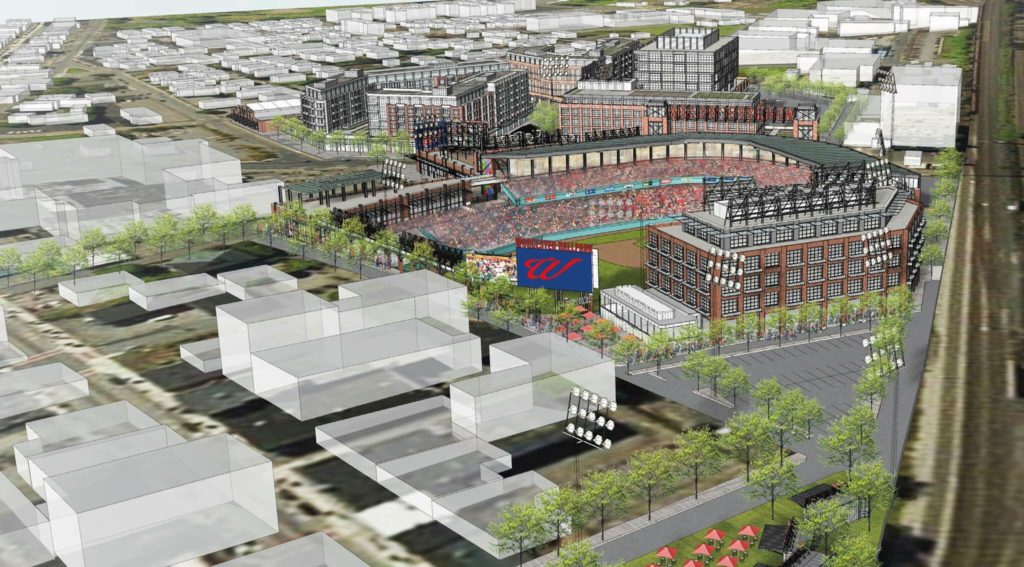 As they prepare for their upcoming move, the Pawtucket Red Sox (Class AAA; International League) are looking to design a ballpark that fits their new surroundings in Worcester, MA. 
In August, it was announced that the PawSox will relocate from Pawtucket, RI to Worcester, where a new ballpark is slated to be constructed in time for the 2021 season. The new ballpark–dubbed Polar Park–is expected to anchor a larger redevelopment initiative in the city's Kelley Square/Canal District area, with a hotel, apartments, and retail and restaurant space among the amenities that are anticipated to be developed in the area.
With plans for the ballpark's design taking shape, PawSox officials–including chairman Larry Lucchino and team president Charles Steinberg–are emphasizing the importance of creating a facility that fits into its surroundings. That not only means designing a ballpark that looks tailor made for Worcester, but also one that can provide multiple uses to the community on a year-round basis. More from MassLive:
Lucchino has repeatedly said that he wants the park to "look and feel and taste and smell" like Worcester.
"We'd like it to be small and intimate and we'd like it to be multi-dimensional, so it has uses year-round and plenty of public park opportunity and greenery," Lucchino said. "We want (a ballpark) that's innovative in a variety of different ways, food service, seating, types of technology. So we have high aspirations for this facility. They won't be just a generic, another minor league ballpark that looks like every other one."
Coming to Worcester without a specific plan for the ballpark was intentional.
"This will not be a ballpark that lands from Mars and gets plunked into the Canal District," Steinberg said. "This is going to be a ballpark that is the result of listening to everybody who wants to put forth their view."
The ballpark will cost $86-$90 million, and is envisioned as the anchor of an 18-acre, $240 million redevelopment initiative. The funding formula for the ballpark calls for the City of Worcester to borrow $100.8 million ($70.6 million in general obligations bonds, $30.2 in bonds backed by team rent payments) to cover construction costs and PawSox owners paying $6 million toward construction. Rent payments are pegged at a little over a million dollars annually, for a total of $30.2 million over 30 years. Construction is slated to begin next summer and lead to a 2021 opening, while the PawSox will spend the 2019 and 2020 seasons at Pawtucket's McCoy Stadium.
RELATED STORIES: Authority Pitches Expansion of Worcester Revitalization Area; DAIQ Tabbed for Worcester Ballpark Design; Worcester Explores Construction Manager at Risk Method for Ballpark; PawSox Seek Ideas on New Worcester Name; DAIQ Ranked First for Worcester Ballpark Design; Worcester Ballpark Financing Plan Approved; Worcester Ballpark Bonds Pitched; Worcester Considers Ballpark Design Firms; Skanska to Serve as Project Manager for Worcester Ballpark; Seven Firms Bid for Worcester Ballpark Design Contract; Worcester Approves Ballpark Financing; Poll: Most RI Voters Support Decision to Not Increase PawSox Ballpark Offer; Worcester Moves Forward on New Ballpark Deal; Janet Marie Smith Brings Experience to Worcester; The Collapse of the Pawtucket Ballpark Deal; Is NY-Penn League a Fit For McCoy Stadium?; Ballpark Borrowing Not Expected to Hurt Worcester's Bond Rating; Worcester Ballpark Plan Clears Committee; Businesses Anticipate Proposed Worcester Ballpark; Worcester City Council to Review Ballpark Deal; With PawSox Eyeing Move, McCoy Stadium Faces Uncertain Future; Worcester Looks to Assemble "Ballpark Delivery Team"; It's Official: PawSox to Worcester, Polar Park in 2021; Report: PawSox Set for Worcester Move; Could Fitton Field Temporarily Host PawSox?; Would Spinners be Affected by PawSox Move to Worcester?; PawSox Still Ironing Out Pawtucket Ballpark Plans With City; RI Govenor Signs PawSox Ballpark Bill; Team Still Noncommittal; RI General Treasurer Releases Revised PawSox Ballpark Cost; Could Worcester Land PawSox?