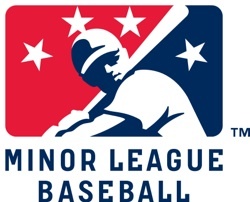 In what would amount to a limited test of the system, Major League Baseball commissioner Rob Manfred says that automated strike zone technology will be used at select Minor League Baseball ballparks in 2020. 
There has been debate for years about whether MLB should implement automated ball-strike (ABS) technology, which utilizes radar technology to assist umpires by providing what is billed as a precise, "rule-book" strike zone for pitchers and hitters. (This process is often described by the better-known term "Robo Umps.") It was implemented during the 2019 Atlantic League season as part of a partnership between MLB and the independent circuit, and has more recently put it to the test in the Arizona Fall League.
It could make its way into MiLB regular-season action in 2020, albeit on a limited basis, as Manfred said during a recent television interview with MLB Network's Brian Kenny. Manfred did not get into the specifics on how and where ABS could be used next season, other than to indicate that the technology is expected to undergo some improvements during the offseason before being rolled out at "some ballparks" around MiLB in 2020. His comments to MLB Network, as transcribed by The Athletic:
"Here's our thinking on the automated strike zone: The technology exists. We have the technology," Manfred said on MLB Now with Brian Kenny. "We're actually going through a big upgrade of that piece of our technology during this offseason. I think we need to be ready to use an automated strike zone when the time is right. That's why we experimented in the Atlantic League. It's why we went to the Arizona Fall League. It's why we're using it in Minor League Baseball next year, in some ballparks at least.
"I think it's incumbent upon us to see if we can get the system to the point we're comfortable it can work. I only would go to an automated strike zone when we were sure that it was absolutely the best it can be. Getting out there too early with it and not having it work well, that'd be a big mistake."
Until there is an announcement from MLB and MiLB on the plans, it will be hard to know exactly how and where ABS will be used in 2020. When debuting previous initiatives, MLB and MiLB have limited them to certain levels, such as when the pitch clock was rolled out at the Triple-A and Double-A levels in 2015. In the case of ABS, among the factors that could be considered include whether it already exists or can be easily installed and implemented at certain ballparks — say, Florida State League ballparks already being run by MLB teams.
RELATED STORIES: Viola Criticizes Results of Atlantic League-MLB Partnership; Atlantic League Debuts Robo-Umps Across Circuit; Sky Does Not Fall; Atlantic League To Continue Robo-Ump Experiment for Rest of 2019 Season; Atlantic League, MLB Unveil Second-Half Rule Changes; Automated Ball-Strike System Used at Atlantic League All-Star Game; Atlantic League All-Star Game to Feature Automated Ball-Strike System; Atlantic League Tests Trackman System