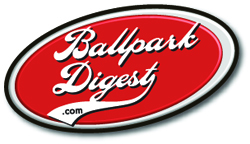 Check out last week's Ballpark Digest Broadcasters Chat, where Mick Gillispie and Jesse Goldberg-Strassler discussed the different nicknames for a fastball, Tom Cheek's "Touch 'em all, Joe!" call and anecdotes surrounding umpires.
Jesse Goldberg-Strassler is the Voice of the Lansing Lugnuts and the author of The Baseball Thesaurus and The Football Thesaurus. Mick Gillispie is the Voice of the Tennessee Smokies and a spring-training broadcaster for the Chicago Cubs, as well as the winner of the Broadcaster of the Year in the 2017 Ballpark Digest Awards.
Check it out here:
The next Facebook Live is scheduled for 10:30 a.m. Eastern / 9:30 a.m. Central on Thursday, March 7. This is a slight time change due to Mick's schedule, calling the Chicago Cubs spring-training game that day.
To watch and participate, just visit and follow the Ballpark Digest Facebook page: