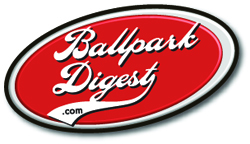 Next week might be a little slow on Ballpark Digest, as the staff is attending the 2017 Baseball Winter Meetings at the Walt Disney World Swan and Dolphin Resort. It's where the baseball industry gathers, and we'll be there.
The annual Ballpark Digest Awards reception is slated for Monday, Dec. 11, at the Swan. If you're an owner, GM or C-suite exec, you should have received an invite. (If not, drop us a line.) This will be our only public event at the 2017 Winter Meetings, as we will not be exhibiting in the trade show. We are taking meetings on Tuesday and Wednesday and have many already scheduled; drop us a line if you'd like to chat over coffee or an adult beverage.
And, of course, there will be plenty activities on the agenda. Here's a full list, provided by Minor League Baseball. See you at Disney World!
The Professional Baseball Employment Opportunities (PBEO®) Job Fair, presented by Baseball America, will begin at 9 a.m. Sunday, Dec. 10, with the Business of Baseball Workshop Series. The workshop, aimed at those attending the PBEO Job Fair, will provide insight on how to find the right job in baseball, what it takes to succeed after landing a job and what to expect throughout the baseball season. The event will include speakers from Minor League Baseball and Major League Baseball organizations, and will feature an address from Minor League Baseball President & CEO Pat O'Conner and presentations from other baseball executives throughout the week.
The 24th annual PBEO Job Fair will conclude Dec. 13. Currently, more than 200 jobs have been posted for this year's event. Nearly 420 individuals have registered for the job fair, looking for the opportunity to choose from a variety of available positions, meet with representatives from professional teams and interview on-site.
The Banquet will take place Sunday night, Dec. 10, at 7 p.m. Emceed by Tampa Bay Rays broadcaster Dewayne Staats, the Banquet will feature the presentation of some of Minor League Baseball's most prestigious awards, including the King of Baseball, John H. Johnson President's Award, Larry MacPhail Award, Mike Coolbaugh Award, Sheldon "Chief" Bender Award, the Charles K. Murphy Patriot Award and John Henry Moss Community Service Award.
A new feature at this year's event, MiLB Charities is hosting a Fun Run on Monday, Dec. 11, at 6:30 a.m. Participants will have the option of running or walking a one- mile course or continue on a longer 5K course around the resort area. All proceeds will benefit Minor League Baseball Charities, a 501(c)(3) not-for-profit organization dedicated to giving back to and enhancing the communities of MiLB clubs.
The Awards Luncheon will be held Monday, Dec. 11, at 12:15 p.m. Gary Thorne, play-by-play broadcaster for the Baltimore Orioles, will host the annual event that honors award winners from the previous baseball season.
A staple of the Baseball Winter Meetings for more than two decades, the Bob Freitas Business Seminar will take place Monday, Dec. 11, and Tuesday, Dec. 12, delivering insightful speakers and attention-grabbing topics to attendees. The event allows for attendees to hear featured speakers, as well as break into smaller groups to discuss ideas and thoughts on the business of professional baseball.
Opening Night at the Baseball Trade Show will be held Monday, Dec. 11, from 5-8 p.m., in the Atlantic & Pacific Halls in the Dolphin Resort. Featuring 240 exhibitors and encompassing over 100,000 square feet of exhibitor space, the Baseball Trade Show is held in conjunction with the Baseball Winter Meetings and spans three days. Exhibiting companies include manufacturers and distributors of apparel, caps, gift items, souvenirs, promotional products, stadium equipment, food and beverage products, player equipment and service companies, including insurance, architecture, concessions, printing, marketing, Internet and entertainment, among others.
Other ancillary events of the week include Moving Diversity Forward on Monday afternoon, where respected individuals in the field of diversity and inclusion, as well as executives in the baseball industry, will discuss how they have found success establishing diverse practices within their respective organizations and communities. The Women in Baseball Leadership Event, celebrating its 10th year as a Baseball Winter Meetings event, will be held Tuesday, Dec. 12. This networking opportunity is open to women currently employed full time by a Minor League Baseball or Major League Baseball club or league, and features a keynote presentation from Emmy Award-winning sportscaster Sam Ryan and interactive discussions intended to promote professional development and networking among female executives. This year's event is sponsored by InfoMart and Retro Brand.
The Gala, held at the Dolphin Resort pool area on Wednesday, Dec. 13, is the final social event of the 2017 Baseball Winter Meetings.