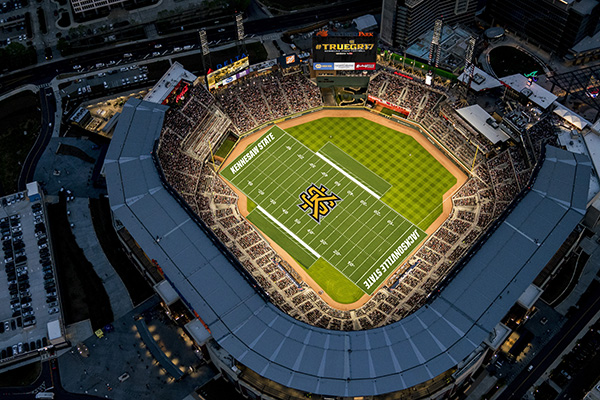 SunTrust Park will host college football next year, as the home of the Atlanta Braves is set to be utilized by Kennesaw State for a game in 2018.

Scheduled for Saturday, November 18, 2018, the matchup between Kennesaw State and the visiting Jacksonville State is slated to be the first football game at SunTrust Park. The gridiron will be configured with one end zone along the first base side and the other on the left field warning track, with the ballpark expected to seat 25,000 for the game.
College football games are fairly common offseason uses for ballparks, as several active Major League Baseball facilities are used for bowl games. There also some prominent venues–including Fenway Park and Yankee Stadium– that are set to host NCAA action in the fall of 2017.
In planning SunTrust Park, designers kept football in mind. According to Braves president of development Mike Plant, SunTrust Park has been designed to make an efficient switch to football. It is also anticipated that the ballpark will host even more college games in the future. More from The Atlanta Journal-Constitution:
Plant said the stadium was designed with the possibility of an occasional football game in mind.
"I remember saying (during design meetings), 'Look, we need to make sure we can get a football field in here. We've got to play football games in here,'" Plant said. "Other world-class baseball venues have done it successfully, and we should do it as well.
"We won't have to make any modifications other than taking the pitcher's mound out and home plate out."
Although SunTrust Park's agreement with Kennesaw State is for the 2018 game only, Plant said the Braves would like to have at least one college football game annually in the stadium, starting next year.
Additional information, including ticket prices and game time, will be released at a later date, according to an announcement from Kennesaw State.
Rendering courtesy Kennesaw State University.