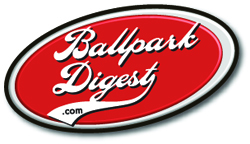 There was some good news for a historic ballpark over the weekend, as improvements were unveiled at Austin's Downs Field. 
Downs Field hosted Negro Leagues action in the 20th Century, and was home to the Austin Black Senators. The facility remains in use today–it is the home field for Huston-Tillotson University's baseball program–but its condition is being improved through a multi-phase project.
On Saturday, officials were on hand to unveil upgrades that have taken place at Downs Field. A new fence was installed, along with a historical marker, and a series of tile murals that depict notable baseball players–including Hall of Famer, former Black Senator, and Austin native Willie Wells.
The dedication gave officials, including Austin mayor Steve Adler, to reflect on the facility's history while previewing the additional upgrades that are slated for future years. More from KUOW:
"This is more than just a baseball ballpark," said Adler. "This is a monument to giants. Downs Field used to be the home of the Austin Black Senators. Those who played here included Satchel Paige, 'Smokey Joe' Williams and Willie Mays and Buck O'Neill and Austin's own Hall of Famer shortstop Willie Wells."
And while Saturday's unveiling carried a tone of celebration, many in the crowd acknowledged that the fence and the historical marker are just the first of several updates to the ballpark.
"For phase two, it will include much more, including the renovation of the grandstand, a game sign, concession stands, updated restrooms," said Nefertiti Jackmon, current executive director of Six Square.
The project is the result of a collaboration that included the city as well as a few private organizations, such as the Rosewood Neighborhood Association and Six Square.