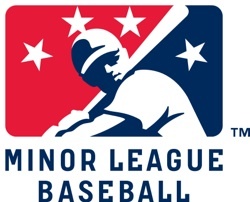 South Atlantic League Hall of Famer Ray Hathaway died a few weeks ago. He was 98. Like many others, he was the face of the local team when skippered in towns like Asheville over a 25-season career.
Hathaway was a pitcher from Greenville, Ohio. He worked from 1939 to 1941 in the minors before joining the Navy during World War II and earning a Bronze Star for his service. Upon returning to the United States in 1945, Branch Rickey promoted him to the Brooklyn Dodgers. Hathaway only made four appearances with Brooklyn, but Rickey had taken a shine to him. In 1947, age 30, he was given his first managerial role, placed in charge of the Class C California League's Santa Barbara Dodgers.
Ray was not yet done pitching, winning 18 games for Santa Barbara and 23 games the next season while player-managing Zanesville, but his second career had taken hold. From 1947 through 1973, he served as a manager or instructor — 25 seasons managing in the minors, totaling more than 3,000 games. Hathaway's death resonated most in the proud community of Asheville, N.C. There the Ohioan was far from a tourist, skippering Asheville in 1951, 1953-1954, and 1961-1964.
Honoring Hathaway's memory reminds us of the role and importance of the minor league manager. While Major League Baseball is currently determining its "Face of MLB," the face of every MiLB franchise on the field is the team manager. (Off the field, it's the team mascot.) This was what made Ray Hathaway beloved; he became dear to the city and the city became dear to him. On into the last decade, he made certain to attend special games in Asheville, honoring Joe Mikulik (his successor to the throne, serving at the helm of the Asheville Tourists from 2000-2012).
Popular though an MiLB player might be, his tenure in a city rarely lasts longer than a season or two. There need never be a connection to his host city. The manager is different. While concurrently presiding over his squad's development, he works with the front office to aid player appearances, addresses the fan base at team functions, cultivates a relationship with booster club, encourages attendance, and appreciates fan support. When he returns season after season, a true connection forms.
The 2015 season will see two significant changes for managers who have built this type of connection.
The dean of the Midwest League before this season was Mark Haley, the revered skipper of the South Bend Silver Hawks since 2005. Haley became so much a part of the fabric of the city that he and his family moved permanently to South Bend. For the first time in a decade, Haley will no longer hold the reins of the MWL squad. Instead, he'll direct the South Bend Cubs' Performance Center while also coaching a U17 team.
In the International League, Charlie Montoyo was the face of the Durham Bulls from 2007 to 2014, presiding over a South Division dynasty and setting the record for most career wins by a Rays' MiLB manager. He was also dutifully profiled in John Feinstein's Where Nobody Knows Your Name. This year, he moves up to Tampa Bay to serve as third-base coach.
It's worth noting that Dave Miley is back in Scranton/Wilkes-Barre this season, his tenth consecutive year in charge of the Yankees' Triple-A affiliate (the last eight seasons with SWB). For his efforts in the IL, Miley was inducted into the league's Hall of Fame last year. He'll be followed into the International League's Hall this season by another coaching legend in Scranton/Wilkes-Barre history, Marc Bombard, who instructed a powerhouse Phillies farm club from 1997 through 2004.
If the Minors as a whole has a managerial icon, he works in Lakeland, Florida. Dave Huppert is as constant a sight as the seventh-inning stretch. Huppert appeared in two games as a catcher for the Orioles in 1983, then went 1-for-21 in 15 games with the Brewers in 1985. In 1986, he began managing, and he hasn't stopped since. This will be his 28th season writing the lineup card, his fifth with the Florida State League's Flying Tigers. He is 129 wins away from 2,000 career victories, a mark attained by only 10 Major League and 10 Minor League managers all time.
Minor-league managers are often given passing notice. With Ray Hathaway's passing, it's worth taking an extra moment to notice the managers who've done their share, both in the clubhouse and the community.