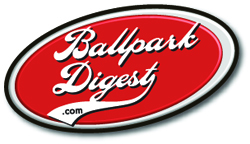 Don't forget: today is the final full day of voting in the first round of the MiLB Best of the Ballparks fan poll, and you have until 7 a.m. this Saturday to share your views with the rest of the baseball world.
In 2016 over 70,000 folks voted in the Best of the Ballpark fan competition, and we're definitely ahead of that pace after the third day of MiLB voting. (To all our friends in the baseball world sharing news of this contest with their fans, thank you so much.) Here's a chance to vote on your favorite ballparks, and we've upgraded the polling tools to make it even easier to tally an accurate count.
The polls are broken down by MiLB level of play:
Best of the Ballparks 2017, Low-A (Midwest League and South Atlantic League)
Best of the Ballparks 2017, High-A (California League, Carolina League and Florida State League)
Best of the Ballparks 2017, Double-A (Eastern League, Southern League and Texas League)
Best of the Ballparks 2017, Triple-A (International League and Pacific Coast League)
The first round of voting runs through Saturday morning at 7 a.m. (Central). Thanks to all who have voted and who will be voting again; we appreciate it!