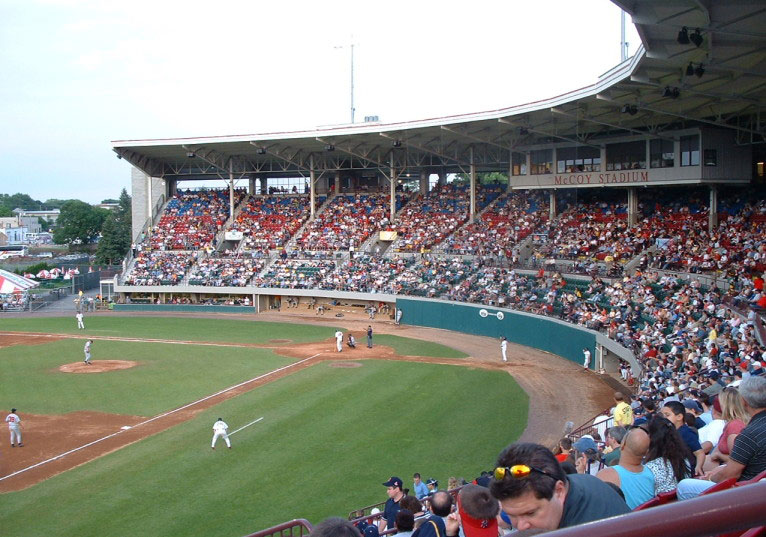 The site of McCoy Stadium is infeasible for a new or renovated Pawtucket Red Sox (Class AAA; International League) ballpark, according to a recent study. 
Led by Pendulum, the study was commissioned by the PawSox, Pawtucket, and Rhode Island to determine if a new or renovated facility with adjacent development was a feasible prospect at the McCoy Stadium site. The cost of an overhaul to the existing facility was estimated at $68 million, with a completely new ballpark costing $78 million.
The problem, according to the report, is that the limitations of the McCoy Stadium site will limit any economic benefits. The report drew this conclusion as it relates to a renovation, and was equally skeptical of a new ballpark, stating "Even with the construction of a new ballpark at $78 million, the existing McCoy Stadium site's limitations will remain unchanged and in all likelihood not provide an opportunity to attract private investment and development."
From here, the question is what route the PawSox and Pawtucket leaders will take in ballpark talks. It has already been reported that the team is looking into a new ballpark at the downtown Apex property, and other sites could be in the mix. However, officials stressed that talks of a plan at another site are very preliminary at this stage. More from The Providence Journal:
Architect Jonathan O'Neil Cole, the team leader on the study and co-founder of Pendulum Studio II LLC, of Kansas City, stressed in a conference call with reporters that his team was tasked only with analyzing McCoy's conditions and future prospects for a Triple-A baseball stadium on the site. He said it would be "presumptuous" to answer questions about where else the team might go, because his team has not analyzed other options, or been asked to do so.
Pawtucket Mayor Donald Grebien said it's too soon to talk with the PawSox about other locations because the study he long wanted was just submitted Thursday.
Nevertheless, in an interview with The Providence Journal, Grebien said the city has used GIS mapping techniques to find other Pawtucket locations with enough space to fit a 6- to 7-acre stadium. The city hasn't examined existing infrastructure at the sites.
One site is the Main Street location of the Apex department store. Last week, the Apex Development Co. and the PawSox said they had begun initial conversations about a possible stadium there. In a statement, the PawSox said any potentially deeper talks would only take place after the feasibility study's release.
The PawSox have been active in ballparks talks over the last few years, going back to when Larry Luchino and James J. Skeffington pursued a new facility in downtown Providence in 2015. The team's agreement for McCoy Stadium runs through the 2020 season.
RELATED STORIES: PawSox Considering Apex Site for New Ballpark; Previous Study: $65M for McCoy Stadium Upgrades; Pendulum to Determine McCoy Stadium's Future; PawSox Still Pondering Future; Four Firms Bidding on McCoy Stadium Study; Feasability Study Set for McCoy Stadium; PawSox to Begin McCoy Stadium Study; Lucchino: All Options for Future Pawsox Ballpark on Table.