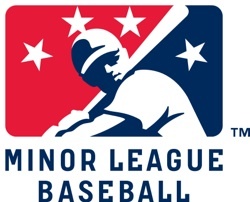 Two league presidents will split this year's Warren Giles Award, as Charlie Blaney of the High-A California League and John Hopkins of the High-A Carolina League are sharing the honor. The award will be presented by Minor League Baseball at the Baseball Winter Meetings Banquet on Sunday, December 4, at Gaylord National Resort & Convention Center in National Harbor, Maryland.
"These two men worked together to address an important realignment issue that will improve the quality of Minor League Baseball at the Advanced Class-A level, not only for their respective leagues, but for our partners at Major League Baseball," said Minor League Baseball President & CEO Pat O'Conner. "John Hopkins has served the Carolina League and Minor League Baseball for 33 years and the Carolina League has consistently been among the strongest in Minor League Baseball. Charlie Blaney is a true baseball man that has dedicated his life to this great game and for the last seven years, has done a terrific job serving as president of the California League. On behalf of Minor League Baseball, it is my pleasure to present both of these men with this honor."
"Whenever we are honored with an award in this game, it is always due to a team effort," said Blaney. "Our owners and general managers are pleased to have worked together, under Pat O'Conner's leadership, and in conjunction with the Carolina League, to do something for the betterment of Major League Baseball and Minor League Baseball. On behalf of the California League, I am honored and proud to accept the 2016 Warren Giles Award, along with my good friend and fellow league president John Hopkins."
"I am flattered and humbled to receive the prestigious Warren Giles Award, and most proud to share it with Charlie Blaney, one the game's finest people," said Hopkins. "Realignment doesn't happen often, and this was my first, but it has been a memorable experience and it's gratifying that Major League Baseball and Minor League Baseball seem pleased with the result. Hats off to Pat O'Conner for his role and to the ownership and management of the clubs in both leagues as this does not happen without them."
Blaney became the California League president in 2010 after spending 32 years in the Los Angeles Dodgers organization as vice president of player development, managing director of Dodgertown in Vero Beach, Florida, and general manager of Dodger affiliates at the Single-A, Double-A and Triple-A levels. He was inducted into both the Albuquerque Baseball and Florida State League Halls of Fame in 2010.
Hopkins began his baseball career in 1978 when he joined the Shelby Reds of the Western Carolinas League. He became the assistant general manager of the Greensboro Hornets in 1979 and was promoted to general manager in 1982. Hopkins assumed his current role as Carolina League president in 1984. This is his second time receiving the Warren Giles award, having previously accepted the honor in 1995.