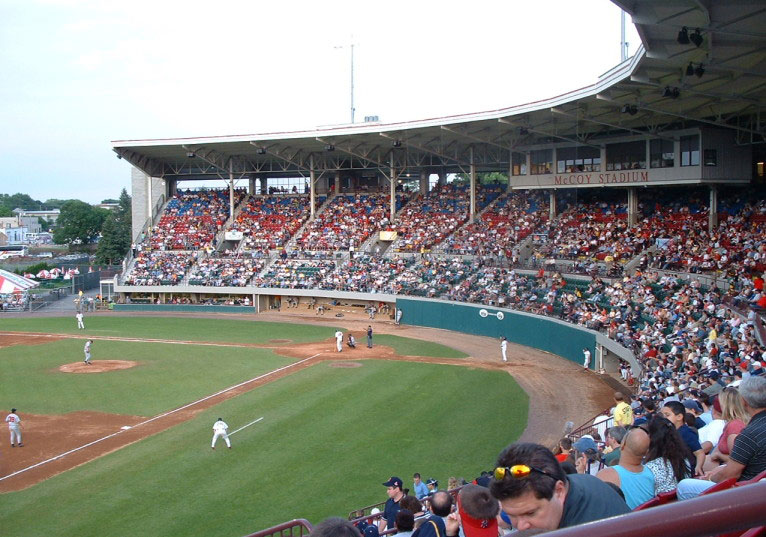 Four firms are bidding to study the feasibility of McCoy Stadium, giving the Pawtucket Red Sox (Class AAA; International League) and local officials plenty of options to choose from in mapping out the team's future. 
Last month the PawSox announced that they would partner with the City of Pawtucket and the State of Rhode Island to initiate at feasibility study. The three sides will split the cost of a report that analyzes the possibility of renovating McCoy Stadium into a state-of-the-art facility, while also sprucing up the area surrounding the ballpark. The four firms that are being considered include Generator Studio, Leshinsky Finance, Populous, and The S/L/A/M Collaborative.
The decision as to which firm lands the study is left to the PawSox, Pawtucket, and Rhode Island. More from the Providence Journal:
City, state and PawSox officials are expected to meet Thursday to determine who from each entity has expertise to analyze the proposals, rank them according to the criteria in the request for proposals and recommend which firm should do the work, said Thomas Bovis, interdepartmental project manager in the state purchasing division who opened bids Wednesday morning at the state Department of Administration.
All three entities have agreed to share equally the cost of the study, which is expected to cost up to $100,000, begin in August and conclude by December. The selected firm is expected to develop three conceptual designs for redeveloping McCoy Stadium and the surrounding area.
This is the next logical step for all sides involved. While the city and the state need a better sense of the cost of keeping the PawSox at McCoy Stadium, the team is going through a careful process in planning its next move. Furthermore, a structural study of McCoy Stadium is already underway.
Over the last several months, PawSox officials–including chairman Larry Lucchino–have expressed a desire to work with Pawtucket on developing a ballpark plan. Though they attempted to move to Providence last year, the PawSox have a lease at McCoy Stadium through the 2020 season, so they are certainly in a position to take their time.
It should be noted that upon taking over in 2015, the PawSox ownership commissioned Populous for a McCoy Stadium study. Lucchino claims that the study outlined a cost of $50 to $65 million to renovate McCoy Stadium into a more modern AAA venue, though that report has never been released to the public.
RELATED STORIES: Feasability Study Set for McCoy Stadium; PawSox to Begin McCoy Stadium Study; Lucchino: All Options for Future Pawsox Ballpark on Table.