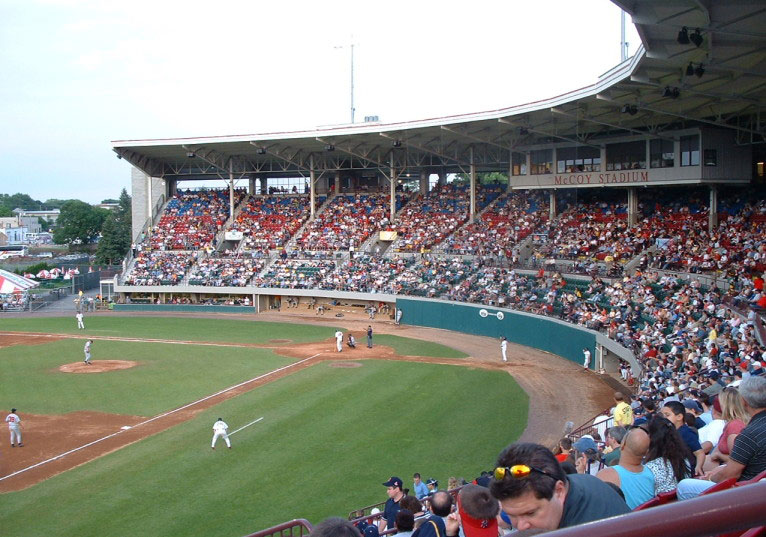 As they try to decide the best long-term solution in the franchise's ballpark search, Pawtucket Red Sox (Class AAA; International League) will study the feasibility of a McCoy Stadium renovation.
Last month, the PawSox began a structural study on McCoy Stadium to determine whether a renovation would be a viable option. That has been followed by this feasibility study, which will aim to determine what it would cost to bring the ballpark up to modern standards.
The study is slated to come at a price of roughly $80,000 to $100,000, a cost that is to be split among the PawSox, the City of Pawtucket, and the State of Rhode Island. This proposal fits into the trend that the PawSox have followed over the last several months, which is to bide their time in making a decision about a renovated or new ballpark in any market, including Pawtucket.
In 2015, a new ownership group that included Larry Luchino and James J. Skeffington sought to move the PawSox into a new downtown ballpark in nearby Providence. That proposal believed to be more feasible than a McCoy Stadium makeover, which an ownership-commissioned study estimated could be as high as $65 million. While that plan gathered steam initially, Skeffington's death last May and a lack of public support for the Providence proposal ultimately halted those plans.
Ever since, the PawSox have been reaching out to Pawtucket to not only reengage the team's fan base and reverse several seasons of attendance declines, but to also consider a McCoy Stadium renovation. More from the Providence Journal:
In February, Lucchino said the team was considering a joint study of McCoy. The McCoy lease arrangement requires such a study to be paid for by the state and the baseball team.
Lucchino and Skeffington had led a group of 10 investors who bought the PawSox from the late Ben Mondor's widow. Early on after his friend's death, Lucchino conceded he did not have the political and business relationships in Rhode Island that Skeffington had.
Lucchino's new leadership team at the PawSox have worked diligently to gain back the trust of Pawtucket Mayor Donald Grebien and PawSox fans who were angered by the team's desire to leave Pawtucket.
One way or another, there will be a significant push to put the PawSox in a more modern ballpark. Though renovated extensively before the 1999 season, McCoy Stadium maintains some of the same characteristics from when it originally opened in 1942.
Compared to other International League facilities, McCoy's original opening date was 47 years before that of the second oldest, Scranton/Wilkes Barre's PNC Field. That ballpark, however, was significantly renovated into a state-of-the-art facility.
The initially intended desire of the PawSox's ownership group was to ensure that the team remained in Rhode Island, though other New England markets were rumored to be entering the fray, including a trio of Massachusetts cities in New Bedford, Springfield, and Worcester.
The feasibility study is expected to be complete by December. McCoy Stadium's last overhaul cost about $16 million, and included a new entrance tower, expanded concourse, and new seating areas that brought the ballpark's capacity to just over 10,000 fans. The PawSox's current lease expires after the 2020 season, so the team does have some time to plot its next decision.
This article first appeared in the weekly Ballpark Digest newsletter. Are you a subscriber? It's free, and you'll see features like this before they appear on the Web. Go here to subscribe to the Ballpark Digest newsletter.