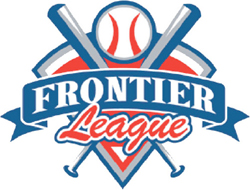 We don't often cover baseball podcasts because there are so darn many of them, but this one is worth a listen: The Infinite Frontier Podcast from Tim Calderwood and Andy "Bull" Barch.
Now. we're a little biased as fans of both broadcasters, and it's good to hear both voices chat it up with news about the independent Frontier League as well as a host of other topics. Barch is the voice of the Lake Erie Crushers, while Calderwood is the voice of the Schaumburg Boomers.
The show is hosted online through SPNT.tv, Sports Podcast and Entertainment Network and can also be downloaded through iTunes every week. Episodes will be recorded on Saturdays and released early in the week. The Infinite Frontier can be found on Facebook and Twitter (@InfFrontier) with photos and updates on each show.
The inaugural program featured Jamie Bennett of the Boomers and Fran Riordan of the Florence Freedom with the discussion of advanced statistics and memorable comebacks.
http://spnt.tv/the-infinite-frontier-podcast-episode-1-the-maiden-voyage
Episode two features a bigger lineup of Adam Young (Gateway), Chris Mongiardo (Lake Erie), Jamie Bennett (Schaumburg), Jeff Isom (Joliet), and quotes from Frontier League Players of the Week Tyler Lavigne (Southern Illinois) and Mike Schwartz (Normal) with topics of what happens during a rain delay and conduct during potential no-hitters.
http://spnt.tv/the-infinite-frontier-podcast-episode-2-the-sequel
—-
Share your news with the baseball community. Send it to us at editors@augustpublications.com.
Are you a subscriber to the weekly Ballpark Digest newsletter? You can sign up for a free subscription at the Newsletter Signup Page.
Join Ballpark Digest on Facebook and on Twitter!
Follow Ballpark Digest on Google + and add us to your circles!