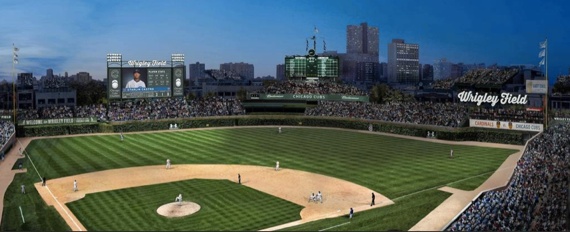 The Chicago Cubs set up a test outfield sign at Wrigley Field yesterday — a move that was quickly criticized by local rooftop-bleacher owners as breaking an agreement between the two sides.
The Cubs plan on installing a new videoboard and lights in left field, and have received city approval to do so. However, the rooftop-bleacher owners say their agreement with the Cubs precludes any blockage of views from their facilities; they're willing to go to court to prevent the installations in the outfield. From AP:
The sign and a massive Jumbotron planned for left field are central to the Cubs' $500 million renovation plans for the 99-year-old ballpark. The team wants the revenue that would be generated from the signs to help bankroll the stadium upgrades. The rooftop owners who charge fans to sit on bleachers on top of their buildings argue that the sign would threaten their businesses.
"We've been crystal clear. Any sign that blocks the views of the rooftops will result in legal action," Ryan McLaughlin, a spokesman for the club owners, said in a statement. He said the sign would violate the contract under which the rooftops share 17 percent of their revenues with the Cubs.
The Wrigley Field renovation plans — including the signs — have been approved by Chicago's City Council, and despite the renewed threat of a lawsuit that could stall the work, the team planned to move forward with the sign, Cubs spokesman Julian Green said.
"Every one of these rooftops still has a view inside this ballpark. I didn't say the same view. But, we believe every rooftop partner will be able to have a view inside the ballpark," Green told the Chicago Sun-Times.
It appears that the new signage planned in right field will feature Anheuser-Busch, the team's longtime beer partner. Alas, no Old Style sign is in the works.
Rendering courtesy Chicago Cubs.
RELATED STORIES: Ricketts: No Wrigley renovations without rooftop-bleacher deal; Wrigley Field upgrades approved by City Council; Cubs win big battle: Landmark Commission approves Wrigley Field signage; Chicago approves additional Wrigley Field night games; Cubs still not happy; Cubs-city lovefest hits rocky patch; Cubs submit Wrigley Field renovation plans to city; Ricketts brings hammer down, threatens Cubs move; Cubs, Chicago agree on Wrigley Field upgrades; Cubs, Chicago close to Wrigley Field accord; Could parking ramp clinch Wrigley Field renovation plans?; Rosemont to Cubs: Here, have some free land for a new ballpark!; White elephant on Cubs ledgers? Debt service, not Wrigley Field imperfections; Chicago mayor: We can work with Cubs on Wrigley Field renovations; Cubs unveil more details on Wrigley Field renovations; Cubs exploring hotel, courtyard as part of Wrigley Field upgrades; Ricketts: We're taking long-term view on Wrigley Field improvements; Spat between Cubs, Mayor Rahm continues; Can Bud Selig warm relationship between Cubs, politicians?; Cubs: Following the Fenway Park recipe for renovations; Ricketts family political activity threatens to scuttle Cubs reno plans; WSJ: Tear down Wrigley Field now!; Chicago politics at play: Tunney vs. the Cubs; Cubs reno plan draws harsh criticism from key alderman; Cubs funding request: $500M in Wrigley Field improvements; Emanuel plan for Wrigley renovation: set aside landmark status; Illinois guv: No public money for ballpark renovations; City, Cubs finalizing terms of Wrigley Field renovations; Ricketts: Time to talk Wrigley Field public funding again; Want to buy a chunk of Wrigley Field? Dream on; Gammon rips Wrigley Field, defends Ricketts; Mayor Rahm: No to city aid for Wrigley Field; Poll: Voters oppose public funding of Wrigley Field renovations; State funding of Wrigley Field renovations dies as Assembly adjourns
—-
Share your news with the baseball community. Send it to us at editors@augustpublications.com.
Are you a subscriber to the weekly Ballpark Digest newsletter? You can sign up for a free subscription at the Newsletter Signup Page.
Join Ballpark Digest on Facebook and on Twitter!
Follow Ballpark Digest on Google + and add us to your circles!
Wrigley Field is one of the ballparks mapped out in the Ballpark Digest iPhone/iPad app. Buy it for only $1.99 and plan your ballpark trips!