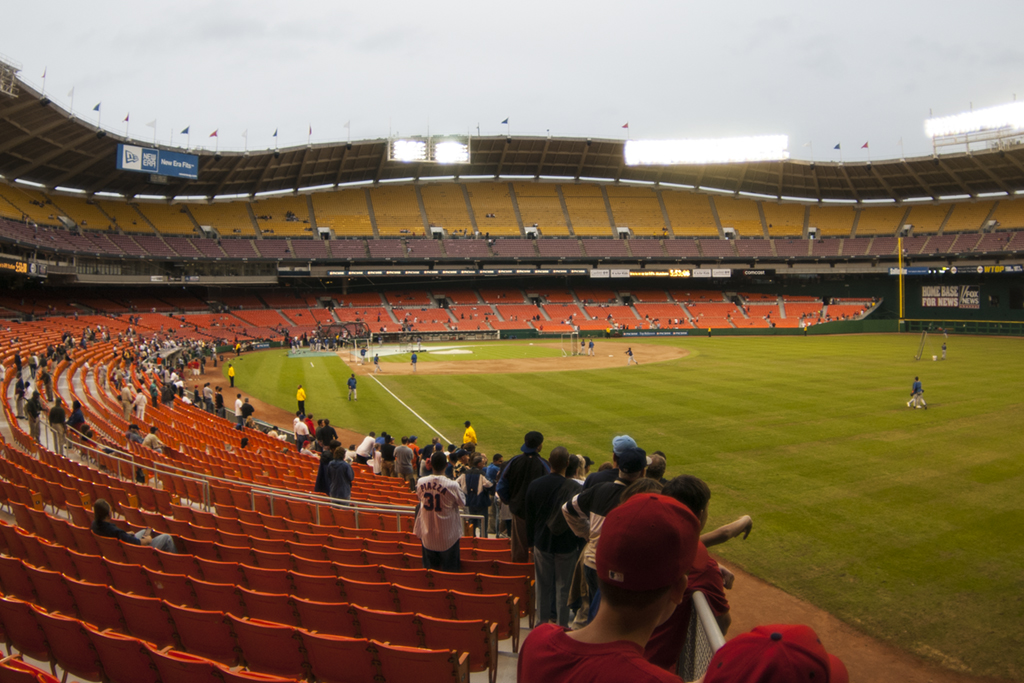 It's the final days for the proud herald of the multiuse stadium era in professional sports: RFK Stadium demolition is underway and should be done by the end of this year.
D.C. Stadium opened on October 1, 1961, with the Washington Redskins hosting the New York Giants in a game attracting 37,767 fans to the new facility. While that number may seem small today, it was a huge improvement to how the Redskins drew at their previous home, Griffith Stadium. In terms of fan amenities, it was a huge step up from the seemingly ancient home of the Washington Senators. This was a new era in Washington, and a thoroughly modern stadium was part of that new era.
How modern? When D.C. Stadium opened (it would be renamed Robert F. Kennedy Stadium, or RFK Stadium, in 1969), it was the first multiuse, reconfigurable stadium built explicitly for pro baseball and pro football. Though NFL teams had played out of stadiums owned by pro baseball teams–Yankee Stadium, Wrigley Field, Tiger Stadium, Forbes Field, the Polo Grounds–the design in these ballparks was always baseball first, with football a secondary concern, and pro football even less of a consideration. Cleveland's Municipal Stadium was built for pro baseball and secondarily for football, but wasn't a great facility for either.
The solution from George A. Dahl and Osborn Engineering was simple: a circular design allowed for the movement of seating areas depending on the event, a move copied by designers of other cookie-cutter stadiums in New York City, St. Louis, Pittsburgh, Oakland, Philadelphia and Atlanta. In the case of RFK Stadium, the left-field bleachers were moved on tracks, and those bleachers became the equivalent of a stadium bouncy house. Get enough fans jumping around, and the whole stadium shook.
While cookie-cutters ended up dying out — the Oakland Coliseum is the only remaining one still in use — the design actually worked at RFK Stadium. The stadium wasn't quite a perfect circle, and the curvilinear cantilevered roof softened the views from the stands. As noted, it was the first home of the modern Senators (1962-1971) and the temporary home of the Washington Nationals (2005–2007) after the team was relocated from Montreal. In its last act it served as home of MLS's D.C. United until 2017. By the end it was a shadow of its former self, with plenty of visible rust, skeevy concrete and limited concessions. 
Originally RFK Stadium was set to be demolished by 2021, but those plans were delayed to 2022, when the wooden seats there first went on sale. Today the stadium is basically being taken down piece by piece by Events D.C., the building's owner, which already put the lower-bowl orange seats on sale and will put the upper-bowl yellow and burgundy seats on sale over this year. (Resellers with inventory inventory abound; here's Events D.C.'s guide.) The current state of demolition has Smoot Construction Company working on asbestos abatement work, universal waste removal and disposal of non-hazardous materials throughout RFK Stadium. Smoot is also progressing with non-structural demolition of restroom fixtures, kitchen equipment, casework, lighting and windows, among other stadium components.
Demolition photo courtesy Events D.C.
RELATED STORIES: RFK Stadium seats to go on sale; End of an Era at RFK Stadium; RFK Stadium future subject of meetings