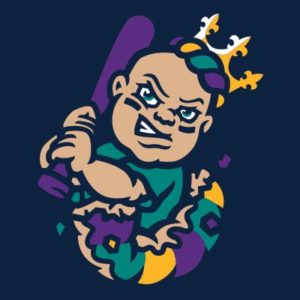 The agency that owns Shrine on Airline wants an exact departure date from the New Orleans Baby Cakes (Class AAA; Pacific Coast League), contending that lingering uncertainty is affecting the search for a new tenant. 
The Baby Cakes are set to move to Wichita, KS following the 2019 season, opening a new ballpark that is currently under construciton. Although the club has been planning to relocate Wichita in time for the start of next season, Baby Cakes ownership–led by Managing General Partner Lou Schwechheimer–technically holds a lease to Shrine on Airline through September 2021. With that contingency in place, the Baby Cakes could in theory return to Shrine on Airline on a short-term basis if construction of the Wichita ballpark cannot be completed on time, but the club has publicly indicated that this season is its last in New Orleans.
However, Louisiana Stadium & Exposition District (LSED) Chairman Kyle France sent a letter to Schwechheimer Wednesday asking that the franchise provide a definitive answer to the LSED about when they will vacate the facility, as the agency has not received official notice on a departure date. Representatives of the club do not have a firm date in place for when they could officially terminate the lease, but say that they will not get in the LSED's way when it comes to recruiting new tenants. The LSED, though, says that the lack of a firm timeline for when the Baby Cakes will depart has hampered its ability to make future plans for the facility. More from NOLA.com:
Walter Leger Sr., the team's vice president and general counsel, said in an interview Tuesday that he could not say when the owners will be ready to give up their local lease, but that the team does not plan to stand in the way of any new tenants for the state-owned ballpark.
According to France's letter, however, that has already happened. He said the LSED has been contacted by several organizations about using the stadium, but it has been unable to move forward.
"Unfortunately, the team's inaction has created a great deal of uncertainty and … has resulted in the loss of of potential revenue for LSED," he wrote.
Leger said that if there are any unexpected delays in Wichita, the team would play in Jefferson Parish next season through its affiliate Major League team, the Miami Marlins.
Located in suburban Metairie, Shrine on Airline first opened in 1997, when the Baby Cakes franchise was known as the New Orleans Zephyrs. Any effort to bring affiliated Minor League Baseball back to the ballpark will likely require investment in upgrades and repairs, and it is possible that LSED officials could explore non-baseball uses to keep the facility active in the future. The Baby Cakes are scheduled to play what is expected to be their home final home game there on Thursday.
RELATED STORIES: With Baby Cakes Set to Move, Future of New Orleans Baseball Uncertain; Topping Out Ceremony Held for Wichita Ballpark; Future NBC World Series to be Split Between Ballparks; Wichita Ballpark Netting Will Extend to Foul Poles; Wichita Ballpark Parking Plan Updated; Wichita Ballpark Parking Garage Pitched; Parking Could be Added for Wichita Ballpark; Wichita Riverfront LP Announces Private Development Advisory Board; Wichita Works to Build Ballpark Parking Plan; Wichita to Narrow Boulevard Around New Ballpark; Updated Wichita Ballpark Renderings Released; Wichita Approves Scaled-Back Land Deal for Ballpark Development; NBC World Series Worried it Will be Shut Out of Wichita Ballpark; More Development on Tap Around Wichita Ballpark?; Wichita Mayor: We Could've Disclosed Ballpark Development Deal Sooner; Schwechheimer: Development Crucial to Wichita Ballpark Plan; Wichita Ballpark Development Deal Vote Delayed; Next Step in New Wichita Ballpark Planning: Development; New Wichita Ballpark Breaks Ground; Jay Miller Named Wichita Baseball President; New Wichita Ballpark Designs Unveiled; Suggestions Sought for Wichita Team Name; New Wichita Ballpark Design-Build Team Finalized; Vote on Wichita Ballpark Design/Build Team Delayed; After Controversy, New Wichita Ballpark Design Team Chosen; Wichita Approves Issuance of STAR Bonds for Ballpark Project