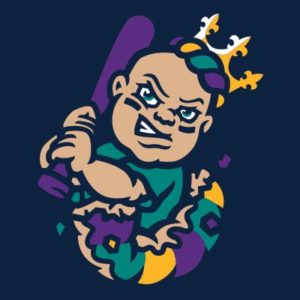 As the New Orleans Baby Cakes (Class AAA; Pacific Coast League) prepare to relocate, there is uncertainty over the future of professional baseball in the market. 
The Baby Cakes are set to move to Wichita, KS following the 2019 season, and are currently expected to debut in a new ballpark there next April. That means that the four-game homestand beginning tonight is expected to mark the franchise's final regular-season contests at Shrine on Airline, the suburban Metairie ballpark that the team has called home since 1997.
There are no plans in place for a professional baseball team in New Orleans beyond this season, which is prompting some speculation about whether the market will be able obtain a new affiliated Minor League Baseball club in the future. Officials from SMG, the firm that manages Shrine of Airline, acknowledge that any effort to replace the Baby Cakes in the future will have to involve consideration over potential renovations and repairs to the ballpark. The firm sounds open to exploring potential upgrades, but it will require discussions with the Louisiana Stadium and Exposition District and any prospective tenant about how to come up with millions of dollars in funding. More from NOLA.com:
Perhaps of more importance is the funding for needed repairs and updates to the Shrine on Airline. Evan Holmes of SMG, which manages the Mercedez-Benz Superdome, Smoothie King Center, Alario Center, the TPC of Louisiana, as well as the Shrine on Airline, said the Louisiana Stadium and Exposition District has funding for repairs, but ways are being looked at to come up with more.
"We have a long list of capital improvement improvement projects that have always been contemplated for improvement," said Holmes, SMG's director of business operations. "It likely would be a significant improvement for whoever is in there. If there's an opportunity to have a team replace the Baby Cakes that could be successful in the market, we would like to understand what that team would need to be successful."
Holmes said studies have been done on what the stadium could become with upgrades and amenities. He said there have been unseen improvements made, such as wiring, plumbing and other systems that support the building's day-to-day operation, as well as structural steel work and lighting that took precedence in recent years. That came out of the LSED's annual operating budget.
About $3 million is available in Priority 5 capital outlay funds for next season, which is short of what is needed to get the facility up to speed and improve it as a revenue generator and one that is attractive for a new owner.
In the more immediate future, fans are dealing with the implications of the impending move of the Baby Cakes, prompting some nostalgia as their final games at Shrine on Airline approach. More from NOLA.com:
"I've been nostalgic," said Richard Tortorich, who is retired and has been an usher at the games the past seven seasons. "Since we built the ballpark, we've had Triple-A baseball here; now we won't.
"I remember when we had Double-A baseball here with the Pittsburgh Pirates (in the 1950s). I used to go the Pelicans Stadium when I was a kid. I like watching live baseball. I don't know what I'm going to do next summer."
The closer it got to BCLD — Baby Cakes Leaving Day — the gloomier it seems the atmosphere at the stadium has become. Crowds have been in the few hundreds, even though the official announced attendance has been around the 2,000 to 3,000 mark.
However, some fans, such as season-ticket holder John Venatti, continue to come.
"I still come because after this, it's over," he said. "No more team. It's not good. It's bad. It's ugly. I love baseball, and I just want to show my support. We need a team here."
The Baby Cakes franchise has played in New Orleans since 1993, its first season after relocating from Denver. It was known as the New Orleans Zephyrs through the 2016 season, before rebranding to the Baby Cakes.
RELATED STORIES: Topping Out Ceremony Held for Wichita Ballpark; Future NBC World Series to be Split Between Ballparks; Wichita Ballpark Netting Will Extend to Foul Poles; Wichita Ballpark Parking Plan Updated; Wichita Ballpark Parking Garage Pitched; Parking Could be Added for Wichita Ballpark; Wichita Riverfront LP Announces Private Development Advisory Board; Wichita Works to Build Ballpark Parking Plan; Wichita to Narrow Boulevard Around New Ballpark; Updated Wichita Ballpark Renderings Released; Wichita Approves Scaled-Back Land Deal for Ballpark Development; NBC World Series Worried it Will be Shut Out of Wichita Ballpark; More Development on Tap Around Wichita Ballpark?; Wichita Mayor: We Could've Disclosed Ballpark Development Deal Sooner; Schwechheimer: Development Crucial to Wichita Ballpark Plan; Wichita Ballpark Development Deal Vote Delayed; Next Step in New Wichita Ballpark Planning: Development; New Wichita Ballpark Breaks Ground; Jay Miller Named Wichita Baseball President; New Wichita Ballpark Designs Unveiled; Suggestions Sought for Wichita Team Name; New Wichita Ballpark Design-Build Team Finalized; Vote on Wichita Ballpark Design/Build Team Delayed; After Controversy, New Wichita Ballpark Design Team Chosen; Wichita Approves Issuance of STAR Bonds for Ballpark Project