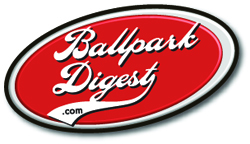 We end today's coverage of 2017 independent-baseball coverage with a listing of teams by average attendance, perhaps the most accurate way to view how the season went.
We have already posted 2017 independent attendance by league and by total. We'll follow this up with a listing of all MiLB, summer-collegiate and independent teams, ranked by average. Summer-collegiate and affiliated attendance has already been posted.
Here are the attendance figures of independent baseball teams, as listed by total, with a comparison of 2016 attendance figures. All stats come directly from league websites and last year's Ballpark Digest attendance rankings.
| | | | | | | | |
| --- | --- | --- | --- | --- | --- | --- | --- |
| | TEAM | LGE | TOTAL | GMS | AV | 2016A | +/- |
| 1 | St. Paul Saints | AA | 406,501 | 49 | 8,296 | 8,438 | -0.02 |
| 2 | Somerset Patriots | AtL | 342,231 | 66 | 5,185 | 5,228 | -0.01 |
| 3 | Long Island Ducks | AtL | 341,231 | 66 | 5,102 | 5,265 | -0.03 |
| 4 | Sugar Land Skeeters | AtL | 317,721 | 68 | 4,672 | 4,483 | 0.04 |
| 5 | Winnipeg Goldeyes | AA | 219,556 | 50 | 4,391 | 4,817 | -0.09 |
| 6 | Kansas City T-Bones | AA | 211,599 | 52 | 4,069 | 4,263 | -0.05 |
| 7 | Lancaster Barnstormers | AtL | 255,251 | 68 | 3,754 | 3,757 | 0.00 |
| 8 | Gary-SS RailCats | AA | 181,612 | 50 | 3,632 | 3,407 | 0.07 |
| 9 | F-M RedHawks | AA | 176,086 | 49 | 3,594 | 3,607 | 0.00 |
| 10 | S. Md. Blue Crabs | AtL | 210,007 | 61 | 3,443 | 3,204 | 0.07 |
| 11 | Schaumburg Boomers | FL | 160,644 | 47 | 3,418 | 3,604 | -0.05 |
| 12 | Lincoln Saltdogs | AA | 172,712 | 51 | 3,387 | 3,612 | -0.06 |
| 13 | Southern Illinois Miners | FL | 151,521 | 46 | 3,294 | 3,347 | -0.02 |
| 14 | York Revolution | AtL | 208,252 | 66 | 3,155 | 3,392 | -0.07 |
| 15 | Wichita Wingnuts | AA | 157,995 | 51 | 3,098 | 3,080 | 0.01 |
| 16 | New Britain Bees | AtL | 194,744 | 63 | 3,091 | 3,302 | -0.06 |
| 17 | Gateway Grizzlies | FL | 148,176 | 48 | 3,087 | 3,410 | -0.09 |
| 18 | Bridgeport Bluefish | AtL | 196,917 | 66 | 2,984 | 2,787 | 0.07 |
| 19 | Rockland Boulders | Can | 145,005 | 51 | 2,843 | 2,934 | -0.03 |
| 20 | Quebec Capitales | Can | 141,923 | 50 | 2,838 | 2,773 | 0.02 |
| 21 | Traverse City Beach Bums | FL | 119,544 | 44 | 2,717 | 2,700 | 0.01 |
| 22 | Sioux Falls Canaries | AA | 113,506 | 49 | 2,316 | 2,512 | -0.08 |
| 23 | Evansville Otters | FL | 100,337 | 45 | 2,230 | 1,962 | 0.14 |
| 24 | Joliet Slammers | FL | 100,160 | 45 | 2,226 | 2,010 | 0.11 |
| 25 | Florence Freedom | FL | 87,545 | 42 | 2,084 | 2,106 | -0.01 |
| 26 | River City Rascals | FL | 94,958 | 46 | 2,064 | 1,908 | 0.08 |
| 27 | Lake Erie Crushers | FL | 94,035 | 47 | 2,001 | 1,741 | 0.15 |
| 28 | Ottawa Champions | Can | 92,654 | 47 | 1,971 | 2,454 | -0.20 |
| 29 | Washington Wild Things | FL | 77,233 | 41 | 1,884 | 1,963 | -0.04 |
| 30 | Cleburne Railroaders | AA | 103,264 | 58 | 1,780 | N/A | N/A |
| 31 | New Jersey Jackals | Can | 91,892 | 52 | 1,767 | 1,652 | 0.07 |
| 32 | Normal CornBelters | FL | 75,804 | 45 | 1,685 | 2,027 | -0.17 |
| 33 | Windy City ThunderBolts | FL | 78,585 | 47 | 1,672 | 1,671 | 0.00 |
| 34 | Trois-Rivieres Aigles | Can | 79,228 | 49 | 1,617 | 1,680 | -0.04 |
| 35 | Sussex Co. Miners | Can | 80,442 | 50 | 1,609 | 1,842 | -0.13 |
| 36 | Sioux City Explorers | AA | 58,407 | 47 | 1,243 | 1,366 | -0.09 |
| 37 | Texas AirHogs | AA | 65,672 | 56 | 1,173 | 984 | 0.19 |
| 38 | San Rafael Pacifics | PA | 18,236 | 38 | 480 | 412 | 0.17 |
| 39 | Sonoma Stompers | PA | 10,031 | 39 | 257 | 343 | -0.25 |
| 40 | Vallejo Admirals | PA | 5,909 | 39 | 152 | 146 | 0.04 |
| 41 | Pittsburg Diamonds | PA | 2,678 | 38 | 70 | 69 | 0.01 |
AA = American Association
AtL = Atlantic League
CAN = Can-Am League
FL = Frontier League
PA = Pacific Association
RELATED STORIES: 2017 Independent Attendance by Total; 2017 Independent Attendance by League; 2017 Affiliated Attendance by Average; 2017 Affiliated Attendance by Total; 2017 Affiliated Attendance by Level; 2017 Affiliated Attendance by League; 2017 Summer Collegiate Attendance by Average; 2017 Summer Collegiate Attendance by Total; 2017 Summer Collegiate Attendance by League