It's now up to Rhode Island political leaders to make a counteroffer on public participation in a new Pawtucket Red Sox (Class AAA; International League) ballpark, according to House Speaker Nicholas Mattiello.
The initial offer from the PawSox owners: $5 million annually from the state, defrayed by $1 million annually in rent, as well as real-estate-tax exemptions. The PawSox owners will finance the $85-million construction cost and will either lease or buy the land.
That was widely held as a nonstarter by Gov. Gina Raimondo and other state and local officials, but it achieve one important purpose: it got the ball rolling on discussions. A meeting between Mattiello and PawSox principal owner Larry Lucchino — who is also president and CEO of the Boston Red Sox — ended with Mattielo saying the state would counter with an offer that would benefit all involved, especially taxpayers:
Rhode Island must now issue a counterproposal to team owners after rejecting their initial offer, Mattiello said: "Within the next week or two, I hope to have some movement — either making a deal or discovering that we can't." How negotiations would proceed has been in question since the unexpected death Sunday night of Lucchino's business partner, James J. Skeffington, the other principal owner of the 10-member group that bought the team in February.
Mattiello said he and Lucchino did not negotiate or discuss specific terms.
"He expressed his interest in continuing the vision of keeping the PawSox in Rhode Island, and he made it very clear that that interest level was still very high and that Rhode Island — Providence, Rhode Island — is their number one and only choice right now," Mattiello said in an interview.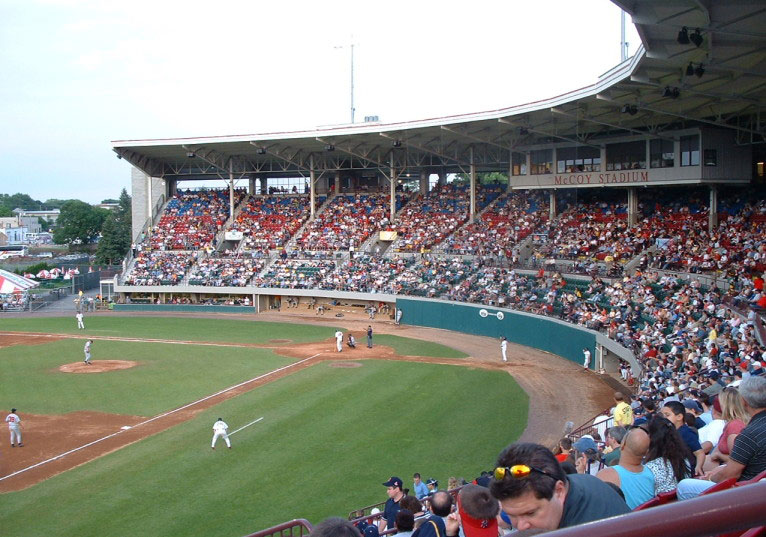 That only choice still does not include McCoy Stadium, shown above. PawSox owners say it would take $65.8 million to bring McCoy Stadium to state of the art in Triple-A, complete with luxury boxes and group spaces:
PawSox spokesman Jonathan Duffy released a breakdown of cost estimates: $6.1 million for site development, including new parking around the stadium; $36.8 million for a new field, entry, parking, site improvements and premium areas; $8.9 million for a new "360 walk around" on the concourse level, premium areas, expanded party deck, expanded concourse and seating and "Tiki Hut"; $11.1 million for upper-concourse level new seating, public restrooms, press box and expanded concourse; and $2.9 million in capital improvements for video control room upgrades, food-service equipment upgrades, scoreboard upgrade and power/lighting upgrades.
RELATED STORIES: Options abound for Pawtucket Red Sox; In memoriam: James Skeffington; RI gov: Providence ballpark deal alive; RI brings in Zimbalist to consult on ballpark funding; Early reaction to Providence ballpark plan: negative; PawSox present alternative financial deal for new Providence ballpark; New Providence ballpark renderings unveiled; The final days of McCoy Stadium?; PawSox sale closed; move to Providence next; Pawtucket: We want to keep PawSox; Pawtucket Red Sox sold: Reports