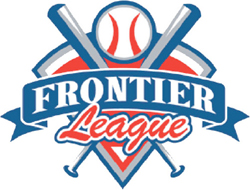 The independent Frontier League will be at 13 teams, plus a travel squad, for 2013, as the circuit releases a schedule for next season.
The Frontier League will again consist of 14 total teams with two, seven-team divisions. The East Division consists of the Evansville Otters, Florence Freedom, Frontier Greys (travel team), Lake Erie Crushers, Southern Illinois Miners, Traverse City Beach Bums and Washington Wild Things. The West Division consists of the Gateway Grizzlies, Joliet Slammers, Normal CornBelters, River City Rascals, Rockford RiverHawks, Schaumburg Boomers and Windy City ThunderBolts.
New to the Frontier League for 2013 is the Frontier Greys. The Greys will be a traveling squad taking over for the Road Warriors team (which replaced the London Rippers) from 2012. The Road Warriors name and logo were loaned to the Frontier League by the Atlantic League to complete the 2012 season. The Greys will be using the name and logo of the former Zanesville Greys, one of the founding members of the Frontier League and the first champions.
The 2013 regular season begins with two games on Thursday, May 16, as the Florence Freedom host the River City Rascals and the Schaumburg Boomers host the Windy City ThunderBolts. The Southern Illinois Miners will celebrate their 2012 championship at home against Windy City on Friday, May 17. Other opening weekend series feature the Evansville Otters
hosting the Normal CornBelters, the Joliet Slammers hosting the Traverse City Beach Bums, the Lake Erie Crushers hosting the Gateway Grizzlies, the Rockford RiverHawks hosting the Greys, and Schaumburg hosting the Washington Wild Things.
Highlights of the 2013 schedule include the 20th anniversary of the first games in Frontier League history on June 30.
—-
Share your news with the baseball community. Send it to us at editors@augustpublications.com.
Are you a subscriber to the weekly Ballpark Digest newsletter? You can sign up for a free subscription at the Newsletter Signup Page.
Join Ballpark Digest on Facebook and on Twitter!
Follow Ballpark Digest on Google + and add us to your circles!